Back in mid-June, I detailed how rising short interest led to the possibility of a short squeeze for shares of SolarCity (NASDAQ:SCTY). Shares of the company rose nearly 50% over the next few weeks, although they have come off their recent highs. As shares spiked in late June, short interest in the name actually rose to another new high. Today, I'll detail how that makes short squeeze potential even greater.
An update on short interest:
In my previous article, more than 12.3 million shares were short, which represented over 24% of the stock's float. Those numbers are pretty high to begin with, but as you can see below, short interest continued even higher at the next few updates.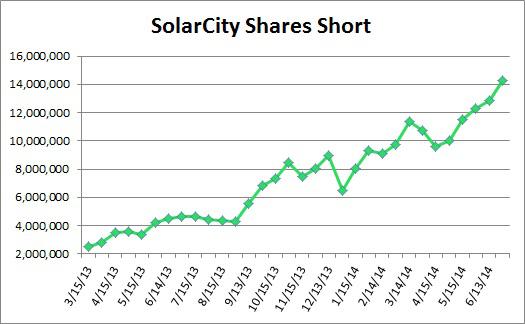 By the end of June, another nearly 2 million shares were added to the short count. More than 14.28 million shares were short at the end of the month. Since the start of 2014, short interest has risen by more than 121%. If you go back to March of 2013, when I started tracking short interest in this name, the rise is more than 463% since then. At that point, just over 2.5 million shares were short.
When it comes to the float, there was an upward revision to the Yahoo Finance number. Yahoo now shows a float of 51.68 million, which means that more than 27.6% of the float was short at the end of June. While the float number has gone higher, it wasn't enough to equal the rise in short interest. As the percentage of float short rises further, it makes a short squeeze even more possible.
Acquisition run-up and pullback:
On the day of my previous article, shares traded just below $50 at their low. A couple of days later, it was announced that the company was buying Silevo, and that the company was in talks with NY state to build "an initial module plant with a targeted capacity of greater than 1GW." Just like with fellow Elon Musk company Tesla Motors (NASDAQ:TSLA), the strategy seems to be go big or go home.
The acquisition announcement was on June 17th, and SolarCity shares gained almost $10 that day to $64.53. According to Yahoo Finance data, more than 24 million shares traded that day, a record for SolarCity. The next day ended up being the second heaviest volume day with more than 18 million shares traded. The rally continued until July 2nd, when shares topped out above $76 a share. Just a day earlier, I detailed how profit taking might be wise, and since then, shares have come back down a bit. SolarCity closed Friday at $65.78. A quick selloff in some of the momentum names did not help this past week, and that was a reason why I selected this name as a stock to watch a few days ago.
A quick update on Tesla:
It was just a couple of weeks ago when I urged investors to have some caution when it came to Tesla. Since then, Tesla shares have pulled back more than $25 from their late June high, as investors do start to wonder about the quarter's results. In the chart below, you can see another decline in Tesla's short interest.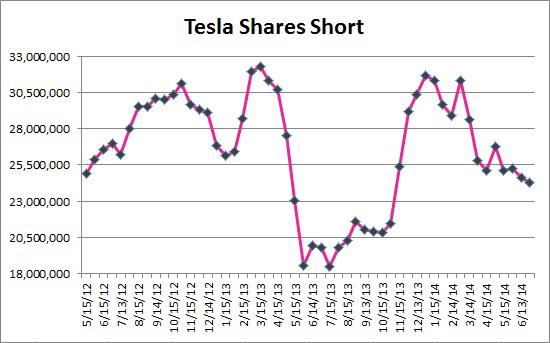 At the latest update, we saw a decline of about 325 thousand shares. While that isn't a large decline, it has put short interest at its lowest level since October 2013. Considering that Tesla's float and outstanding share count rise by the quarter, that is an important item to consider. Tesla's Q2 report will determine if the company's aggressive growth plan for 2014 is possible, and we should get that report in a couple of weeks.
Final thoughts:
Despite a rise in share price during late June, short interest in SolarCity actually increased. At this point, more than a quarter of the float is now short, which will slowly but surely start to increase the chances of a short squeeze. The Silevo deal sent shares sharply higher, although they have come back down a bit. Like Tesla, SolarCity is a highly shorted stock. If these companies announce good news at their next quarterly reports, there's a chance that a short squeeze may come.
Disclosure: The author has no positions in any stocks mentioned, and no plans to initiate any positions within the next 72 hours. The author wrote this article themselves, and it expresses their own opinions. The author is not receiving compensation for it (other than from Seeking Alpha). The author has no business relationship with any company whose stock is mentioned in this article.
Additional disclosure: Investors are always reminded that before making any investment, you should do your own proper due diligence on any name directly or indirectly mentioned in this article. Investors should also consider seeking advice from a broker or financial adviser before making any investment decisions. Any material in this article should be considered general information, and not relied on as a formal investment recommendation.