I've spent a lot of time on this site covering moves in short interest, because high short interest can lead to potential short squeezes. If those squeezes come, investors can see large gains in a short period of time. In early June, I detailed the potential for this to happen in shares of 3D Systems (NYSE:DDD). Things played out mostly as expected, as the stock raced higher and investors that sold made a nice profit. With shares coming back down, I'll detail why we could see this process repeat itself.
The details of what played out:
When I first discussed the possibility of a squeeze, shares were in the low $50s. In the first half of June, they stayed mostly in the high $40s and low $50s. As we got further away from the investor meeting, shares started to trend higher throughout the rest of June, closing just under $60 when the month ended.
While that rally was nice, it was the first day of July where the action really got wild, right after my follow up article on the continued potential for the squeeze. On July 1st, shares opened at $60.50, started to rise and then all of a sudden exploded to a daily high of $69.56. That afternoon, I warned investors to not be too greedy, and by the end of the day shares came down more than $6 from the day's high.
It seems as if a squeeze did occur on July 1st. Shares spiked several dollars higher, then fell back quickly, and it was the highest volume day since February 5th. It will be very interesting to see the next update on short interest to see if it came down in a meaningful way. Because this potential squeeze happened on the first day of July, the update I'll discuss next does not cover that day. However, investors that got in right after my article and out on July 1st could have easily made 30% or more. That's a winning trade.
Where does short interest stand?
Interestingly enough, short interest did not move that much in the second half of June, despite shares rallying back into the high $50s. As you can see in the chart below, short interest dipped by a little less than 5% in the second half of the month.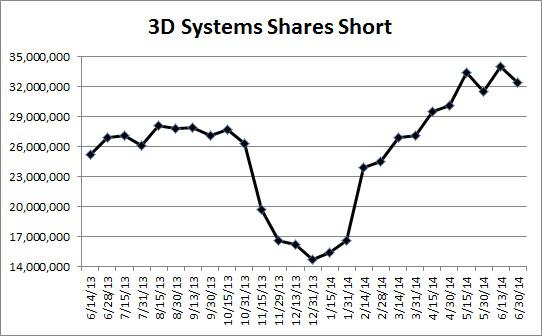 At the end of June, more than 32 million shares were short, which was still up 120% year to date and more than 20% from the year ago period. With a float number around 99 million shares, you still had about a third of the float short at the end of June. Even if short interest drops 25% at the next update, you'd still be looking at roughly a quarter of the float short. Another squeeze is definitely possible, so let's look at what the next potential catalyst could be.
Where things stand now:
I mentioned in my above linked follow up article that the company raised its revenue guidance at the analyst/investor day. That caused revenue estimates to rise by about 1%, a little more than $7 million. Current estimates stand at $713.82 million for the year, a little below the midpoint of the company's $695-735 million range. Non-GAAP EPS estimates still stand at $0.81.
In a couple of weeks, the company will report second quarter results on July 31st. For the quarter, analysts are looking for $162.28 million in revenues, an increase of 34.4% over the prior year period. Non-GAAP EPS are expected to be $0.18, down from $0.20 in the year ago period.
Final thoughts:
It appears that 3D Systems saw a short squeeze earlier this month, and investors in the stock were handsomely rewarded. Even with shares rising as June ended, short sellers did not seem to cover in large amounts. That helps to further the short squeeze theory and bull case going forward, even if short interest comes down a bit at the next update. In a couple of weeks, the company will report earnings, and that might be the next opportunity for a squeeze if we get good news.
Disclosure: The author has no positions in any stocks mentioned, and no plans to initiate any positions within the next 72 hours. The author wrote this article themselves, and it expresses their own opinions. The author is not receiving compensation for it (other than from Seeking Alpha). The author has no business relationship with any company whose stock is mentioned in this article.
Additional disclosure: Investors are always reminded that before making any investment, you should do your own proper due diligence on any name directly or indirectly mentioned in this article. Investors should also consider seeking advice from a broker or financial adviser before making any investment decisions. Any material in this article should be considered general information, and not relied on as a formal investment recommendation.