Crude oil prices have been a key area of focus for us over the past two weeks, as they negotiate major overhead resistance at their 200-day moving average, because of their tight and stable positive correlation to the S&P 500 ever since the US stock market peaked in October 2007.
In other words, how oil prices resolve this test of resistance may also be indicative of upcoming US stock market direction.
With this relationship in mind, our Monday October 18th Keys To This Week report (access requires subscription) took an in-depth look at the Energy Sector to try to anticipate upcoming outright direction and relative performance versus the US broad market. The following is a brief excerpt and one of the charts from that report.
---
Chart 5 (below), a pie chart, shows what percentage of sector bet-related assets are currently being invested in the Energy Sector by sorting the daily assets invested in each of the 17 Rydex Sector Funds according to where they belong within the iShares Select Sector SPDR ETFs.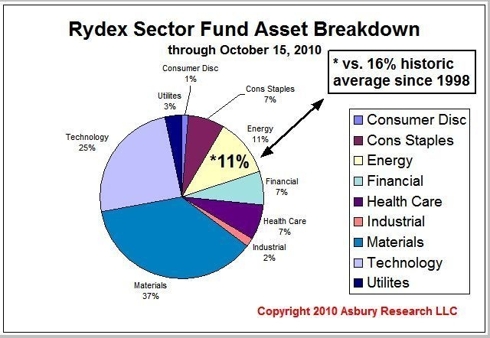 Breakdown of Sector Bet-Related Assets through October 15th, 2010
The chart shows that, through the end of last week, just 11% of these sector bet assets have been allocated to Energy compared to the historic average of 16% since 1999. This indicates that, despite its recent relative outperformance versus the broad market, Energy is still under-invested by historical standards and thus amid favorable conditions for more outright strength and relative outperformance in Q4 2010.
Disclosure: No posiitons