Santarus (NASDAQ:SNTS) took a beating in April when it received a patent ruling loss related to its heartburn drug, ZEGERID. SNTS lost about 40% and continued a downtrend thereafter until September. On September 9th, SNTS received exclusive rights to manufacture and market CYCLOSET. This started the turnaround in the stock that has continued for over a month.
SNTS has to financially recover from the loss of ZEGERID even with the appeal it made. The appeal process is likely to last at least another year or more. SNTS last reported total cash of about $99 million with debt at only $10 million so the company is in a solid position to recover.
However, GLUMETZA shipments did not resume, as expected, in August. Therefore, estimates have been revised lower for the upcoming earnings release in early November. CYCLOSET is expected to be released in November and this should give a boost to 4th quarter sales expectations. Combine that news with the budesonide MMX late-stage clinical trial release in late-September that met its goal for ulcerative colitis treatment and SNTS is quickly fixing the sentiment in the stock and putting the company in a position to rebound.
Technically speaking, SNTS has seen consistent accumulation since September highs at $3.34 and tested that resistance once again yesterday on solid volume. With the uptrending price and underlying accumulation, SNTS is poised for a breakout soon unless, we see another market sell-off like we did on Tuesday. Tuesday's market sell-off knocked SNTS down from testing resistance levels, which is concerning as we could be putting in yearly highs in the markets. Doug Kass has already made it clear he is looking to aggressively short any market rallies and his accuracy in 2010 has been nothing to laugh at. I do not expect the dollar to appreciate until the next Fed meeting in early November so, I think we have a good chance of holding off any strong market sell-off until we are closer to that date.
click to enlarge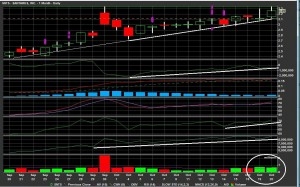 With that being said, look to play the positive momentum but ensure you keep stop losses in case the market decides to ruin our fun. All we are doing is putting the odds in our favor and letting the rest play out as it may. Also, make sure you do your research before holding into earnings. My style of investing is not to press much into earnings. I would much rather wait until earnings are released and find a good spot to jump in. As always, do your own homework to see if you agree.
Disclosure: Long SNTS but positions may change at any time