SSN Operations Update: Final Goshen County, Wyoming Acreage Closing
SSN says in the press release that total consideration is $73.673 vs. a prior estimate of $74 mm, but if you go back to when this all started, the range was $61 to $79 mm. Not bad for little SSN vs. goliath CHK.
That should put net cash on the balance sheet at $66.7 mm ($77.8 mm less debt of $11.1mm ) or $0.80 per share or 65% of Tuesday night's closing price of $1.23.
Samson also points out CHK's analyst day comment about wells in the Niobrara having average recoverable reserves of 500,000 boe per well. In their own NAV model, SSN has been using 413,000 BOE, which got them to a long range target of about $10 per share. If it all works this would probably be a fair number for their remaining 17,000 acres. CHK also made the comment that the play was fairly homogeneous. I think this comment may be a bit early based on the hit and miss results we've seen to date but perhaps it's as much about methodology as it is geology. I plan to stick to my $2.25 acreage and other asset and cash derived back-of-the-envelope-NAV until I see the results of the first 2 CHK wells on the acreage SSN sold. After that I'll likely call part of the acreage de-risked and adjust my NAV upward as I think the results warrant.

I don't think we will have long to wait to find out. CHK has spud two wells on the acreage that SSN sold and we should get results on those by year end.
There is a geological case to be made that what SSN kept has more potential than what they let go. 1Q11 drilling will shed some light on that.
click to enlarge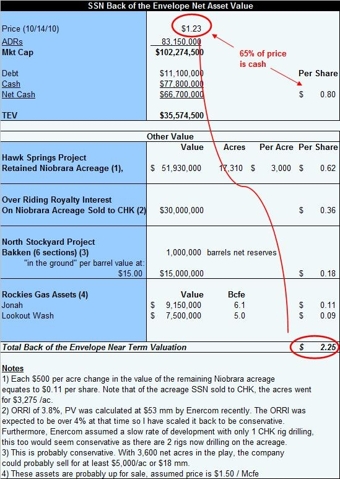 Disclosure: Long SSN