As we head into yet another action-packed earnings season, I wanted to take a closer look at the upcoming earnings for one particular company in the railroad sector and share my thoughts on what needs to happen in order for CSX Corp. (NYSE:CSX) to meet and/or surpass analysts expectations.
Company Overview
Headquartered in Jacksonville, Florida, CSX Corp. along with a number of its subsidiaries, is one of the nation's leading transportation suppliers. The company's rail and intermodal businesses provide rail-based transportation services including traditional rail service and the transport of intermodal containers and trailers. One of the more interesting things I find whenit comes to CSX is the fact that its network encompasses about 21,000 route miles of track in 23 states, the District of Columbia and the Canadian provinces of Ontario and Quebec and nearly two-thirds of all Americans live within CSX's service territory.
Recent Trend Behavior
On Friday, shares of CSX, which currently possess a market cap of $31.14 billion, a forward P/E ratio of 14.57, and a PEG ratio of 1.73, settled at a price of $31.00/share. Based on a closing price of $31.00/share, shares of CSX are trading 0.87% above their 20-day simple moving average, 4.22% above their 50-day simple moving average, and 11.56% above their 200-day simple moving average.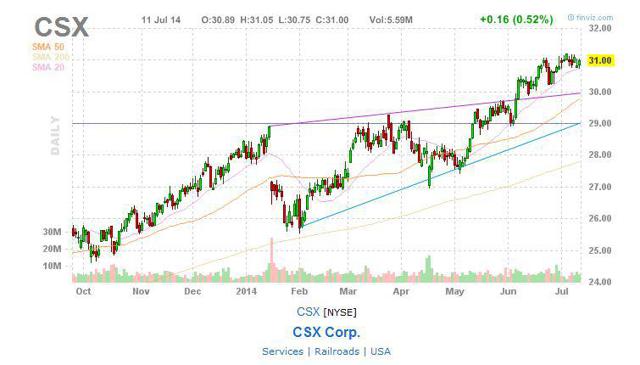 It should be noted that these numbers indicate a short-term and mid-to-long term uptrend for the stock, which generally translates into a buying mode for most near-term traders and many long-term investors. If the company can demonstrate a stronger-than-expected earnings performance when it announces Q2 results on July 15, there's a very good chance the company's trend behavior will continue to move in a sustainably positive direction.
Upcoming Earnings Outlook
When it comes to the company's upcoming Q2 earnings, there are a number of things potential investors should consider. For example, analysts are currently calling for CSX to earn $0.52/share when its latest earnings are released on July 15 (which is $0.12/share higher than what the company had reported during Q1 2014, and in-line with what the company had reported during the year-ago period).
In order to meet and/or exceed its quarterly EPS estimates, I'd like to see a 2.5%-to-3.5% increase in the company's net income, a 3.0%-to-4.0% increase in the company's revenues, a 2.5%-to-4.0% increase in the company's coal volume, a 2%-to-3% increase in the company's intermodal shipments, and lastly, a 1.5%-to-2% increase in merchandise volume which I strongly believe will be driven by the very same agricultural and chemical shipments that drove volume up during the first quarter.
As Coal Demand Rises, Long-Term Earnings Look Promising
I strongly believe that the expected rise in the demand for coal will play a factor in CSX's long-term earnings growth. By highlighting the recent comments of Fredrik Eliasson, CSX Corp's Executive VP and CFO, it should be noted that management sees full-year earnings to rise by single-digits throughout 2014, and by double-digits during the first half 2015.
Mr. Eliasson recently commented that "CSX has emerged from the reshaping of the energy markets as a stronger, more flexible and more customer-driven company, and is well positioned to deliver compelling results for our shareholders as it supports manufacturing renewal, energy independence and global trade."
By being able to put the winter woes of Q1 2014 behind them and factoring in the expected rise in the demand for coal, CSX should have no trouble exceeding full-year EPS estimates in both 2014 and 2015. Analysts are currently calling for CSX to earn $1.87/share in terms of full-year EPS for 2014 and $2.13/share in terms of full-year EPS for 2015, if the demand in coal rises as expected there's are good chance earnings could fall in a range of $1.89/share-to-$1.94/share for 2014 and $2.15/share-to-$2.30/share for 2015.
Conclusion
For those of you who may be considering a position in CSX Corp.,I'd actually look to keep a closer eye on the demand for coal over the next 6-12 months as any uptrend in such demand could positively impact the company's long-term earnings growth. In terms of the company's upcoming quarter, increases in both intermodal shipments and merchandise volume could help CSX stay on course to meet or even surpass analysts expectations when it announces earnings on July 15.
Disclosure: The author has no positions in any stocks mentioned, but may initiate a long position in CSX over the next 72 hours. The author wrote this article themselves, and it expresses their own opinions. The author is not receiving compensation for it (other than from Seeking Alpha). The author has no business relationship with any company whose stock is mentioned in this article.