Advanced Micro Devices Inc. (NYSE:AMD) will soon release its Q2 earnings report. I suspect that AMD, like Intel (NASDAQ:INTC), will report better sales numbers from its x86 processors. Intel increased its Q2 and FY 2014 guidance last June because of the better-than-predicted PC sales for Q2. Microsoft's (NASDAQ:MSFT) decision to end support for Windows XP definitely benefits these two x86 processor players.
AMD posted a nice +10.91 since my last AMD-focus June 4 article. I appreciate it that more investors are now giving equal attention to AMD when positive quarterly PC sales happen.
Based on the chart below, INTC and AMD received the most positive market reaction among PC-related companies since rumors of better Q2 PC sales went online last month.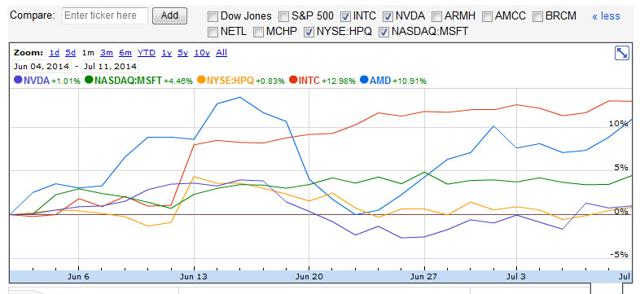 AMD's upside run might continue this week. AMD might just beat both Estimize and Wall Street's Q2 estimates of $1.463 billion and $1.441 billion on Thursday.
Look at the chart below, AMD consistently beat the top line estimates of Estimize users and Wall Street professionals for the past six quarters.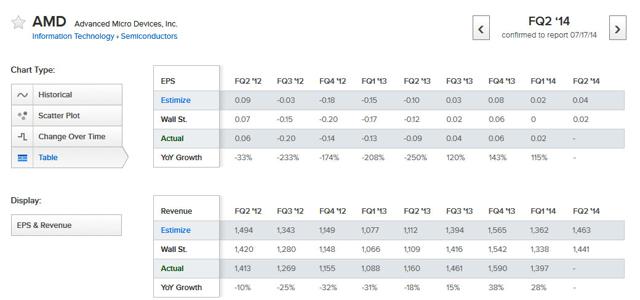 Source: Estimize.com
Since AMD likely sold more x86 processors and graphics cards in Q2, I estimate that the company's second-quarter revenue is near $1.50 billion.
IDC Officially Reports Better-Than-It-Predicted PC Sales
The experts at IDC do not always get their predictions right. In spite of them knowing that Microsoft will end official support for Windows XP in April, IDC analysts still failed to predict better PC sales for Q2 FY2014.
Hindsight is always better - IDC's latest report says Q2 PC sales declined only by -1.7% - far better than its earlier forecast of -7.1% for the quarter.

It should please AMD and INTC investors that the top three PC vendors, Lenovo, Hewlett-Packard (NYSE:HPQ), and Dell also posted double-digit sales growth over last year's Q2 sales. The rise of tablets is apparently not killing the desktop PC.
Jay Chou, Senior Research Analyst at WorldWide PC Trackers, said the better-than-predicted PC sales coincide with the slowing growth of tablet sales and rise in sales of low-cost desktop notebooks and desktops.
AMD has a strong presence in low-entry PCs. AMD APUs are found mostly in sub-$400 laptops and desktop computers. Chou's revelation is a strong hint that AMD likely benefited from increased Q2 PC purchases.
The U.S. PC industry posted a big +6.9 Year-over-Year growth for Q2 2014. Rajani Singh, Senior Research Analyst at IDC Personal Computers, is predicting that U.S. PC sales will remain positive for the rest of the year. Singh cited back-to-school and healthy holiday sales as compelling factors for his bullish prediction on U.S. PC sales.
AMD has a strong Back-To-School program, which should keep AMD-powered laptops popular among U.S. students. AMD is not yet on board the Chromebook money train in the education system. However, AMD has cheap APUs that OEMs like putting inside cheap Windows 8.1 notebooks.
Students cannot play World of WarCraft, Dota 2, or League of Legends on Chromebooks. I am sure many students still prefer a Windows 8.1 laptop because it lets them play their favorite MMORPGs and MOBA games.
My Recommendation
AMD can beat revenue estimates on July 17. The strong Q2 desktop PC sales report of IDC is a strong hint that AMD will post better-than-predicted Q2 revenue too.
On the other hand, I am not sure if AMD can also beat the 0.04 EPS estimate of Estimize users. I am more inclined to believe that AMD will meet the $0.02 Wall Street EPS estimate. AMD is still carrying a heavy load of debt payments.
AMD's beating top line and bottom line estimates is not very important. What is more important is how the stock market will treat AMD post-earnings.
Many investors rallied around AMD post-Q1 earnings report last April. History often repeats itself. Brave investors may gamble now that AMD bulls will again rally after Q2 earnings report.
The stock market is sometimes irrational but according to technical indicators, AMD is good to buy going into earnings. Barchart Opinion's short-term technical indicators give AMD an average score of 80% Buy. The medium-term and long-term indicators give AMD an average score of 100% Buy.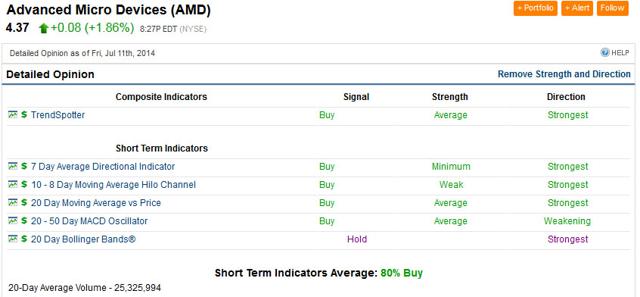 Source: BarChart
Macroaxis' Triple Exponential Smoothing forecasting method is also estimating AMD might rally to 4.67 in the next four trading days.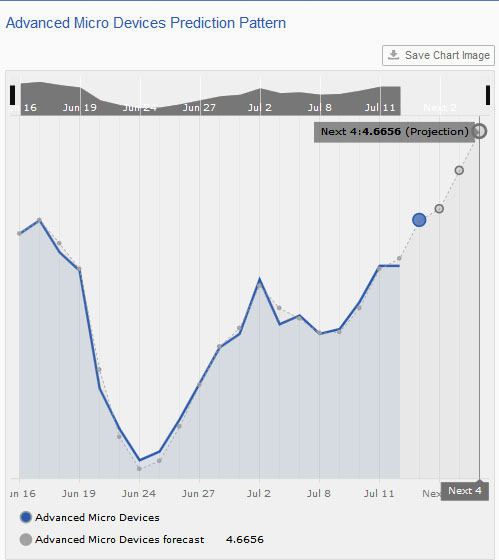 Source: macroaxis.com
Seven other analysts currently share my Buy recommendation for AMD.
Disclosure: The author is long INTC, AMD, MSFT. The author wrote this article themselves, and it expresses their own opinions. The author is not receiving compensation for it (other than from Seeking Alpha). The author has no business relationship with any company whose stock is mentioned in this article.