China's stocks are once again enjoying their day in the sun. The Shanghai Composite Index is basking in the longest rally it has experienced in 11 months. What's next?
The key index is now less than 40 points from breaking the psychologically important 3,000 barrier. As you can see, Chinese stocks have enjoyed a substantial run since July when media were calling Shanghai the worst stock market in the world. The turnaround is now locked in.
click to enlarge images
Shanghai Composite Index
But the index is still off for the year. It hit its depths when fears of a government crackdown on stimulus funding and real estate sales loomed large. The real estate binge also consumed a huge portion of liquid capital.
Now China is brimming with both excess liquidity and confidence.
Oh, How The Money Rolls In!
Foreign direct investment in China continues to pour in. The latest numbers show that investment rose 6.1 percent in September from a year earlier to $8.4 billion. Investment during the first nine months of this year climbed by 16.6 percent to $74.3 billion.
China's robust growth stands in sharp contrast to the ongoing slump in Europe and the U.S.
Not surprisingly, money flows eagerly to where the growth is.
A combination of speculative capital and long-term investment is feeding the rising river foreign capital. Western companies are investing in new facilities to serve China's growing consumer class.
The increased investment flow is forcing Beijing to buy up foreign currencies with Chinese currency. That is putting pressure on the yuan to rise also. As this circle gathers steam, speculators pour in even more money, counting on further increases in the value of the yuan.
Adding to the gusher of capital reaching China's shores is money from private equity funds. Bloomberg reports that China International Capital says China's private equity boom is being mainly driven by yuan liquidity.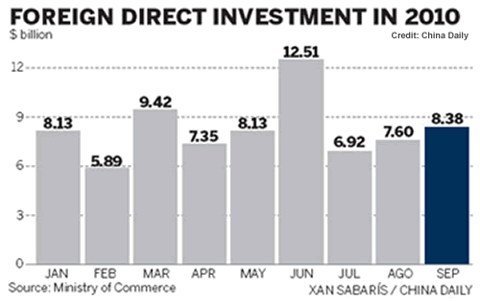 Click to enlarge
We are now into the 14th straight month of positive foreign investment growth in China.
A representative of the state Cabinet told China Daily, "There are very few nations like China that can register positive FDI growth even amid a financial crisis. China is a very attractive market for foreign investors. We have no doubts about the prospects."
Inside the Numbers
In the past, a great deal of foreign investment in China went to the construction of factories, designed largely for exports. But that pattern is changing.
During the first nine months of the year, the service sector witnessed growth of 32.1 percent, while the figure was just 1.6 percent for manufacturing. In April, China launched new guidelines, which emphasized more investment into the service sector.
Underlying the whole equation is China's unmatched growth trajectory.
The International Monetary Fund estimates China's economy will grow by 9.6 percent next year. That's four times the U.S. pace and six times the euro area.
The world's key economic engine is China. It has been since the U.S. financial crisis peaked. Finally investors are getting on board.
China ADR Index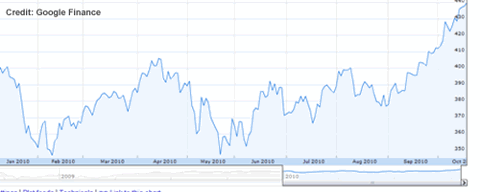 Click to enlarge
A rush of new liquidity is giving China's retail investors an incentive to look beyond real estate. And now the China ADR Index also shows that American investors are in step with the China investment trend.
Disclosure: No positions