Since the spin-off of Philip Morris International (NYSE:PM) from its parent, Altria (NYSE:MO), shares of both companies have performed very well. While PM has outperformed MO since the spin-off, over the past two years MO has outperformed PM by almost 30%. Many investors who owned MO prior to the split have held on to both their MO & PM shares. Given PM's recent decline, I believe there is a case to be made for selling MO and buying PM.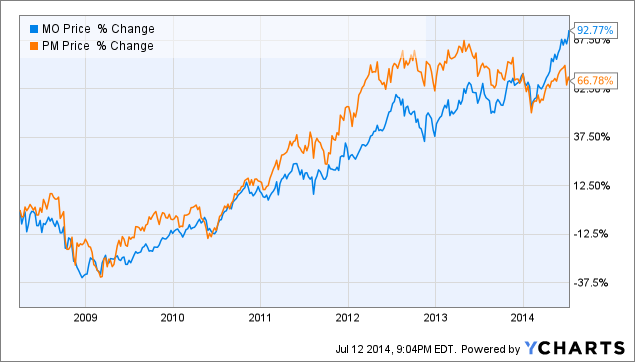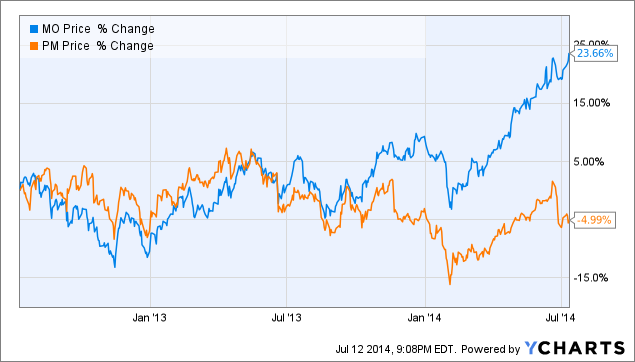 Historical Valuation: Philip Morris International vs. Altria
As shown by the charts below, based on a number of metrics, PM has almost always traded at a significantly higher valuation than MO. The main reason for this is that PM is a faster-growing business, because the international tobacco market is stronger than the U.S. tobacco market. Based on historical valuation trends, I believe PM is more attractive than MO. While both companies are trading close to the upper end of their historical valuation ranges, PM has tended to trade at a higher valuation than MO in the past, and I think this will continue in the future.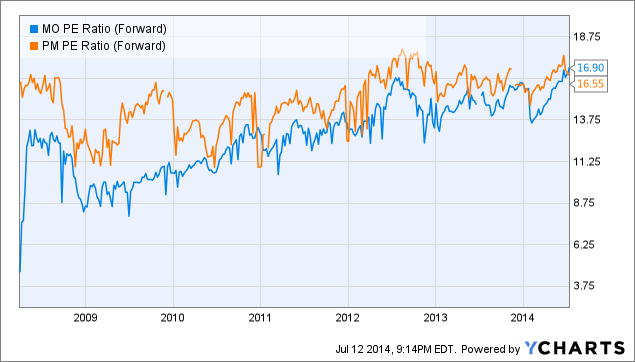 MO PE Ratio (Forward) data by YCharts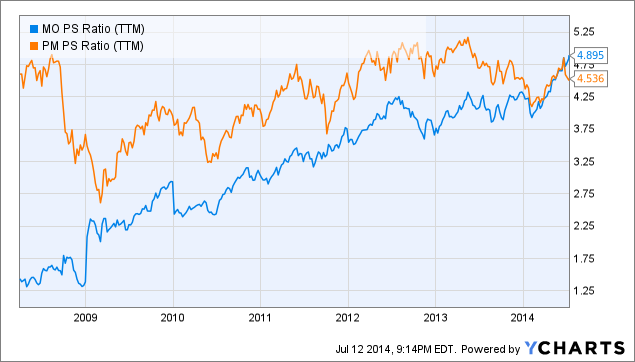 MO PS Ratio (TTM) data by YCharts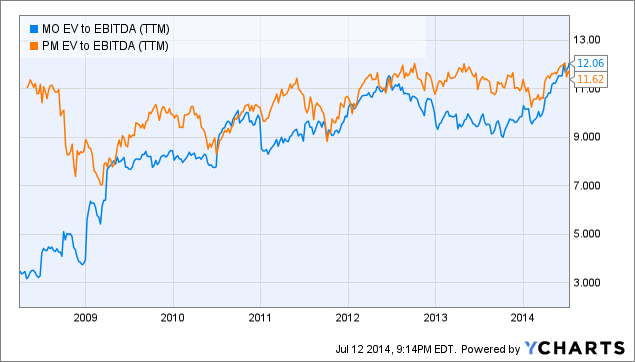 MO EV to EBITDA (TTM) data by YCharts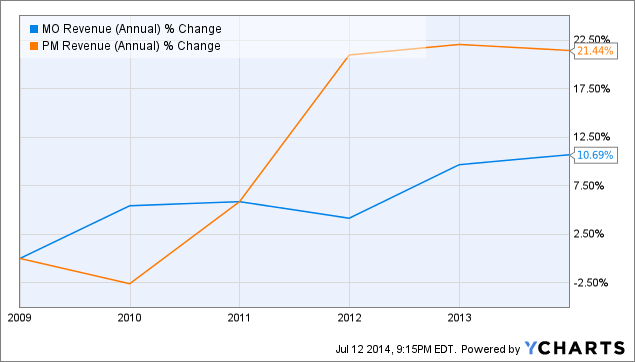 MO Revenue (Annual) data by YCharts
Historical Yield: Philip Morris International vs. Altria
As shown by the chart below, since the spin-off, PM shares have always had a lower dividend yield than MO. However, at current prices, both PM and MO are yielding close to the same amount. In the past, due to MO's higher dividend yield, a case could be made that MO was a better pick for income investors compared to the lower-yielding, slower growing PM. Now that is no longer the case. PM will generate the same amount of dividend income for investors as MO. It should also be noted that PM is growing its dividend at a faster rate than MO.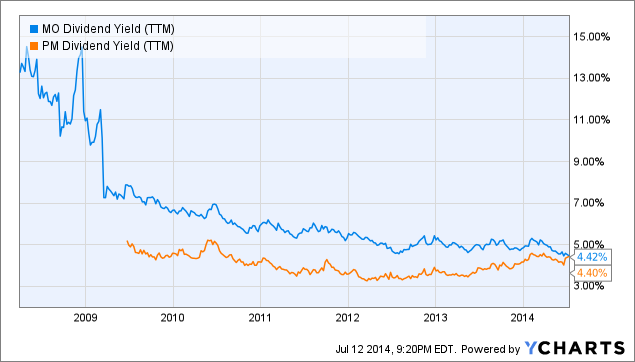 MO Dividend Yield (TTM) data by YCharts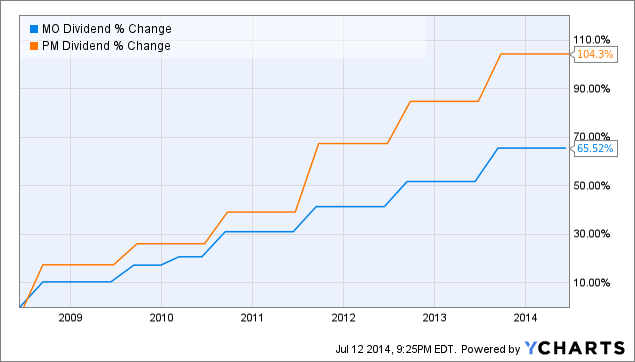 MO Dividend data by YCharts
Why Philip Morris International Has Underperformed
The main reason why PM has underperformed has been a string of earnings misses and warnings. While PM has not met expectations, it should be noted that the company has estimated a negative currency impact of $0.61 per share. At the same time, MO has reported strong results due to growth from its smokeless products segment. PM has been late to the smokeless product business, but has a deal to distribute MO's e-cigarettes and recently announced a deal to buy Nicocigs, a British e-cigarette marker with 27% local market share.
Philip Morris International Tax Inversion Potential
As has been discussed at length, tax inversions are all the rage on Wall Street right now. Tax inversions are seen as having the most benefits for companies that are based in the U.S. but do a significant amount of business outside the U.S. PM may be a good candidate for a tax inversion, because the company is currently domiciled in the U.S. but does all of its business in foreign markets. There are a number of possible inversion targets, including but not limited to British American Tobacco (NYSEMKT:BTI) and Imperial Tobacco, both domiciled in the U.K.
Conclusion
While MO has performed better than PM over the past two years, both in terms of stock price and operationally, I believe PM is the better stock to own due to the stronger long-term potential of the international tobacco market relative to the U.S. market. With PM and MO now yielding the same amount, I believe it is difficult to make a case for MO based on yield. Due to this, I believe investors who own both MO and PM should consider selling MO and investing the proceeds in PM.
Disclosure: The author has no positions in any stocks mentioned, and no plans to initiate any positions within the next 72 hours. The author wrote this article themselves, and it expresses their own opinions. The author is not receiving compensation for it (other than from Seeking Alpha). The author has no business relationship with any company whose stock is mentioned in this article.