Deutsche Bank AG (NYSE:DB) is a foreign regional banking business that offers investment and financial products/services worldwide. It has multiple divisions, including Corporate Banking & Securities, Global Transaction Banking, and Asset & Wealth Management. The corporation was founded in 1870 in Frankfurt, Germany.
Fundamental Situation
Due to geo-political instability and economic uncertainty throughout Europe and Western Asia, growth has been relatively limited and equities have been priced accordingly. One common barometer used to follow this is inflation, which has been dropping for about two years. However during this time, large financials in these areas have been up between 50% and 100%, including UBS AG (NYSE:UBS), Credit Suisse (NYSE:CS), Barclays PLC (NYSE:BCS), but YTD, they have underperformed versus benchmarks. The most interesting yet seemingly controversial one is Deutsche Bank, down more than 30% since its recent high.
Deutsche Bank has maintained a poor trend in sales revenue over the last few years. The chart below shows sales (in billions) by quarters, from 2011 to-date (non-inclusive of this upcoming quarter):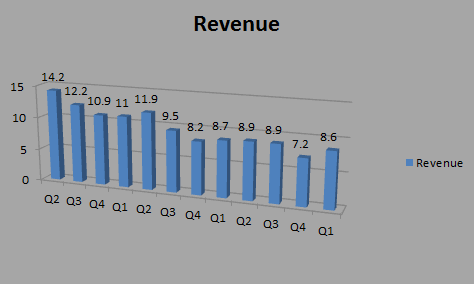 Wall Street currently expects that the company will be able to achieve $4.87 EPS by the next FY, and therefore capable of attaining an eye-opening price-to-earnings ratio of seven. However, as cited by Standard & Poor's, the business has been struggling on many measures of fixed income trading: "...down 34% year-on-year due to pressure on fixed income, with Corporate Banking and Securities revenues down 10%...", maintaining a negative view with structural and cyclical challenges. Moreover, DB missed earnings by ~24% in the last quarter and reported nearly in line with revenue, slipping expectations by roughly 1%. Overall, results for DB are pretty weak versus historical performance (prior to crisis figures). Moreover, return on equity has broken down from double-digits to the low-single digits, hence we have seen a continued sell-off to multi-year lows. Fortunately, the rate of falling revenue has been decelerating recently and appears to be flattening.
Price-to-book is also trading at 0.49, where analysts believe the company should be near 0.8x. Standard & Poor's has a price target of $49, revised down from $53, still suggesting 40% upside.
Probability
If any person believes in a market that is somewhat efficient, which I think it is, then you will find this chart very useful.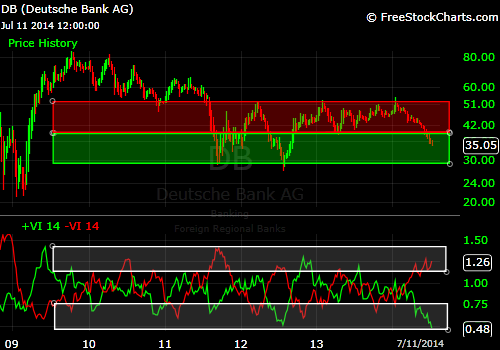 In the "sentiment" boxes, the top is $53 and the bottom is around $30 pps. The average is $41.50, and interestingly enough, the most consistent price point in the last three and a half years. Given the market is correct, relatively speaking, we can assume that a small range off $41.50, $37 to $45, is fair value, or 7% to 30% upside. The point is that if you can buy the stock in the bottom box (green), then it should be considered favorable.
Another tool shown on the chart is the vortex indicator, which has two components that theoretically focuses on money movement. Simply put, the green line is money inflow (buying) and the red is money outflow (selling). When the two lines cross, the trend generally changes. Additionally, I put two rectangles to show where inflows and outflows are reaching extreme levels (providing potential opportunities). For example, late September of 2011 exhibited intensive selling with weak/moderate inflow. Both lines moved into their corresponding boxes, where red peaked and green bottomed, followed by enormous returns. July/August of 2012 had a similar situation, with minor differences in the variables. In this case, capital inflow to DB is the lowest we have seen in decades and outflow is pretty moderate. Most market participants would consider this a very risky situation to get involved with given there is almost no money coming in (aka limited price stability).
Technicals
The recent price action is a horror story that all technical analysts on various discussion boards are calling "a great way to lose money". Except, if we zoom out to the weekly chart, we can see something pretty solid setting up.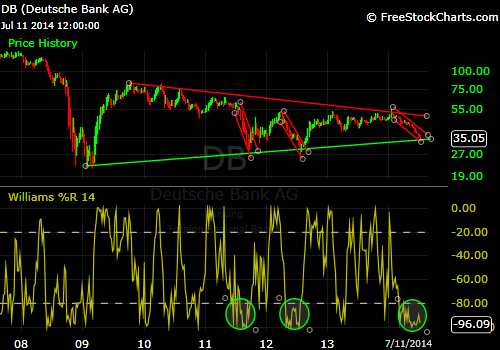 Perhaps the ascending support and descending resistance doesn't hold much weight here, but it's good to have for price action context. Three of the last four years have displayed major sell-offs. Based on percentage, between $32-35 should be the developing bottom here. Williams is consolidating in extremely oversold territory; in the event it breaks above the -80 point line, bullish price action should resume.
Other Facts
Analysts are pretty mixed on their ratings: 2 buys, 4 holds, and 3 sells.
Institutional ownership is abnormally low at 19%. Major banks like Goldman Sachs (NYSE:GS), Citigroup (NYSE:C), and Bank of America (NYSE:BAC) sold a little of their DB long positions in March 2014.
The payout ratio is very poor, and current dividend is possibly unsustainable.
Bottom Line
Plainly speaking, Deutsche Bank is too big to fail, given it is one of the largest financial hubs of the world. Despite that fundamentals are showing sustained weakness, the corporation remains proactive, particularly by hiring a seasoned workforce. At some point, I think the weakness in ROE will reverse and the stock will be worth purchasing. It's very difficult to value the business considering all the moving parts and earnings volatility, making a dividend discount model, for example, practically useless. At the end of the day, I would rate the stock as a conservative buy (or temporarily waiting on the sidelines). For those interested, I would generate a very small position and average down in fixed increments.
Disclosure: The author has no positions in any stocks mentioned, but may initiate a long position in DB over the next 72 hours based on price action and broader market movement. The author wrote this article themselves, and it expresses their own opinions. The author is not receiving compensation for it (other than from Seeking Alpha). The author has no business relationship with any company whose stock is mentioned in this article.