General Electric (NYSE:GE) is finally on the right track. The Company is close to completing a transformation, with the anticipated IPO of its consumer finance business (having sold its non-core media business in 2013), to a more industrially-focused company. GE continues to be acquisitive, making a series of large (Alstom) and small deals to gain share and scale in its industry groups and geographies. Most important, the areas where GE competes are (almost) all industries that 1) are experiencing secular growth, 2) require sophistication, scale and ongoing investment, 3) are international in scope and 4) tend to exhibit oligopoly characteristics.
GE's three-to-five year outlook is very strong, especially on a risk-adjusted basis. The dividend is a sustainable and growing 3.3% that provides a healthy backstop to any market declines.
GE is one of the largest and most diversified companies in the world, selling aircraft engines (15%- 2003 share of revenue), energy production equipment (12%), finance (30%), household appliances (6%), industrial products (4%), medical imaging (13%) and power generation (17%) in over 100 countries (GE 10-K).
(The Right) Industry Diversification in One Company
GE impresses as it provides a diversified portfolio of industries within one equity position. The business segments are diverse enough to provide a cushion against a global slowdown (though take longer to get going in a growing economy) while dynamic enough to grow through market share gains (by providing added value and a compelling ROI).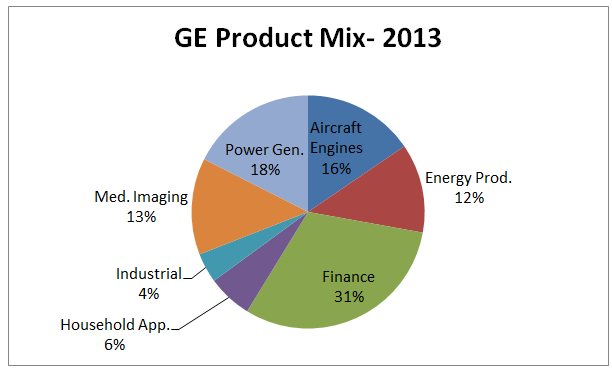 Source: GE 10-K (% based on 97%, force rounded)
Specifically, the majority of GE's business segments are growing, require advanced technology, a strong balance sheet to fund continuing R&D, and are "important." Many of GE's businesses are virtual oligopolies (e.g. aircraft and advanced medical imaging). They are also highly sophisticated, often built on incremental improvements and requiring a strong reputation, commitment and balance sheet (e.g. turbines). Almost all (again) of GE's business have a strong recurring revenue component (parts, maintenance, upgrades, etc.). GE's businesses are generally not subject to technological disruption. GE often competes with large "national champions," whose mission is somewhat different than GE's intense focus on higher profits and dividends (it is complicated, but essentially why Alstom needed to be sold and Siemens was not the successful bidder).
Geographic Market Diversification in One Company
One of the aspects of GE that is so compelling is how it offers broad exposure to the international market (both developed and emerging) while retaining an American approach to management and making money. In 2013, GE's ex-US sales were 53% of revenues, making GE a "foreign" company.
GE's depth and breadth provides it with the local knowledge necessary to "win" in distant lands, while avoiding the bad PR that goes with being a clumsy American. For example, GE knew it might have had to make some extraordinary concessions to get the Alstom deal, however, it was savvy enough to battle plan in advance what was required and not give away (too much) value. The corporate culture is highly demanding; all divisions have aggressive targets to meet and all managers must perform or risk being replaced (and having their careers shortened).
As an investment, GE provides access to developed and emerging foreign markets. Shareholders get the twin benefits of diversification and American, profit-oriented management.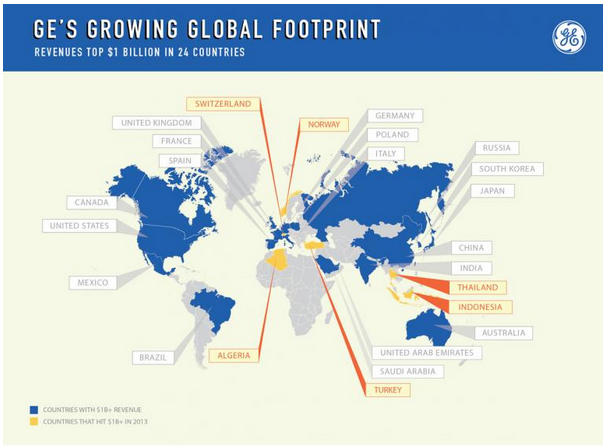 Source: GE
Leadership
GE CEO Jeff Immelt is no Jack Welch. Let's get that out of the way. However, Welch probably gets too much praise and Immelt doesn't get enough appreciation. Immelt took over shortly before the September 11, 2001 attacks and steered the Company through the "great recession." He has re-made GE into an industrial leader, while slowly shedding the non-core financial arm. Many observers don't appreciate that much of GE's growth in the 1990's was driven by its finance business. Finance carried far greater risks than was (at the time) generally understood. Mr. Immelt has been named, one of the "World's Best CEOs" three times by Barron's.
With the exception of the tech sector (and maybe consulting), GE continues to be "an employer of choice" up and down the seniority spectrum. The Company offers promising employees tremendous opportunities with respect to personal growth, training and global opportunities. GE's management bench is strong as are its cadre of non-executive, industry specialists. While Mr. Immelt discontinued the controversial forced ranking of Mr. Welch, GE continues to have a perform or leave culture, with rewards and opportunities available to those who excel.
Dividend
After slashing its dividend in 2009 during the financial crisis, GE has increased its dividend each year since and currently pays $0.88/share, a 92% increase in four years. Value Line projects a 14% increase to $1.00/share in 2015 and a 59% increase, to $1.40 per share, over the next five years. As Jeff Immelt put it at the 2013 Wharton Economic Summit, "and our dividend is going to keep going up, guys. I've got to tell you."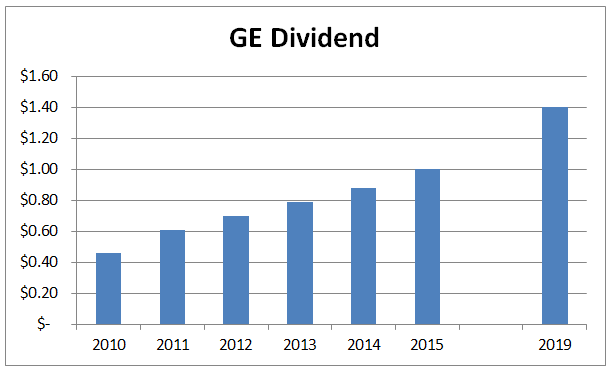 Source: Value Line
Valuation in a Historical Context
Part of the criticism of Mr. Immelt is that the stock price 1) is negative for his tenure and 2) has underperformed the S&P500 in recent years. Both are tough questions, however there are reasonable explanations.
To address the first question, GE's PE in 2000 averaged a whopping 40x TTM (Value Line). This was the time of "irrational exuberance" and growth fueled by the risky GE Capital. GE's EPS in 2013 was 27% higher than in 2000. Another argument might be, why was the stock so high in 2000?
The second question is a little trickier as it depends on the time period considered. GE outperformed over the past five years, underperformed over the past three years, two years, one year and year-to-date. The best answer is that while GE has been shedding risk by diversifying non-core assets, its transformation has not been given the type of respect, in the form of multiple expansion, that other growing, profitable, non-financial companies have received in recent years.

Source: Yahoo!
Valuation Looking Forward
GE currently trades at a 14.5x forward (2015) earnings multiple. Five year earnings growth is currently projected at 8.9%. GE's PEG ratio (Forward PE/ 5 yr. growth) of 1.63 is not a bargain.
GE's unique makeup means industry comparisons are challenging. Siemens (OTCPK:SIEGY) and Philips (NYSE:PHG) are two relevant comparables.
Analysts project a 12.1% 5 year growth for (German) SIEGY, which trades at 12.5x forward earnings, representing a PEG ratio of 1.03.
(Dutch) PHG is projected to grow by 7.1% and trades for 18.7x (2014), for a (2014 based) PEG of 2.63.
From a valuation perspective, GE is between its two "peers" on both PE and PEG. While I suspect GE's earnings estimates will grow, on a pure valuation basis, SIEGY does appear to be a better value (perhaps my next analysis will be on SIEGY).
As the below chart indicates, all three companies have lost ground during 2014 (though over a two year period, all three companies had material gains, with PHG and SIEGY exceeding 50% during that period).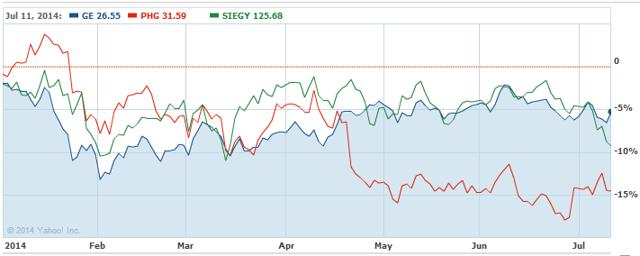 Source: Yahoo!
Personal Perspective
I have wanted to write about GE for some time as I feel it is a very compelling company poised for great success in the future. However, I haven't been able to pull the trigger on my personal portfolio for valuation purposes and have been reluctant to share a positive perspective without seeming hypocritical. Recent events, including GE's acquisition of Alstom, have confirmed to me a company that is very well positioned for long-term success. I will be keeping a close eye on GE and may make an initial purchase in the near future.
Summary
GE has it (almost) all. A strong, diverse product line experiencing secular growth. Presence in oligopoly-type businesses which tend to have strong recurring revenue streams and high barriers to entry. Risk mitigation, highlighted by geographic diversity and a strong, growing dividend. Strong leadership and line management. GE really is a great company that has completed its recovery.
Fortunately, GE is not trading at 40x earnings anymore. Today's 14.5x forward and 1.63 PEG are certainly more appealing. But is it a buy? At the end of the day, I think it depends.
If you are a long-term investor, looking for a steady grower, that is likely to have strong dividend increases, I think the answer is "Yes."
If you have a shorter-time horizon, the high PEG may hold GE back from a price appreciation perspective. In this scenario, the answer is a definitive "Maybe."
Disclosure: The author has no positions in any stocks mentioned, but may initiate a long position in GE, SIEGY over the next 72 hours. The author wrote this article themselves, and it expresses their own opinions. The author is not receiving compensation for it (other than from Seeking Alpha). The author has no business relationship with any company whose stock is mentioned in this article.
Editor's Note: This article discusses one or more securities that do not trade on a major U.S. exchange. Please be aware of the risks associated with these stocks.