By Carol Hua Cheng
About ORBK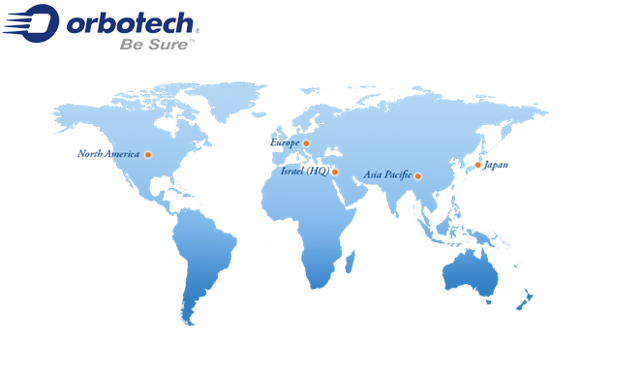 (Image source: orbotech.com)
Orbotech Ltd. (NASDAQ:ORBK), incorporated on February 8, 1981 and headquartered in Yavne, Israel, is engaged in the design, development, manufacture, marketing and service of yield-enhancing and production solutions for the supply chain of the electronics industry. It has over 40 offices throughout North America, Europe, the Pacific Rim, China and Japan.
ORBK operates in three segments: (1) Production Solutions, (2) Recognition Software and (3) Solar Energy.
Production Solutions include automated optical inspection (AOI), automated optical repair (AOR), imaging and production systems used in the manufacture of printed circuit boards (PCBS) and other electronic components and AOI, test, repair and process monitoring systems used in the manufacture of flat panel displays (FPD). The company also markets computer-aided manufacturing (CAM) and engineering solutions for PCB production.
The Recognition Software segment develops and markets character recognition solutions and services, primarily to banks, financial and other payment processing institutions, for use in check and healthcare payment processing.
The company's new segment, Solar Energy, is involved in the research, development and marketing of products for the deposition of anti-reflective coating on crystalline silicon photovoltaic wafers for solar energy panels. (Source: Reuters)
The market cap of ORBK is approximately $650M. Institutional shareholders own 57% of the outstanding shares (Source: finviz.com) and top 10 institutions own 47% (Source: morningstar.com). Lately, the most notable events related to this stock are (1) the battle between the current management and its shareholder Ion Asset Management ("Ion"), a hedge fund based in Cayman, Israel, and (2) the latest announcement of acquisition of SPTS Technologies to extend leadership in advanced micro manufacturing.
The current stock price just hit the 52-week high at $16.79 and then dropped to $15.72. YTD, the stock price increased by 16%, while Nasdaq increased by 6% and Dow Jones Industrial by 2%.

(Source: Google Finance)
Story of ORBK Management and Ion

(Image source: ion-am.com)
- April 2, 2014: Ion filed a 13D on ORBK. In the 13-D, it disclosed a 5.11%, or 2,132,758 shares, stake in the company. Ion seeks cash distribution, staggered board of director terms, and the composition of the Board. (Source: Edgar)
- June 9 and June 16, 2014: Ion provided notice of nomination of board members and proposed to postpone the Annual General Meeting from July 2, 2014 to July 10, 2014.
- June 16, 2014: ORBK management denied Ion's requests.
-June 27, 2014: Both parties reached an agreement, under which Orbotech has agreed to call an Extraordinary General Meeting of shareholders not later than August 15 to allow its shareholders to consider a proposal to declassify the Orbotech Board of Directors. Orbotech has also agreed to review its capital allocation policy and make public such policy no later than August 24, 2014, including with reference to both dividend payments and share repurchases.
To wrap up, it's glad to see the story come to an end soon. Though we should be skeptical about the new Board members until they prove their value adding, I think that there will be some positive changes concerning the capital allocation policies. After all, don't you think it's a little crazy to see $200M cash sitting on the balance sheet not doing much, while the company only has $110M as current liabilities?
Enough drama here. Before the meeting and its Q2 earnings release around the end of July or beginning of August, let's take a look at the company's past performance and earnings forecast.
Acquisition of SPTS Technologies
Just when I was complaining about too much cash the company has, on July 7th, 2014, ORBK announced the signing of a definitive share purchase agreement to acquire SPTS Technologies Group Limited ("SPTS"), a U.K.-based leading manufacturer of etch, deposition and thermal processing equipment for the microelectronics industry.
The total consideration is approximately $370 million. The acquisition and related costs are expected to be financed through a combination of cash on hand and approximately $300 million in debt financing. The acquisition and financing are expected to close during of the third quarter of 2014, each subject to certain closing conditions.
In 2014, SPTS is expected to generate revenues of approximately $180 million, gross margin of approximately 48% of its revenues, and EBITDA margin of approximately 25% of its revenues. (Source: Morningstar)
So finally, the management of ORBK decided to do something with its cash. As investors, we expect that the EPS will grow by at least $0.50 from this transaction on an annual basis.
Fundamentals
Earnings & P/E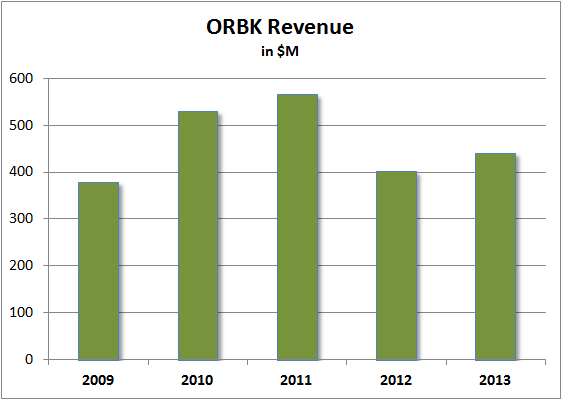 (Data Source: Morningstar)
Obviously, the company's performance hasn't been consistent over the last 5 years. However, ORBK revenue increased 9.8% YoY after the sharp 29.1% decline in 2012. Together with a significant improvement in margins, we see a fundamental change YoY in the company's bottom line.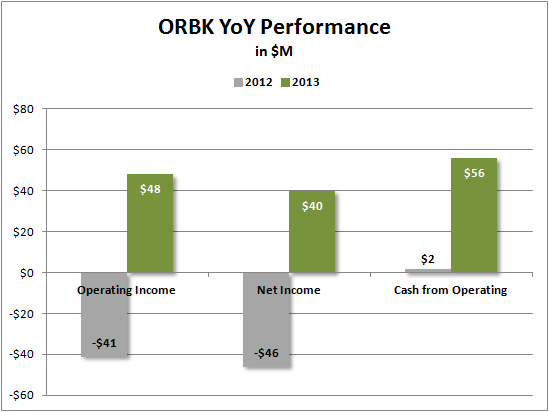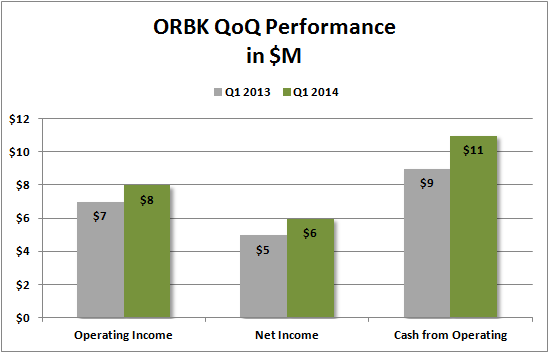 (Data Source: Morningstar)
ORBK announced its Q1 results on May 1, 2014. QoQ results are positive as well, as shown in the chart above. Considering many difficulties in the industry, ORBK definitely finds its way to deal with all the challenges and outperforms the industry.
According to Morningstar, the industry average P/E is 30.5 and ORBK's trailing P/E is 16.4 and forward P/E 10.8. The market has been punishing the sharp drop in performance in 2012; however, the company has shown us some significant improvement in the past year, and it seems the positive trend will continue. Given time, with consistent improving results and better usage of cash, ORBK has great potential in the stock market.
Liquidity
The company has no debt compared to 0.4 D/E for the industry as of now. The current ratio is 4.7 as of Q1 2014, with a total cash and short-term investment balance of $199M. After the completion of the acquisition of SPTS Technologies, the D/E will likely be around 0.6.
I wouldn't be concerned about the future liquidity, as the company is generating a good amount of cash. On the opposite side, I'm happy to see ORBK leverage its cash flow instead of simply using cash to repurchase shares. Repurchase of shares can only boost EPS; but the recent acquisition it announced can increase market exposure, revenue and margins, as well as EPS.
Earnings estimates
Looking forward, there are several revenue drivers. First is from the new models of smart mobile devices. New models require new product solution, which ultimately means more revenue for ORBK. A second important driver is the recent decision by China to deploy 4G standalone infrastructure. This will drive growth among equipment manufacturers, mobile communication and the PCB industry. It is a major opportunity for many of ORBK's customers, and is a multi-year process. Accordingly, we will expect to see stable revenue growth in the upcoming years. (Source: ORBK Q1 earnings release)
According to Yahoo Finance, analysts estimate Q2 EPS to be $0.22 and 2014 annual EPS $1.07, a 16.3% increase from 2013.
Stock evaluation
According to Yahoo Finance, 4 brokers give a median target price of $18.00 (14.5%+). And I believe that is a fair evaluation for ORBK and wouldn't call it significantly undervalued.
In the short term, there is a good support at $14.2 and a resistance at the current new high of $16.8.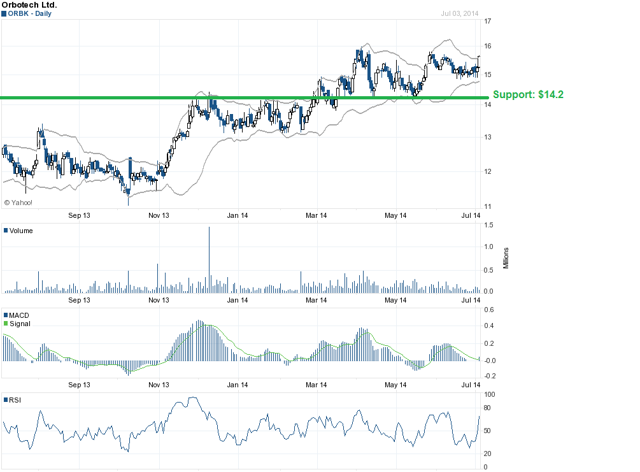 Conclusion
Overall, despite the ups and downs, the company outperformed the industry in the most recent year. Margins are improving. Management is working on developing new products and market expansion.
My conclusion on this stock is HOLD at the current price level. After the upcoming market correction that everybody is talking about, buy it at a low price and hold it. In the mid term and long term, with all the potential the company can offer, it's highly likely that ORBK won't disappoint you.
Disclosure: The author has no positions in any stocks mentioned, and no plans to initiate any positions within the next 72 hours. The author wrote this article themselves, and it expresses their own opinions. The author is not receiving compensation for it (other than from Seeking Alpha). The author has no business relationship with any company whose stock is mentioned in this article.