Although Goldman Sachs (NYSE:GS) has decided to stay the course in a tough trading environment, the rise of competitor IEX Group could actually benefit the mega-firm by bringing greater transparency and investor confidence (along with increased price and volume) into the trading sector.
In A Tough Trading Environment, Investment Banks Diverge
It is widely known that stock price volatility is positively correlated with trading volume [1], and in the world of investment banking, trading volume is what drives profits.
In May, the average daily trading volume was just 5.8 billion shares [2], which is less than half the most recent peak that occurred in 2009, of 12.3 billion. Compounding the issue of low volume is increased regulations driven by Dodd-Frank's Volcker Rule, Basel III capital requirements and the continued onslaught of litigation/investigations that have been all too common since the financial crisis began.
What Is A Large Investment Bank To Do?
The answer, for most, is to diversify revenue streams, but that has become increasingly more difficult over the past few years, given the increased regulatory environment. Banks have been forced to shed their proprietary trading desks, a previous source of strong profits, and have therefore been looking toward more traditional businesses where they can leverage their strengths.
At Morgan Stanley (NYSE:MS), this meant the purchase of Smith Barney's Wealth Management business, and Wells Fargo (NYSE:WFC) is going back to its roots and focusing on its mortgage business. But while most other large banks are looking to invest in businesses that will provide a steady stream of revenue in all market conditions, Goldman Sachs has chosen to stay the course and continued its focus on trading (approximately 33% of its 2013 revenues), traditional investment banking and M&A advising.
To its credit, GS had already built up previously a sizable wealth management platform that exceeded the size of both JPMorgan Chase and Morgan Stanley, its nearest competitors.
What Does This Mean For GS Investors?
When market volumes return, GS is poised to reap rewards.
One of the causes of lower volumes is the steady decline of high-frequency trading since 2009 as a percentage of total market volume. Recently, with the release of books like "Flash Boys" and "Dark Pools", regulatory interest has significantly increased into this type of trading activity. Regulators have even coined new phrases: Eric Schneiderman, Attorney General for the state of New York, has referred to the practice of high-frequency trading as "Insider Trading 2.0".
If the economy shifts into rapid expansion, volume and volatility will return to the market even without high-frequency trading. With GS's stay-the-course strategy, it is poised to win big if that happens; but if not, flat growth may be in its future for the near term.
Mitigating Risk
GS's strategy does not mean that it is not looking to mitigate its risks in areas that it believes may not be beneficial for the firm in the long term or expose it to questionable ethics.
For example, recently GS revealed that it would be considering closing its dark pool, high-speed trading platform named Sigma X, after it was fined $800,000 by FINRA for lax oversight. Sigma X is considered one of the world's largest private trading markets, but has been plagued by recent technical glitches that have resulted in refunds to clients to compensate them for noted pricing errors.
The Rise Of An Alternative
GS's move away from dark pools may be fortuitous for the recent upstart IEX Group, who is looking to take market share away from the 45+ dark pools (of which GS's Sigma X is one of the largest) currently in operation by providing "broker priority" pricing in a fully SEC-registered stock exchange.
The new exchange would allow broker-dealers to trade, for free, all matched trades and place their trades at the top of the trading queue. All other trades would be charged a flat fee of $0.09 per 100 shares. A flat free per trade is a stark contrast from traditional exchanges who have a system of structured rebates based on liquidity, but IEX's structure would also places institutions, mutual funds, high-frequency traders and retail investors at the back of the line for trades, leaving them a greater chance that their orders may not be filled.
If IEX is successful, it could revolutionize trading and question the applicability of dark pools. The platform also intends to implement short delays to discourage high-frequency trading. This type of transparency will allow greater price discovery and could lead individual investors back into the market.
With increased transparency comes increased confidence, which may once again help bolster trading volume and get investment banks back to what they do best, taking a slice on each trade executed.
Conclusion: With Diverse Businesses, GS Looks Strong In The Second Half of 2014
As noted above, Goldman has been able to take steps towards greater transparency in its trading activities, in part due to its already strong wealth management business.
This sector should continue to float the firm in the second half of 2014, while the trading environment remains in flux - and Goldman decides its next moves.
YTD GS stock has proved solid, and historically remains strong.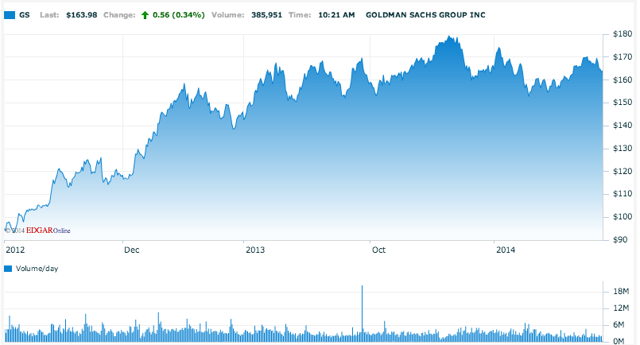 (Nasdaq.com)
GS has consistently beat estimates for earnings the past ten quarters and revenues 8/10 quarters, showing steady growth.
We see new trading regulations as a long-term positive for Goldman Sachs, if it helps volume return.
We are positive on GS in the second half of 2014. GS next reports July 15th before the market opens.
We invite readers wishing to join the discussion on mega-bank settlements to click the +Follow button above the title of this article, and those looking for the latest updates to click +Get real-time alerts.
---
[1] Karpoff J. M. (1987)," The Relation Between Price Changes and Trading Volume: A Survey," Journal of Financial and Quantitative Analysis, 22, 109-126.
[2] Why trading volume is tumbling, explained in 5 charts - Also available from the Tabb Group directly for $1K
Disclosure: The author has no positions in any stocks mentioned, and no plans to initiate any positions within the next 72 hours. The author wrote this article themselves, and it expresses their own opinions. The author is not receiving compensation for it (other than from Seeking Alpha). The author has no business relationship with any company whose stock is mentioned in this article.