There has been tons of speculation behind Yahoo (NASDAQ:YHOO). The company's earnings are coming up this Tuesday, and CEO Marissa Mayer was found having late night drinks the other night with AOL's Tim Armstrong. Naturally, speculation about what the two them could have been discussing has run rampant. Buyout? Merger? Plans to go see the 30th Anniversary showing of Ghostbusters that's hitting theaters soon?
Regardless, eyes have certainly perked up on Yahoo over the last two weeks between this incident, upcoming earnings, and the upcoming Alibaba IPO, which Yahoo plans on cashing in on. Over the last 12 months, Yahoo has still provided returns of just over 30% for its investors. The last 6 months, however, have been unceremonious. Yahoo has fallen from highs around $40 to current levels around $35.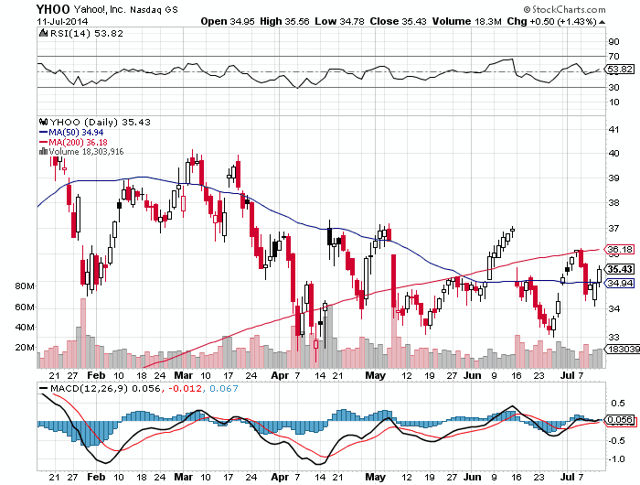 Click to enlarge
But, they are not without potential upward catalysts. Yahoo is getting ready to report on Tuesday. Analysts are looking for EPS of $0.30 on revenue of $1.08 billion. For the company's fiscal year, revenue is expected to be $4.51 billion. The company has been posting revenue declines for each of its last four reports.
The IV priced into these options dictates that investors aren't really expecting much out of the company's earnings report this coming Tuesday. The company averages about a 6% move after earnings, and we can see that priced in here. The options that I'm looking at - ones that expire 2 weeks from now - are pricing in about a 6.6% move, based on my back-of-the-napkin style calculations.
What these options surely aren't pricing in is any type of major beat or miss, new news about Yahoo's stake in Alibaba, or any type of potential announcement regarding an acquisition or any of the numerous M&A speculative situations being brought up by the media opining over the Mayer/Armstrong soiree.
To say it's "under the microscope" that investors are watching where the Alibaba IPO money is going to go would be an understatement. Despite having a good constituency of analysts on its side, Alibaba's growth has been dwindling - and the IPO just might be the best time for Yahoo to get the most bang for its buck selling. CNBC spent a good portion of Friday talking about Yahoo's cash and trying to discern what Mayer's plans are going to be for it. M&A? Hoard it? Give it back to shareholders? Who knows.

Click to enlarge
My trading going into Yahoo earnings is going to be the same strategy that I've employed for a lot of momentum stocks and stocks with track records of moving after earnings, and that's a long straddle. I like the straddle because it takes the guesswork out of whether or not the company has had a good quarter and how the stock will trade according to the numbers they post. Sometimes, that's a simple crap shoot. Take Facebook's (NASDAQ:FB) last earnings, for example - they beat, and the stock ticked down.
Welcome to the stock market.
With that comes my disclaimer about how these trades are anything but a sure thing and do not always work.
Quoth, you're always advocating these long straddles heading into earnings - do they actually work?"

The answer is "no, they don't always work - nothing in the markets always works" - but what we try and do here in the Margaritaville brand blender that is Quoth's head is identify stocks that are so volatile and so momentum-laden - so in the public spotlight - that there's more than a normal number of catalysts to have them move beyond the realm of the IV that's already priced in on the options. Notice I'm not advocating these trades for stocks like Intel (NASDAQ:INTC) or 3M (NYSE:MMM)?
In the case of Yahoo, not only is it a name that would traditionally move post-earnings, but there's tons of other potential catalysts on the table here. For a 2-week shot at the stock moving 6%, I like my odds.
I'm looking at buying both the July 25th $35 strike calls and puts. The calls costs $1.27 and the puts cost $0.82. This puts my breakevens at $37.09 and $32.91 - with an extra week worth of time value built in here.
Why, you ask, do I want to buy the options that expire at the end of next week. Shouldn't I drop that theta in favor of getting the options cheaper and the spread costing less? Generally, yes. However, with the tech heavy-lineup reporting next week in Twitter (NYSE:TWTR), Apple (NASDAQ:AAPL), Facebook, Microsoft (NASDAQ:MSFT) and Pandora (NYSE:P) - I wanted to make sure that I had exposure to these events and what they could potentially do to the macro markets and their respective sectors.
I wish all investors the best of luck here. I'll be watching the Yahoo story closely heading into trading today and tomorrow.
Disclosure: The author is long AAPL, BBRY. The author wrote this article themselves, and it expresses their own opinions. The author is not receiving compensation for it (other than from Seeking Alpha). The author has no business relationship with any company whose stock is mentioned in this article.
Additional disclosure: Author may initiate a position in YHOO today.