I love the dawn of a new trading week - especially heading into earnings. There's going to be no shortage of stuff to watch this coming week, and QTR is jazzed to be front and center for what should prove to be a much better week than last week. Market futures are already poking upwards this lovely Monday morning, QTR is already on his second cup of coffee, and my favorite CNBC heads are yammering away in the background.
Fueled by Barclays and an upgrade of Apple (NASDAQ:AAPL) to overweight with a price target of $110, tech names seem to be inching upward as well in pre-market trading. In keeping with its momentum over the last couple of weeks, it looks like BlackBerry (NASDAQ:BBRY) is once again slated for a green open. With two hours until the market opens, BBRY is trading up $0.04 to $11.55.
Over the last two years, this chart really tells the story. You can see BBRY pushing hard to try and break through the same level of resistance it found in September and October of last year. The moving averages are forming a bullish flag, and the stock likely has the momentum to continue upward.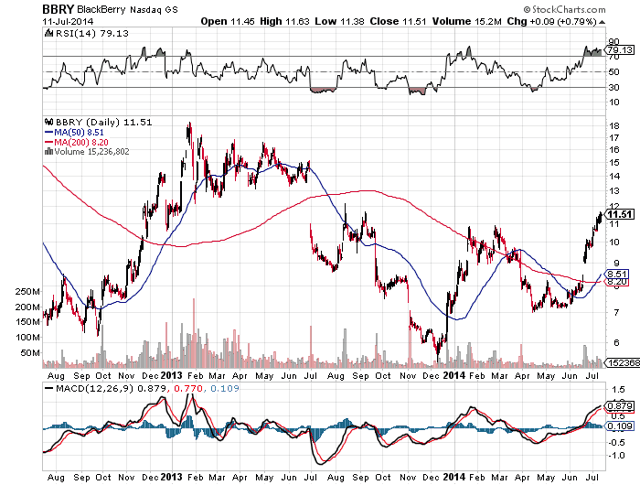 Click to enlarge
After an initial reaction to Chen's work on the company last December fell flat due to not yet having the company metrics to support the price, this price run up finally looks to be the real deal for BlackBerry - backed up by the numbers it posted during earnings a couple of weeks ago.
John Chen has, for all intents and purposes, righted the ship. Now, it's going to be a question of growth once again. It's about Chen starting over with his newly cleaned out company and instituting growth once again.
BlackBerry is still my largest holding. I trimmed some profits last week in order to free up some capital, but it easily still dwarfs my other positions. I believe the company is in the midst of an epic turnaround.
I have been on the record as having a short-term price target of $15 by the end of this year. My long-term target is for $20, but I've said that I think we need to wait until 2015 is upon us before making such great leaps upwards. I was asked over the weekend what I thought would need to happen for BBRY to find itself at the $20 levels by the end of the year - that's nearly doubling the price it's at now.
While I don't think it's impossible, I think it would take a perfect storm of events to occur, including one, two, or all three of these things taking place.
1. Continued Smartphone Success
Yes, I know that smartphones are not the main business here anymore - but for BlackBerry to become a $20 stock by the end of this year, smartphone sales are going to have to come in alive and well in the emerging markets in which Chen is trying to sell them.
And, we're going to need confirmation of that traction in the coming months. We've already had nominal success with the Z3 in Jakarta, and the India numbers look to be promising from the get go as well. We'll hear more about these sales as the months roll on and the company offers us continued snapshots into operations.
The Passport has to be a success. Due to the tasty hardware specs and the already promising reviews, the new device looks to be promising as the next "other phone" that business people are going to have to carry around with their iPhones during the work week.
While I know that smartphones are not meant to be a crutch for this company anymore, it's a niche for the company that is going to have to perform and translate into revenues a little bit - if, that is, you wanted to see $20 by the end of this year.
2. Pronounced Monetization of BBM
Whether it does it through the route of stickers, which is the plan currently being implemented - or it sells BBM outright - we would need some sort of pronounced monetization of this product which, so far, hasn't offered up much to the income statement.
We know it's an enormous asset due to its growing user base, we know that BlackBerry's plans of porting to Windows and Android are smart, but until we see a "pronounced" monetization of BBM, we're not likely to test the $20 level.
It's a killer app that can definitely compete with WhatsApp, but founding an active user base is only half of the equation. Monetizing it is the other half. Monetization is coming, in my opinion, but can it happen before 2015? How motivated is John Chen feeling, exactly?
3. Buyout/M&A Chatter/Partnerships
One of the bigger end games for the John Chen era being discussed is a buyout bid for the company. Whether or not this is likely, I'm not sure. The speculation, however, is being fueled by Chen's track record of turning around Sybase and then selling it to SAP for a massive profit.
Are there a litany of companies out there that could definitely benefit from BlackBerry's patents and IP? Yes, there sure are. Is it a possibility that any of them sees BBRY as a buyout candidate before the end of this year? Not especially likely. Once the company has stabilized a bit, it'll look a lot more attractive. The only reason it would be desirable now would be due to its extremely low price. Chen has already rejected the notion of looking at buyout offers at these levels. Plus, as a shareholder, I'd rather be offered a premium on $25/share in 2016 than a premium on $11/share in 2014. That's just me, though.
More likely to happen, in QTR's opinion, would be a partnership like the one we just saw BBRY undertake with Amazon (NASDAQ:AMZN) for its app store. If a couple more bigger companies can lend their name to a revalidated BlackBerry, it's likely to help credibility return to the stock for investors that are wary, and likely to give the stock price a boost. Partnership potential could be a catalyst that could move BBRY to $20 before the end of the year. However, if I had to bet, I would be reserving these predictions for 2015 and beyond.
Conclusion
Again, while I find $15 to be a much more cogent price target for the end of the year (still representing 30%+ upside and 150% upside from lows around $6), $20 could be doable if this perfect storm of events created enough confidence on the street behind the name. As good events unfurl, BlackBerry will start to get more and more media - as the media once again turns to the positive on BlackBerry (which we haven't seen for years), that could be the fuel necessary to get this stock back to some type of respectable forward multiple.
Best of luck to BlackBerry shareholders heading into this new week of trading.
Disclosure: The author is long BBRY, AAPL. The author wrote this article themselves, and it expresses their own opinions. The author is not receiving compensation for it (other than from Seeking Alpha). The author has no business relationship with any company whose stock is mentioned in this article.