GoPro, Inc (NASDAQ:GPRO) - BUY RECOMMENDATION - PT $45.50
Thesis: The 25 day quiet period on GPRO will come to an end on July 20, allowing GPRO's underwriters to release (likely positive) research reports on the firm on July 21st. This event could likely lead to a bump in the price of GPRO shares. While concern exists if GPRO can maintain its current share prices long term, we don't believe the hype on this company will decline in the near-term. Given GPRO's strong, influential underwriters, and excellent product, we suggest the quiet period expiration as another great time to buy into this company.
The 25 day quiet period on underwriter research that began with GoPro, Inc 's June 25 IPO will come to an end on July 20, allowing the firm's IPO underwriters to publish research reports on the wearable camera manufacturer and likely leading to at least a brief bump in the price of GPRO shares.
Hot Market Performance
GPRO's IPO priced at $24 per share, the high end of the expected price range, and posted a strong first day return of 30.6%. The stock spiked to close at $48.80 per share on July 1, and has since cooled slightly to fluctuate between $41 and $44 per share. GPRO closed at $38.84 per share on July 11.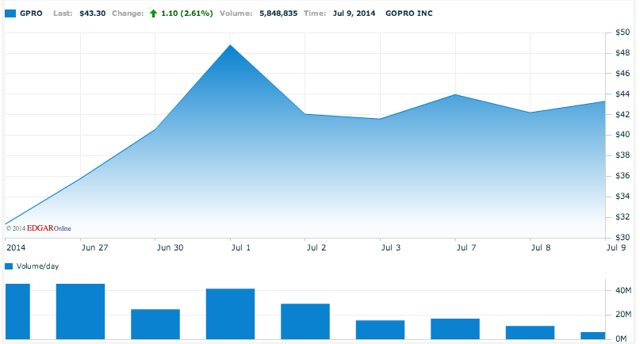 (Nasdaq.com)
Several Reputable Underwriters
GPRO's IPO underwriters, including Barclays Capital Inc; J.P. Morgan Securities LLC; Citigroup Global Markets Inc; Allen & Company LLC; Piper Jaffray & Co.; MCS Capital Markets LLC; Robert W. Baird & Co. Incorporated; Raymond James and Associates, Inc; and Stifel Nicolaus & Company, Incorporated, will seek to maintain the stock's excellent start by releasing positive reports on the camera firm starting at the conclusion of the quiet period.
Correlation Between Underwriters and Share Price Increase At The Quiet Period Expiration
The Journal of Finance (VOL. LVIII, NO. 1; 2003) explains how experienced investors purchase shares in anticipation of positive analyst reports, leading to rising share prices days in advance of the quiet period expiration.
Lead author Dan Bradley, PhD, CFA, affiliated with the University of South Florida, and colleagues note that analysts immediately initiate coverage for 76% of firms at the end of the quiet period, almost always with a 'Buy' or 'Strong Buy' rating. Firms with coverage initiated receive abnormal positive returns of 4.1% two days before and two days after the date of initiation.
The work of Carter, Piwowar, and Strader (2001) backs up Bradley's conclusions, finding that the mean analyst rating at the expiration of the quiet period is a "Buy," with higher ratings correlated to higher returns. Returns have also been found to rise significantly when coverage is initiated by more than one analyst-to 6.4%.
The early buys lead to a perception of increasing demand in the market, causing share prices to rise ahead of the quiet period expiration and creating a short-term buying opportunity.
Bradley et al also identify a significant correlation between the reputation and quantity of IPO underwriters and an increase in share prices at the conclusion of the quiet period.
The data generated in the course of our past three years of research align with the conclusions of the above academic publications.
GoPro's Business
GPRO is manufacturer and marketer of cameras and accessories, best known for its wearable devices, which have spawned millions of Youtube videos of users involved in difficult-to-film activities-extreme sports are particularly popular video fodder.
GPRO's cameras are generally small and lightweight, in keeping with the firm's original purpose of creating cameras to be worn during sporting events. The cameras have now spread to common use in various fields.
GPRO sold 3.8 million HD cameras in 2013, adding to its tally of over 8.5 million HD devices sold since the firm launched its first HD camera in 2009. According to the NPD Group, GPRO's HERO cameras made up 45% of the American camcorder market in terms of dollars in 2013.
GPRO offers software applications to streamline the process of managing captured content and sharing it online; these apps have led to a massive viral advertising success. Users uploaded some 2.8 years of video with "GoPro" in the title to YouTube in 2013, and in the first quarter of 2014, videos with "GoPro" in the title, tags, description or filename were viewed over a billion times on YouTube.
See our IPO preview of GoPro Inc. for additional business details.
Competition Among Major Camera Manufacturers
GPRO competes with other camera manufacturers, some of which have access to greater financial resources than GPRO.
Major competitors include Olympus Corporation, Canon Inc (NYSE:CAJ), Nikon Corporation, JVC Kenwood Corporation, Samsung Electronics Co., Polaroid Holding Company, and Sony Corporation (NYSE:SNE).
Management Switch
Founder and CEO Nicholas Woodman has served as GPRO's CEO since inception and as the firm's Chairman since January 2014. He was recently replaced as the firm's president.
Mr. Woodman holds a B.A. in Visual Arts from the University of California, San Diego.
Anthony Bates replaced Mr. Woodman as president in June 2014. He previously served as Executive Vice President, Business Development and Evangelism, of Microsoft Corporation.
Mr. Bates was also the CEO of Skype Inc. until its 2011 acquisition by Microsoft. Mr. Bates served in various positions with Cisco Systems, Inc., including Senior Vice President and General Manager of the Service Provider Group.
Conclusion: GPRO Shows No Signs Of Decline Yet; Another Buying Opportunity Ahead
Though there certainly are valid questions about whether GPRO can maintain its current share prices for the long term, we don't believe that the hype train on this company is anywhere near coming to a stop; investors should consider getting in for the short-term to capitalize on the upcoming quiet period expiration.
GPRO continues to benefit from exceptional name recognition, which has come about as a result of the company's shrewd targeting of the masses of consumers who want to share pictures and video of their activities online.
Though the firm faces heavyweight competition, it has a serious edge from its viral marketing campaigns, at least for now.
It is doubtful that the firm will be able to maintain its massive revenue growth-GPRO posted revenues of $234.2 million, $526.0 million, and $985.7 million in 2011, 2012, and 2013, respectively-but the stock remains a strong buy in the present moment.
Particularly given its solid list of underwriters, GPRO investors will likely see a boost around the time of the quiet period expiration on July 20th.
We invite readers wishing to join the discussion on IPO Quiet Period Expirations to click the +FOLLOW button above the title of this article-and those looking for the latest updates to click +Get real time alerts.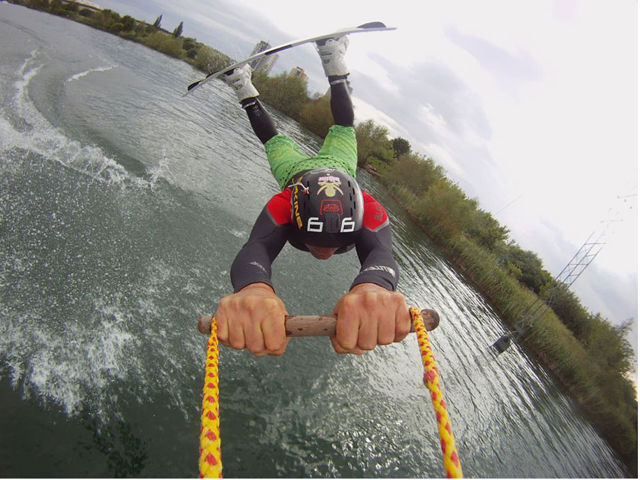 (Photo: demilked2.uuuploads.com/action-photograp...)
Disclosure: The author is long GPRO. The author wrote this article themselves, and it expresses their own opinions. The author is not receiving compensation for it (other than from Seeking Alpha). The author has no business relationship with any company whose stock is mentioned in this article.