Imprivata Inc (IMPR) - Buy recommendation - Price Target $17.25
Thesis: The 25 day quiet period on IMPR will conclude on July 19, allowing IPO underwriters to release reports on July 20th. The reports will likely be positive; and with such influential firms as J.P Morgan and Wells Fargo scheduled to initiate coverage, these could give IMPR stock a positive boost. Given IMPR's solid market performance thus far, and the recent supportive environment for tech IPOs, we see the quiet period expiration as a good time to buy into this growing company.
The 25 day quiet period on underwriter research reports initiated with the June 24 IPO of Imprivata Inc will conclude on July 19, allowing the IPO underwriters to release reports on the provider of authentication and access management technology and likely giving rise to at least a brief increase in the price of IMPR shares.
Solid Post-IPO Performance
IMPR's IPO priced at the midpoint of its expected price range at $15 per share and made a moderate 8.3% return in its first day of trading. The stock's price has since bounced between $15.50 and $16.50 per share; IMPR closed at $16.20 per share on July 11.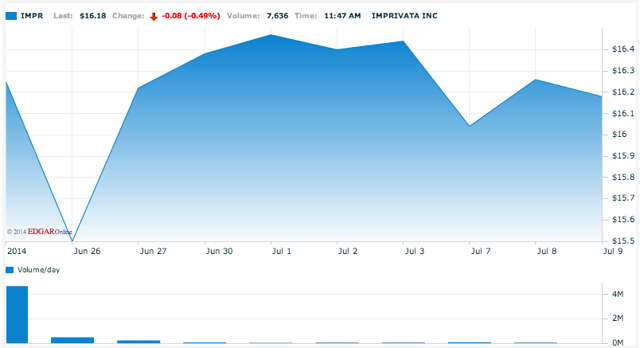 Click to enlarge
(Nasdaq.com)
Underwriting
IMPR's IPO underwriters, including J.P. Morgan Securities LLC; Piper Jaffray & Co.; Wells Fargo Securities, LLC; Stephens Inc.; and William Blair and Co., L.L.C, will try to set the stock on an upward path through the release of positive analyses on the firm beginning at the end of the quiet period.
Scholarship On Quiet Period Expirations and Buying Opportunities
The Journal of Finance (VOL. LVIII, NO. 1; 2003) states that share prices generally start to rise days ahead of the quiet period expiration, as investors foresee positive underwriter analyses and buy up shares to take advantage.
Analysts initiate coverage of 76% of firms with the expiration of the quiet period, almost always with a rating of 'Buy' or 'Strong Buy.' Lead author Dan Bradley and his colleagues describe that firms with coverage initiated receive abnormal positive returns of 4.1% in the two days preceding and following the initiation of coverage; more than one initiation of coverage have lead to returns in the higher range of 6.4%.
Bradley's conclusion aligns with the conclusions of Carter, Piwowar, and Strader (2001), who also note that the mean analyst rating at the expiration of the quiet period is a 'Buy', and that higher ratings correlate with higher returns.
Bradley et al also find a significant correlation between the reputation and number of IPO underwriters and rising share prices near the end of the quiet period.
The past three years of our research data support the conclusions of the above academic publications.
Imprivata's Business
IMPR offers a single sign-on authentication and workflow automation platform that it calls OneSign, which provides authentication and access management technology solutions targeted for the healthcare industry.
IMPR's solutions address the growing quantities of electronic medical information available to healthcare providers by removing barriers to that information through a single log-in, allowing providers to skip the process of accessing multiple secure systems. IMPR believes that this allows healthcare workers to work more efficiently and saves patients minutes that could be vital in making healthcare decisions. OneSign also provides healthcare enterprises the chance to opt for faster, modern authentication systems like proximity cards and fingerprint biometrics rather than traditional log-in systems.
As of March 31, 2014, OneSign boasted over 2.8 million licensed users through more than 950 healthcare organizations. Customers include integrated healthcare systems, academic medical facilities, and independent healthcare facilities. OneSign has also marketed its solutions outside the healthcare industry, with more than 770,000 licensed users across more over 400 non-healthcare organizations.
See the following link for more details.
Strong Competition
IMPR faces competition from providers of similar authentication and workflow solutions. Many competitors have access to greater financial resources than IMPR, or have existing relationships with healthcare organizations.
IMPR identifies Caradigm USA LLC, a joint venture by Microsoft Corporation (MSFT) and General Electric (GE), as its primary competition.
Management's Career Highlights
President and CEO Omar Hussain has served in his current roles since 2005 and previously served as IMPR's senior vice president of Marketing and Operations.
Before joining IMPR, Mr. Hussain served as the CEO of Anchorsilk, Inc., and as general manager of Compuware Corporation's NuMega Labs; he also served as vice president of Marketing at NuMega.
Mr. Hussain attended Allegheny College in Pennsylvania.
Conclusion: Appealing Prospect For Investors
Though IMPR sells an expensive product, OneSign's efficiency benefits may allow healthcare companies to save money (and lives) in the long run-an appealing prospect for an industry that remains under fire for its generally excessive overhead.
Given the strong performance of tech IPOs in 2014, we believe that investors should consider buying into IMPR with the quiet period expiration fast approaching.
We invite readers wishing to join the discussion on IPO Quiet Period Expirations to click the +FOLLOW button above the title of this article and +Get real time alerts for the latest news.
Disclosure: The author is long IMPR. The author wrote this article themselves, and it expresses their own opinions. The author is not receiving compensation for it (other than from Seeking Alpha). The author has no business relationship with any company whose stock is mentioned in this article.