By Bryane Michael
The iShares MSCI Turkey (NYSEARCA:TUR) index has grown significantly this year. Yet, we can not deeply understand Turkey's growth story without understanding one of this ETF's constituents -- Sabanci Holdings.
Overview of the Company
Sabanci Holding represents one of Turkey's large holding companies. Run basically as a family enterprise (albeit a publicly listed one), the company operates mainly in finance (banking and insurance represent about 40% of net sales in the first quarter of 2014), energy (about 25% of net sales in the quarter), and various types of industrial production (about 12% of 2014's first quarter net sales). The holding company's other lines make up the remainder. In the first quarter of 2014, revenue rose across its business lines by 24% (in local currency terms). As mentioned in the company's quarterly release, in its retail and industrial lines, some of this increase has come from higher prices (in the form of 8% consumer inflation). Turkish banking has also experienced a rising interest rate environment (and a less-than-stable macro environment) -- resulting in lower bank profits across the sector.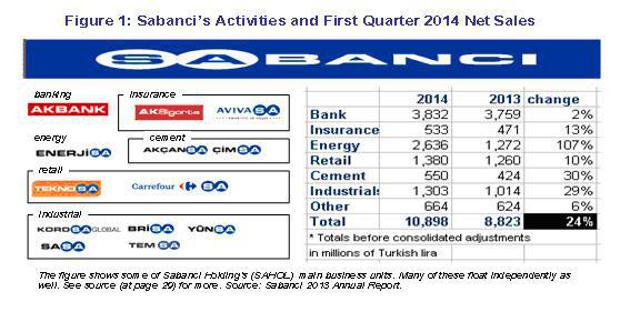 The company has favorable growth prospects on several fronts (as shown in Figure 2). Its share of Turkey's banking and securities markets represent only a small proportion of the total. AK Bank has plenty of room -- both to capture market share (as I've described previously in this brief) and to grow out Turkey's fledgling banks. AK Sigorta and Aviva SA also have captured only tiny parts of Turkey's larger insurance markets. With its tie-ins through its retail businesses (through cross-selling) and marketing to employees across the financial-industrial group, the upside remains high. Turkey has only begun down the road of non-carbon energy generation -- and Enerji SA is uniquely placed to capitalize on this growing market. Tekno SA, Sabanci's cement holdings, and the range of industrial companies all have prospects tied to broader growth in GDP. Growth looks sluggish at 2%. But such growth comes out higher than in the U.S. and EU.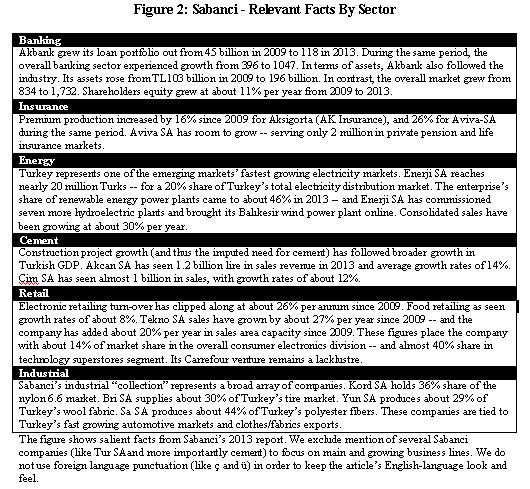 Sabanci's brightest prospects however probably lie outside of Turkey's borders. Its customers hail from a range of emerging markets -- like China, India, Indonesia, Malaysia and other fast-growing economies. Moreover, Sabanci and its peers provide exposure to a range of markets in the Balkans, Central Asia and other "hard to reach" markets. The company's annual statement for example, notes relatively level international sales (of TL1,564,989 in 2012 as opposed to TL1,611,396 in 2013). In contrast, domestic sales surged -- from TL5,829,196 in 2012 to TL8,350,381 in 2013. Such stability suggests that -- even if the domestic economy does dive -- foreign sales in these hard-to-reach markets will help buffer the company.
The company also benefits from R&D grants that make the companies' products likely to remain competitive in the longer term. The company had R&D expenditure of about 26.9 billion Turkish lira in 2013 (up from TL24.5 billion in 2012) in its industrial segment. Personnel expenses fell from about TL4.7 billion in 2012 to about 3.2 billion Turkish lira in 2013. The company acknowledges receiving R&D grants within the scope of the Scientific and Technological Research Council of Turkey framework. Research from CASE affiliated researchers has shown that such R&D promotion has made a difference in promoting profitability.
Overview of Sabanci's Financials
Sabanci's share price has generally followed the Turkish market. Since the beginning of 2011, the Istanbul benchmark index -- the Borsa Istanbul 100 (XU100) -- has risen 17%. In contrast, Sabanci has risen about 36% since the beginning of 2011. As shown in Figure 3, for a stretch, the company's shares even outperformed the S&P (using the beginning of 2011 as a base). Sabani -- or SAHOL:IS, citing it by ticker -- has also outperformed other companies. It has generated higher returns than the overall iShares Turkey exchange traded fund (or TUR, of which Sabanci represents about 5%). Recent declines in SAHOL mirror the broader market sell-off -- following political developments, and to a lesser extent, lagging profits (which we will describe shortly). However, price-to-book value remains at about 0.6 and price-to-earnings ratio at a comfortable 14. The company's dividend yield rests at a paltry 1% -- meaning investors probably won't get their money back in quarterly installments.

Click to enlarge
While earnings fell slightly in 2013, general trends in the company's financials have been positive. Figure 4 shows several financial statement items which illustrate Sabanci's good management. Cash has risen from about TL2.3 billion in 2010 to about TL4.6 billion in 2013. Total current assets have similarly doubled -- with total assets increasing roughly 50% in total in the 2010 to 2013 period. Long-term debt, while almost doubling, stayed at a very reasonable TL5.6 billion (or about TL1.3 billion more than 2013 revenues). Cash from operations has remained positive (with a large decrease in 2011). Much of the total change in cash comes from changes in financing.
Figure 4: Selected Financial Information From Sabanci Holdings
(Turkish lira, in thousands)
2010

2011

2012

2013

Balance Sheet

Cash

2,327

3,120

2,977

4,584

Total Current Assets

7,333

11,837

12,432

15,605

Total Assets

61,171

70,951

80,814

97,156

Long-term debt

3,538

4,521

4,665

5,633

Total liabilities

49,579

58,971

66,463

82,099

Income Statement

Revenues

3,613

3,741

3,611

4,386

Net income

782

883

874

814

Free Cash Flow

Cash from operations

-1,786

-5,440

903

337

Cash from investing

-4,075

1,654

-514

-1,415

Cash from financing

2,214

4,140

-483

1,779

Change in cash

-3,621

539

-166

992
Source: Sabanci annual report (2013).
If Sabanci continues to grow, its fair value should come to around TL12 per share -- representing a 20% premium to today's price. We see growth drivers in three areas. First, markets probably undervalue AK Bank and Sabanci's insurance holdings. AK Bank's (AKBNK) share prices alone have grown about 13% over the year. Price to book and P/E have all fallen -- reflecting general market sentiment casting a pall over Turkish banks in general. Second, electricity prices can only increase. Enerji SA has fast growing sales. An increasingly environmentally conscious Turkish middle class will likely militate for pro-green policies which make Enerji SA's energy mix attractive.
Third, the steady depreciation of the lira -- combined with technological advances which reduce labor expenses at home -- will likely make its tradables more attractive in the hard-to-reach markets we previously talked about. Sabanci's constituent companies make high-quality car tires, fabrics and fibers, cement and other materials needed by growing economies. As Turkey's trade and investment linkages with the Balkans, Central Asia and even (don't say it!) Iran increase -- these represent important potential profit drivers.
What Does This Mean for Playing Turkey?
Sabanci represents -- to some extent -- Turkey in microcosm. Investors who understand Sabanci will be able to take advantage of opportunities presented by funds like TUR and TKF (though the later doesn't seem to have major Sabanci exposure). Seeking Alpha authors like World Market Pulse and Jim Van Meerten have not talked about Turkey for a while. So, it's time to give Turkey another look. Sabanci is a good way to do that.
Disclosure: The author is long TUR. The author wrote this article themselves, and it expresses their own opinions. The author is not receiving compensation for it. The author has no business relationship with any company whose stock is mentioned in this article.