We are interested to see how the market reacts today, with M&A news in the oil industry that we ourselves found a bit underwhelming. Mergers of equals is one thing, but in this day one usually sees a decent premium attached to one of the companies in order to gain control of the other. When a long rumored takeover candidate gets taken over with no premium the traders generally throw a fit, as they should. We doubt that happens in this instance, but we are watching the situation, as it could lead to an increase in the price offered.
Also on our radar this week is Israel and the Middle East. Tensions continue to escalate as rockets continue to be launched into Israel and it seems to us that it is but a matter of time before action is taken. That could lead to fears about the oil market, especially with the situation in Iraq and Syria.
Chart of the Day:
The chart below highlights the breakdown in the uptrend in oil prices, but we are now faced with the situation where we could see the commodity break the psychologically important $100/barrel level. If that were to happen, we might not see a bottom until the $97/barrel area.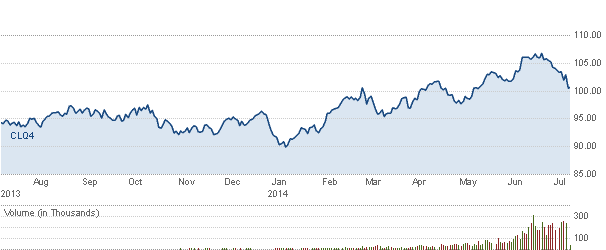 Source: CNBC
Commodity prices are as follows (at time of submission):
Gold: $1,315.70/ounce, down by $21.70/ounce
Silver: $21.125/ounce, down by $0.286/ounce
Oil: $100.72/barrel, down by $0.11/barrel
RBOB Gas: $2.9254/gallon, up by $0.0169/gallon
Natural Gas: $4.126/MMbtu, down by $0.02/MMbtu
Copper: $3.2655/pound, down by $0.0035/pound
Platinum: $1,499.60/ounce, down by $14.20/ounce
Bakken Merger
As many readers will probably have already read this morning, Kodiak Oil & Gas (KOG) has agreed to be purchased for $3.8 billion in stock by Whiting Petroleum (WLL). The deal values Kodiak at $13.90/share which is a 5% premium based on the metric that the companies used in their press release, but at a lower price than where Kodiak shares closed last week.
This deal alters the landscape in the Bakken, as it creates the largest producer in the play, surpassing Continental Resources (CLR) once the two companies' production is combined. It also takes two names out of the equation for possible acquisition targets, as both Kodiak and Whiting have long been rumored to be buyout candidates for larger energy names. Although the combined company could still be a takeover target for a larger competitor down the road once the consolidation has successfully taken place, we think that this combination effectively removes the combined company from the takeover candidate list and places them on the list of companies looking to make acquisitions.
We are not sure that those who have been betting on a takeover of Kodiak had this deal in mind - a nonexistent premium paid by a significant shale player.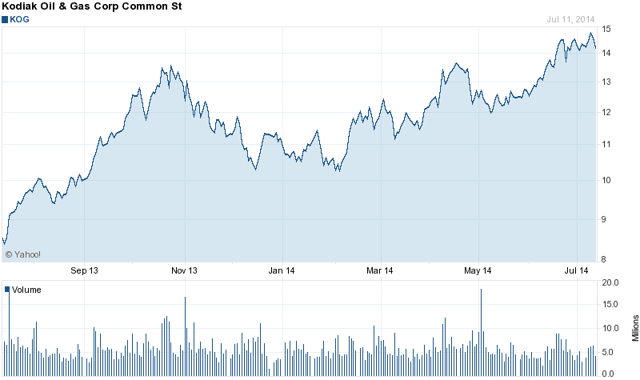 Source: Yahoo Finance
What Does This Mean Moving Forward?
We have been saying for some time that many of these plays were going to see consolidation, as big players looked to shore up their operations in key shale exploration areas, especially in the oil and liquid plays. This deal highlights the new thinking in these names as they continue to mature and look at different ways to improve shareholder returns. Although we did not see a timetable for how long it would take, the Kodiak and Whiting deal is expected to deliver $1 billion in cost savings for the combined company in the years ahead. Those savings are not too shabby on a transaction worth $6 billion, assuming that they are realizable within a reasonable timeframe.
This purchase leads us to believe that we are on the right track with such names as PDC Energy (PDCE) and Laredo Petroleum (NYSE:LPI); two companies with attractive assets focused on a minimum number of plays. Based on some of the more recent deals, it appears that the $2-7 billion range is the sweet spot right now for M&A transactions and is a range we think is ripe for further deals based on comments we have read in various companies' conference calls.
As we see the market right now, the Eagle Ford shale and Permian Basin in Texas as well as the wet gas and oil producing areas of Colorado appear poised to consolidate in 2014 and 2015. We have already seen some transactions in the Texas plays, but a number of these transactions are just companies moving in and out; not large-scale consolidation across the plays.
Disclosure: The author is long PDCE. The author wrote this article themselves, and it expresses their own opinions. The author is not receiving compensation for it (other than from Seeking Alpha). The author has no business relationship with any company whose stock is mentioned in this article.