Long-time shareholders in Citigroup (C) received some very good news on a couple of fronts today. These positive catalysts should break the stock out from recent underperformance in the first half of 2014. I believe banks should do better overall in second half of the year as the domestic economy accelerates after a dismal winter knock the economy into a contraction in the first quarter. In addition, interest rates should rise on better economic growth and as the Federal Reserve finally ends its easing programs completely in October after over five years of liquidity support to the credit markets. This should boost the bank's net interest margins.
Positive Catalysts:
This morning, Citigroup reported two positive developments.
The company announced a $7 billion settlement with the government to cover its actions in the mortgage market prior to the financial crisis. While this is a large amount, it is under the $12 billion the government originally sought. It is also less than amount JPMorgan (NYSE:JPM) has paid, even though that bank had less of a footprint in subprime lending than Citi did prior to the housing meltdown.
Citi also announced quarterly results that easily beat expectations this morning. After adjustments (mainly for the settlement), earnings came in at $1.25 a share; significantly above the $1.05 a share consensus estimate. Adjusted revenues came in at just under $19.4 billion for the quarter, more than $400 million over expectations.
In addition, the 12% drop in adjusted revenue from fixed income markets and the 15% fall in trading revenue were much better results than the bank's CFO had warned of recently. Although mortgage originations were down substantially on a year-over-year basis, they were up some 20% from a quarter-over-quarter perspective.
It seems the worst is over for Citigroup and the stock is offering a solid long-term entry point at current levels. Even after the rally the stock is likely to see in trading today on these announcements, the shares will still trade some 10% below their levels earlier in the year (See Chart).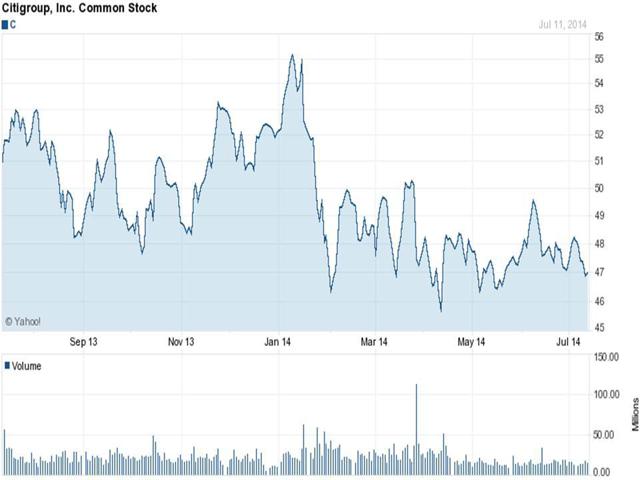 I would look for some analysts to raise earnings estimates and price targets on Citigroup this week on the basis of these two events. The current median analyst price target on Citi is $58 a share by the 26 analysts that cover the shares. This is more than 20% above the stock's current price, even with today's rally. The stock is cheap at around nine times next year's consensus earnings. ACCUMULATE
Disclosure: The author is long C. The author wrote this article themselves, and it expresses their own opinions. The author is not receiving compensation for it (other than from Seeking Alpha). The author has no business relationship with any company whose stock is mentioned in this article.