At 8 a.m. today, Citigroup (NYSE:C) reported stellar earnings that beat estimates on revenue and net income. Earnings per share were $1.24, compared to estimates of $1.05, and revenue came in at $19.37 billion, vs. analyst projections of $18.81 billion. Further, the company reported a $7 billion settlement with the Department of Justice (DOJ), which resolves substantially all RMBS and CDO-related litigation. This quarter marks an inflection point, in which the bank is emerging from the doldrums of the financial crisis.
Operating Results
On a year-over-year basis, revenue declined 3%, but expenses also fell 3%. The reduction in revenue was a function of a 5% decline in Citicorp revenues, primarily due to a decline in fixed income markets revenues and lower U.S. mortgage refinancing activity. The entire industry is seeing the same temporary decline in activity, and Citi's revenue decline is not anomalous, however.
Citigroup's allowance for loan losses was $17.9 billion at the end of the quarter, or 2.70% of total loans. In the same period last year, the figure stood at $21.6 billion, or 3.38% of total loans. It is clear that the balance sheet is beginning to clear up.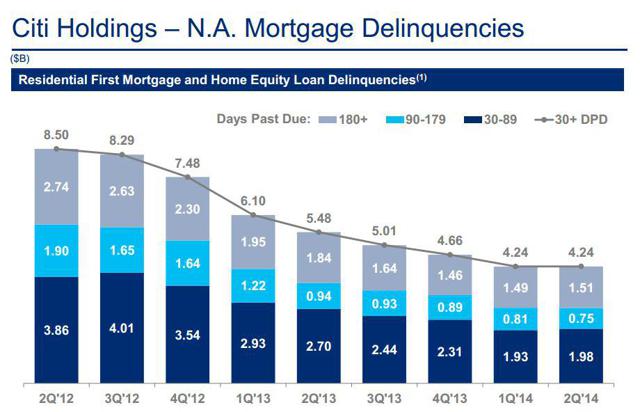 Source: Earnings Presentation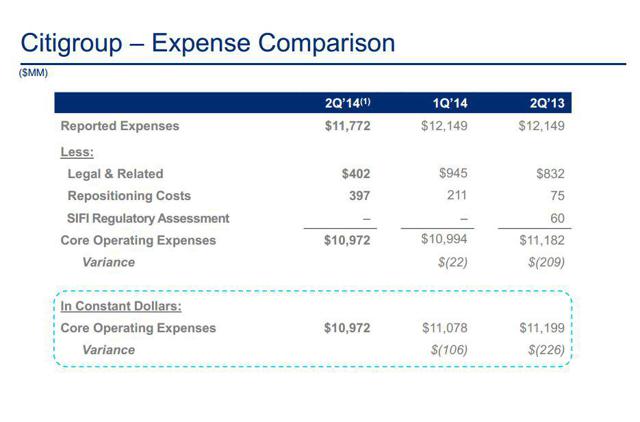 Source: Earnings Presentation
CEO Michael Corbat's statement was upbeat about the quarter:
"Our businesses showed resilience in the face of an uneven economic environment. During the quarter, we continued to grow loans in our core businesses, reduce operating expenses by simplifying our products and processes and utilize our deferred tax assets. Despite the significant impact of today's settlement on our net income, our capital position strengthened to an estimated Tier 1 Common ratio of 10.6% on a Basel III basis, and our tangible book value increased."
Source: Citi Press Release
The one main negative takeaway from the quarterly operating results is that net income was temporarily buoyed by a $1.1 billion utilization of deferred tax assets.
The profitability of its lending arm has not been too stellar, as interest rates remain low. During the quarter, net interest margin was 2.87%, which is down from 2.90% last quarter but up from 2.85% y/y. With the tapering of QE and the likelihood of a federal funds rate increase next year, this will provide a boon to Citi. The industry is facing a temporary reduction in revenue due to this lower net interest margin revenue, as interest rates are artificially being held down by the Fed.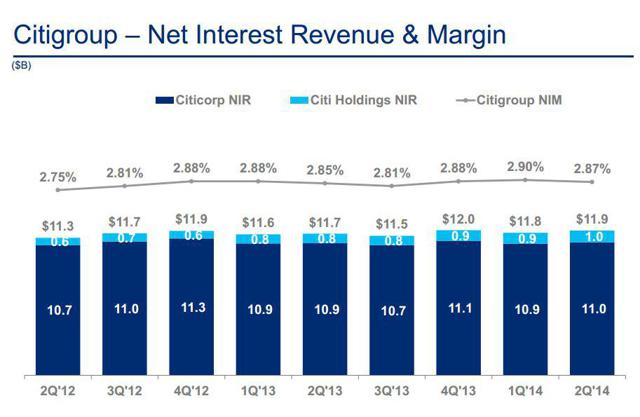 Source: Earnings Presentation
Book value per share increased to $66.76, and tangible book value per share increased to $56.89. At the current trading range, this reflects a 27% and 16% respective discount. In normalized operations, the stock price reflects a premium to these values, so there is still plenty of upside in this name.
With capital ratios reaching tremendous levels (10.6%) and a majority of the litigation risk in the rearview mirror, the risk in owning this company is abating.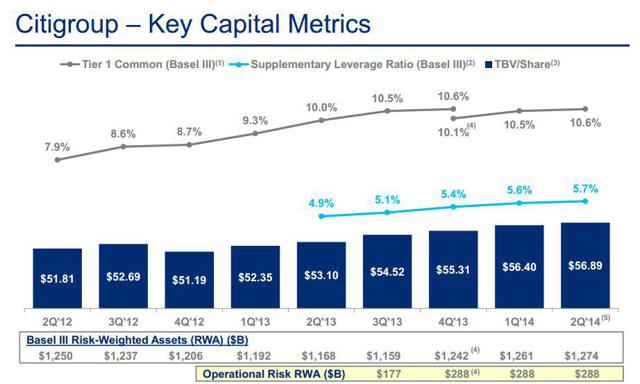 Source: Earnings Presentation
Final Remarks
The humiliation Citi faced after once again being rejected by regulators to increase its dividend in March has led to too much negative sentiment in this bank. Its liquidity levels are adequate and operating results are improving, which should allow for a dividend increase later this year. The stock has had a lackluster performance, even with the improving economy, and has nearly provided no upside so far from the 2010 levels. Trading at a significant discount to book value and a low historical PE ratio makes Citi a prudent long-term addition to a portfolio.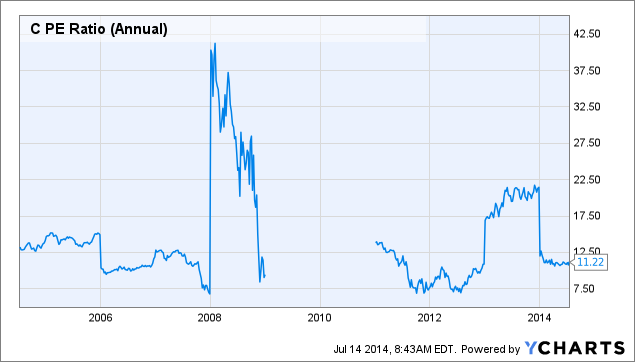 C PE Ratio (Annual) data by YCharts
Disclosure: The author is long C. The author wrote this article themselves, and it expresses their own opinions. The author is not receiving compensation for it (other than from Seeking Alpha). The author has no business relationship with any company whose stock is mentioned in this article.