Torchlight's (NASDAQ:TRCH) stock is down almost 10% after issuing a registration statement to register 2.4 million shares. Torchlight's shares have traded an average of approximately 40,000 shares per day over the past 3 months, so this represents almost 60 days of trading volume. The stock has declined almost 10% since the registration statement filing on July 8th.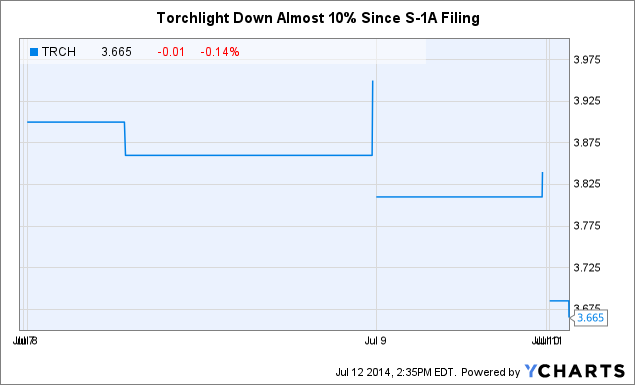 TRCH Price data by YCharts
With millions more shares registered, and the prospect of an additional 10 million shares to be registered in the future, the stock could see a substantial downside as the following events play out:
1) Newly registered holders continue selling their previously restricted stock. With most of the newly registered shares having been sold at $1.75-$2 per share, holders have a substantial paper profit. This is despite Torchlight trading at 40x its PDP reserve value and despite further delays in the Mississippi Lime project. These factors and others may lead them to sell their previously restricted stock, driving down the price further.
2) Torchlight has yet to address the material omission in its SEC filings. The newly registered shareholders invested prior to appropriate public disclosure of Torchlight's financial relationship with Husky, whereby Torchlight pays Husky a "promote" on every well drilled in the Hunton. This substantially negatively affects Torchlight's economics and may have made investors less interested in financing Torchlight in previous rounds, making them more likely to sell now that their shares are unrestricted.
3) News flow in the Mississippian is negative, and further delays reduce the probability of success there. As discussed here, Torchlight anticipated disclosing results in April, and then in June, and now has blown past both of those deadlines despite the shallow, vertical nature of the drilling project. Torchlight has invested over $6 million into this project. Considering Torchlight's track record of substantial losses, this project may be likely to also be booked as a loss. Official announcement of such may be delayed as long as possible, but the longer the delay, the more likely the project is a failure.
4) Torchlight's recent equity deal implied a $2 per share value. This 50% discount was similar to Ring's (NYSEMKT:REI) 25% equity raise discount, but obviously more extreme, which may be warranted considering Torchlight's higher valuation, smaller size, and more risky prospects than Ring's. As more information is provided about the equity sale, the stock may trade down more, similar to how Ring's stock declined after its equity raise. Particularly, information about the owner of the counterparty, Zenith Petroleum, is troubling. Zenith is owned by an individual who was banned from the securities industry in the 1990s after pleading guilty to stock price manipulation. His involvement in Torchlight makes it likely that existing holders will sell their stock prior to the registration of his shares, as the other public companies he was as heavily involved in as he is in Torchlight traded to $0.
Torchlight is already down almost 10%, and may see further downside as newly registered shares are sold into the market for the reasons discussed.
Disclosure: This commentary is provided as general information only and should not be taken as investment advice. The opinions expressed in these materials represent the personal views of the author(s). It is not investment research or a research recommendation, as it does not constitute substantive research or analysis. Any action that you take as a result of information contained in this document is ultimately your responsibility. The author(s) will not accept liability for any loss or damage, including without limitation to any loss of profit, which may arise directly or indirectly from use of or reliance on such information. Consult your investment advisor before making any investment decisions. It must be noted, that no one can accurately predict the future of the market with certainty or guarantee future investment performance. Past performance is not a guarantee of future results. Statements in this communication are forward-looking statements of the author(s). The forward-looking statements and other views expressed herein are as of the date of this publication. Actual future results or occurrences may differ significantly from those anticipated in any forward-looking statements, and there is no guarantee that any predictions will come to pass. The views expressed herein are subject to change at any time due to numerous market and other factors. The author(s) disclaim any obligation to update publicly or revise any forward-looking statements or views expressed herein.
Disclosure: The author is short TRCH. The author wrote this article themselves, and it expresses their own opinions. The author is not receiving compensation for it. The author has no business relationship with any company whose stock is mentioned in this article.