As I said yesterday, there was a risk that the knee jerk reaction to the Chinese rate hike was a big mistake Tuesday, and so it proved to be Wednesday. The Chinese didn't seem bothered by the rate hike so we reversed course. The biggest moves came in the FX markets where the dollar gave back all of its gains (DXY -1.3 percent). Materials (+2 percent) and Energy (+1.4 percent) followed the moves in Commodities (Crude +2.7percent, Copper +1.25 percent). Banks (+1.5 percent) struggled early on as BoA (-.5 percent on the day) sold off another 5 percent early doors on fears of mortgage bond buybacks. With news reports suggesting that Blackrock, PIMCO and the NY Fed were teaming up to get Bank of America (NYSE:BAC) to buy back $45 billion of MBS it inherited from tan guy Angelo Mozilo's Countrwide. But Wells Fargo (NYSE:WFC) (+4 percent) allayed some of those fears as they said the foreclosure mess had been blown out of proportion. The Fed's Beige Book, which was released at 7pm last night , should have raised some concern thought about the scale of QE2 as the report painted a much more optimistic picture than Septembers issue, but the S&P futures held their levels before ticking lower into the bell.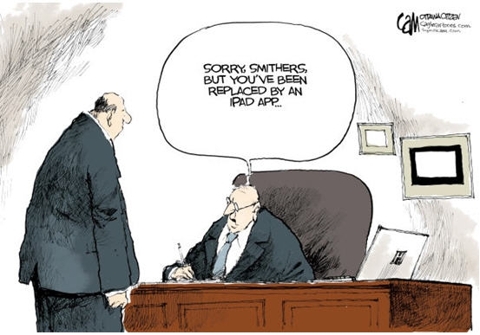 Today's Market Moving Stories
After all the hype, the China data dump was a damp squib coming in softer that the "whisper" numbers doing the rounds. China's economy grew 9.6 percent in Q3, the smallest gain in a year, as inflation accelerated in September to the fastest pace in 23 months. The increase in gross domestic product from a year earlier topped economists' median 9.5 percent estimate. Consumer prices rose 3.6 percent last month, the statistics bureau said at a briefing in Beijing. That matched the median forecast. China's interest-rate increase two days ago, the first since 2007, highlighted the government's confidence in the nation's recovery and concern at asset-bubble and inflation risks. The strength of the economy may determine how much the government allows the yuan to gain as international tensions build over currency interventions, a topic to be discussed by Group of 20 officials meeting from tomorrow in South Korea. Industrial output rose 13.3 percent in September from a year earlier, the statistics bureau said. That compared with a 13.9 percent gain in August and the median 14 percent estimate in a Bloomberg News survey of 23 economists. September inflation compared with a 3.5 percent increase in prices in August from a year earlier. Second-quarter economic growth was 10.3 percent.
Turning to the US where lending activity across the country continued to remain stable at low levels, the Federal Reserve Board said Wednesday. In its latest anecdotal Beige Book survey of economic conditions, said demand was picking up in certain districts, including Richmond and Dallas. But overall, demand for commercial and industrial loans remained weak as businesses continued to delay capital spending plans until uncertainty was alleviated on upcoming economic and public policy changes. Even so, the Fed noted, merger and acquisition lending did pick up in a few districts, while commercial real estate remained subdued with lending standards tight. In Richmond, activity in the banking sector improved modestly, led mostly by gains in business lending and home refinancing. Several bankers in the district reported that volume of new mortgage loans increased slightly in September.
The Fed plans to pump $500bn more into economy. According to a report by consulting firm Medley Global Advisors suggested the Fed could start introducing the stimulus as soon as next month, spending $100bn a month on bond purchases.
The WSJ reports that Goldman Sachs Group Inc. (NYSE:GS) is considering paying back a $5 billion investment from Warren Buffett's Berkshire Hathaway Inc. (NYSE:BRK.A) that bolstered the securities firm during the worst of the financial crisis, according to people familiar with the situation. Goldman announced Berkshire's cash investment in September 2008, a vote of confidence that helped Goldman raise an additional $5 billion the next day despite the chaos that was sinking shares of financial firms. Goldman has the option to redeem the preferred shares held by Berkshire for $5.5 billion, though the move would trigger a charge of $1.6 billion and require approval by the Federal Reserve. Before deciding to invest in Goldman, Mr. Buffett turned away other Wall Street firms that came looking for help. But he drove a hard bargain with Goldman, including big dividends and curbs on the sale of Goldman shares by company executives. It isn't clear if executives at the New York company have sought formal Fed approval yet, but they are looking closely at whether to use a small chunk of the firm's $173 billion in excess liquidity to unwind the investment, people familiar with the matter said. One reason for the potential move: Hefty dividend payments of 10 percent a year on Berkshire's "perpetual" preferred shares have cost Goldman about $1 billion so far. The payout is equivalent to more than $1.3 million a day– or $15 a second. Goldman could also replace the costly capital from Berkshire with much cheaper funding now available in the debt markets. Goldman's unsecured bonds currently yield between 2 percent and 6.5 percent, and long-term interest rates are near record lows.
September's UK retail sales figures provide yet more evidence to suggest that consumers are starting to rein in their expenditure even before the fiscal squeeze has begun. Sales volumes (including petrol) posted a 0.2 percent monthly drop in September, while August's drop was revised larger to 0.7%. Admittedly, retail sales volumes were still 1 percent larger in Q3 than in the previous quarter, so overall household spending probably supported GDP growth in the third quarter. In addition, I wouldn't rule out a small pick-up in retail sales growth towards the end of this year as the VAT rise on 1st January 2011 approaches. Nonetheless, today's figures provide further evidence to suggest that the period of surprising consumer resilience is coming to an end. I continue to think that the colossal fiscal squeeze ahead will mean that household spending falls by around 0.5 percent next year.
The publication by Eurostat of revised estimates of the Greek general government deficit and debt levels for 2006-09 has been postponed until November 15, according to comments made yesterday to DPA by a spokesman for EU Commissioner Rehn. The Eurostat mission was said to be still busy verifying the Greek statistics. Earlier this week, DPA observed, Greek finance ministry officials had indicated that the Greek 2009 deficit/GDP ratio was likely to be revised up from 13.6 percent (as presented in April) to 15.4 percent, with the debt/GDP ratio revised up to 127 percent of GDP (from 115 percent presented in April.
Commodities Corner. Worth a read.
Extreme Drought Grips Parts of South, Midwest. "The general pattern is going to show worsening."
Soybeans Hit 14-Month High. Strong export demand for U.S. soybeans, particularly from China, is keeping prices at these levels.
Speculators polish up the price of silver…Sales of silver coins are set to hit a record high this year.
Note, General Mills (NYSE:GIS) is to raise the price of some of its breakfast cereals because of rising grain and other commodity prices, the Wall Street Journal reported, citing the company. Kraft Foods Inc. will also raise breakfast cereal prices, the newspaper said, citing people familiar with the move. General Mills said it would raise prices "by a low single digit" on about a quarter of its breakfast cereals from Nov. 15, the WSJ said.
The cost of obesity in the US is put at $168bn a year.
The US National Bureau of Economic Research (NBER), using new methodology, has concluded that the annual cost of obesity in the country is higher than that calculated in previous studies. It puts the annual cost at $168 billion a year, higher than the $147 billion estimated by the Institute of Medicine. The concern over obesity, which affects more than one-third of the US population, and overweight, which affects the same proportion, is because it is known to increase the risk of a range of health problems including type-2 diabetes, stroke and certain cancers among others. The estimated annual costs of medicating these conditions amounts to 17 percent of total US medical health care costs, according to NBER.
Company / Equity News
Three lead US carriers – Delta (NYSE:DAL), US Airways (LCC) and American – all beat expectations yesterday and drove the airline sector up 7percent. The causal factors included strong business demand on international routes and capacity discipline that helps loads and yields. I'd expect Europe will have a similar performances with BA (OTC:BAIRY), easyJet (EJETF.PK) and Ryanair (NASDAQ:RYAAY) all likely to post very impressive results for the September quarter. Having broken out of their trading ranges in the past month airlines share price have momentum that will last for at east a few more weeks.
The latest safety update on Elan's (NYSE:ELN) Tysabri drug was released last night (October 20th). Two more PML cases were confirmed for the month to October 1st, bringing the total to 70. The geographic split is: EU 37, US 29 and rest of the world 4. Fourteen of the 70 patients with PML have died. With just two new PML cases, this is the lowest mom increase since we began recording these data; clearly, this is positive for the overall safety profile of Tysrabi.
EBay (NASDAQ:EBAY) rose as much as 7.8 percent after forecasting Q4 sales and earnings that exceeded analysts' estimates. Sales will be $2.39 billion to $2.49 billion this quarter, EBay said yesterday when it reported third-quarter results. Analysts in a Bloomberg survey had projected revenue of $2.41 billion and earnings of 44 cents. Chief Executive Officer John Donahoe, halfway through a three-year campaign to revive growth, has cut listing fees to lure more sellers and taken steps to make EBay's main Marketplaces commerce site easier to use. The company also is benefitting from more consumers making purchases online and using PayPal to handle payments. EBay rose as much as $2 to $27.66 in extended trading following the announcement.
Apple's (NASDAQ:AAPL) CEO Steve Jobs has unveiled a lighter MacBook Air laptop and a version of the Macintosh operating system called Lion, adding features that make the company's computers more like its mobile devices. Macs will soon have an online application store, similar to the one for the iPhone and iPad, Jobs said today at Apple's headquarters in Cupertino, California. New computers also will take better advantage of multitouch gestures on track pads,mimicking Apple's mobile iOS software. The app store will open within 90 days, and Lion will be released in the summer of 2011.
China's clampdown on exports of rare earths essential for the electronics and new-energy industries may create a windfall for a handful of Western companies seeking to benefit from surging global demand. Molycorp Inc. (MCP), owner of the world's largest non-Chinese deposit of rare-earth metals, and Lynas Corp. (OTCPK:LYSCF) both plan to open mines in the next two years to meet the demand, forecast by the Chinese Rare Earths Industry Association to gain by almost two-thirds by 2015. Their shares have more than doubled this half, tracking gains in prices for rare earths that are used in the manufacture of disk drives, wind turbines and smart bombs.
Paint and coatings giant Akzo Nobel NV (OTCQX:AKZOY) Thursday reported a higher than expected third quarter net profit due to a 13 percent rise in revenue and lower financing costs, but said construction and housing markets remain soft. The market view is that the world's biggest paint maker, runs the risk of having to make some very costly acquisitions to reach its goal of boosting sales by more than 50 percent.
Dairy products king Danone Thursday reported a 15% rise in third-quarter revenue, lifted by brisk sales of dairy products in emerging markets, with an extra boost from foreign exchange rates, and confirmed full year targets. Danone, said sales for the third quarter rose to €4.35 billion from €3.78 billion last year, beating analysts' expectations for €4.25 billion. It's targeting sales growth of more than 6 percent this year, at constant exchange rates.
And French spirits group Pernod Ricard (OTCPK:PDRDF) today posted a 14 percent increase in revenue for the first quarter ended Sept. 30, beating expectations, as sales were boosted by strong growth in Asia and its performance was lifted by the U.S. dollar's strength against the euro.

Today in Europe British Airways has jumped 3.5 percent after the U.K.'s largest airline reached an agreement with Unite that the labour union agreed to put to 11,000 cabin crew after the airline said it would reinstate staff travel perks, the London-based Times reported, without saying where it got the information.
Debenhams has climbed 4.2 percent as the U.K.'s second-biggest department-store chain said profit before tax and exceptional items rose to £151 million from £125.2 million a year earlier as it added more profitable designer labels and shoppers bought more products online.
Also to the upside is Britvic Plc which has rallied 4.2 percent today after the maker of Tango soda and Robinson's fruit drinks said full-year sales rose 15 percent as fiscal fourth-quarter revenue climbed 33 percent. But Tullow Oil has shed 3.5 percent on news that the oil exploration company said its Onyina-1 exploration well in the Deepwater Tano license off the coast of Ghana encountered water-bearing reservoirs.
TUI Travel Plc lost 7.1 percent Thursday after the company's audit for the full-year ended September 2009 highlighted a further £88 million of irrecoverable balances that it needs to write off, giving a total writedown of £117 million , the company said in a statement. Paul Bowtell, its CFO will leave the company at the end of this year.
Mobile phone manufacturer Nokia (NYSE:NOK) said Thursday that it swung to a profit attributable to equity holders of €529 million ($742 million) in the third quarter from a loss of €559 million a year earlier, when it took a big impairment on its Nokia Siemens Networks business. The result was well ahead of the €229 million consensus forecast. Revenue for the quarter rose 4.7 percent to €10.27 billion, while adjusted operating profit for the quarter fell 14 percent to €634 million. New CEO Stephen Elop said the company "faces a remarkably disruptive time in the industry, with recent results demonstrating that we must reassess our role in and our approach to this industry." The group also lifted the fourth-quarter outlook for margin at its devices and services segment slightly to a range of 10 percent to 12 percent. Shares in Nokia rose 5.7 percent after the announcement.
Fiat (FIATY.PK) today has lifted its outlook for the year as the Italian car maker reported a surge in third-quarter profit to €190 million ($264 million) from €25 million a year earlier. Revenue in the latest quarter rose 12 percent to €13.48 billion. The group said it now expects to report a minimum trading profit of €2 billion for 2010, well above its previous guidance of between €1.1 billion and €1.2 billion. Revenue is also expected to exceed €55 billion, compared to the previous guidance of more than €50 billion. Shares in the group were up 3.1 percent after the announcement.
In pre-market trading Netflix (NASDAQ:NFLX) jumped 10 percent. The company which calls itself "a streaming company, which also offers DVD-by-mail," projected fourth-quarter profit of as much as 74 cents a share, beating the average analyst estimate of 70 cents. Netflix also raised its year-end subscriber forecast to as much as $19.7 million from up to $18.5 million.
Seagate Technology (NASDAQ:STX), the world's largest maker of disk drives, sank 4.1% percent in German trading to $14.59. The company reported first-quarter profit and sales that missed analysts' estimates. Seagate disclosed on Oct. 14 that it was in talks about a possible buyout.
Disclosure: None