Last week, the ETF Pullback model (see Appendix below for explanation and performance data) got defensive, very defensive, by going all fixed-income. This week, it's back out of the closet, sort of.
Here are this week's ETFs:
These were the selections it made last week:
This is a purely technical model so I can't necessarily assume I'll find an analytic explanation for the choices that suits me. On the one hand, that's a bit off-putting considering my fundamental-equity roots. But at the same time, it's a bit liberating. If I were a perfect genius, my fundamental analysis would show me all the ideas I'd ever need to see. But I'm not that smart so it's nice to be continually exposed to interesting ideas I wouldn't otherwise find.
As it turns out, though, I completely agreed with the model last week, based on concerns about recent equity strength, another round of earnings season and more importantly, updated guidance for 2011 (a year when so much seems to be expected from corporate profits). Also, there's uncertainty regarding QE2. I think it will be fine, but we are living in a generation that is especially inflation paranoid, perhaps too much so.
Actually, QE2 fears bagged ZROZ badly one day last week and gave my performance a metaphoric kick in the shin. Figure 1 shows the real-world performance in the FolioInvesting.com account I've been using to implement the model.
Figure 1
click to enlarge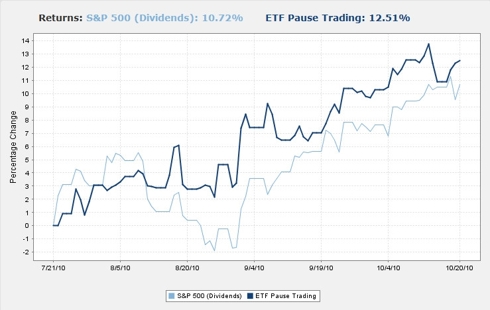 Click to enlarge

On the whole, though, you can get a sense of how the model has, lately, been coping with the ever-shifting but generally constructive market environment we've been experiencing since mid-summer.
This week's list is particularly interesting. The silver and preferred equity ETFs have oddball qualities. The former is something of an inflation hedge, although one that has more need than gold for decent economic activity. The latter would not likely benefit from an inflationary environment, though, here too, there is a cyclical quality (disinflation is all well and good, but it needs enough economic strength to keep those preferred dividends from being skipped).
The India-Latin America exposure is something that almost leads me to regret that this is a weekly model, meaning both may be gone very soon. I had been and still am contemplating some longer-term exposure to both regions.
Brazil is in a delicate position with a change in presidency coming soon (Dilma Rousseff, the chosen successor of exceptionally popular outgoing President Lula faces an October 31st runoff against former Sao Paolo Governor Jose Serra) but has still come a heck of a long way since the days when use of the words "economy" and "Brazil" in the same sentence could provoke laughter. Now, it's actually one of the premier global economies. Colombia and Peru have improved a lot since overcoming drug cartels and insurgents respectively. Mexico remains iffy given the shifting of serious drug activity to that country, but it's reacting aggressively.
Meanwhile, as much as we revere China's economic prowess, there are still some who suggest India might surpass it. That's certainly not a slam dunk. India's infrastructure is dreadful and political corruption remains rampant, but the same can be said of China. India faces a hostile neighbor in Pakistan and internal terrorism. China is stable now, but we can't be complacent as large portions of the population being left behind by economic progress grow restless, not to mention the potential of Tibet to become troublesome after the current Dali Lama passes. Government in China can act in a more authoritarian manner, which may give it an edge when it comes to simply getting things done. But India's democratic and entrepreneurial cultures are powerful; it may not act as decisively as China, but when it acts, it can act well, very well.
Again, India and Latin America may be eliminated from this portfolio next week. But their presence points up another interesting quality to a model like this. Think of it as being like the trailers you see before the main attraction in a movie theater. Sometimes, you watch for a few minutes and that's that. Other times, you see something that catches your fancy and motivates you to see the film when it comes out. Similarly, every now and then, one or more of these ETF trailers may motivate me to select them for a less-technically-based longer-term portfolio.
APPENDIX
To create this model, I started with a very broad-based ETF screen I created in StockScreen123.com.
Eliminate ETFs for which volume averaged less than 10,000 shares over the past five trading days

Eliminate HOLDRs (I don't want to be bothered with the need to trade in multiples of 100 shares)

Eliminate leveraged and short ETFs (I think of these as hedging tools rather than standard ETF investments of even trading vehicles)
Then I sorted the results and select the top 5 ETFs based on the StockScreen123 ETF Rotation - Basic ranking system, which is based on the following factors:
120-day share price percent change - higher is better (15%)

1-Year Sharpe Ratio - higher is better (15%)

5-day share price percent change - lower is better (70%)
The idea of using weakness as a bullish indicator is certainly not new. But often, it's an add-on to other factors that, on the whole, emphasize strength. Here, the weakness factor is dominant, with a 70 percent weighting.
This model is designed to be re-run every week with the list being refreshed accordingly. I trade through FolioInvesting.com, where I pay a flat annual fee rather than a per-trade commission, so I don't care about the fact that turnover form week to week is often 80%-100%. If you want to follow an approach like this but do have to worry about commissions, the strategy tests reasonably well with three ETFs, or even with one. (Cutting the number of ETFs is far preferable to extending the holding period.)
Figure 2 shows the result of a StockScreen123 backtest of the strategy from 3/31/01 through 10/7/10.
Figure 2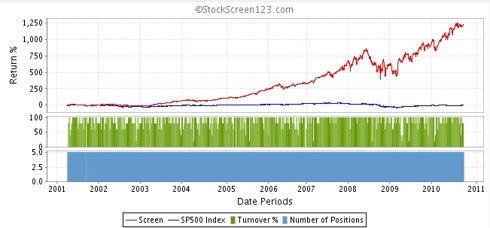 Click to enlarge
Figure 3 covers the past five years, a very challenging market environment that witnessed the fizzling of many strategies that had succeeded for a long time.
Figure 3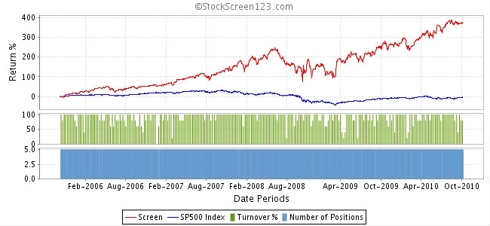 Click to enlarge
Disclosure: Long EPI, INDY, LATM, PGF, SIL