When I started focusing on high-dividend writing last year, the big, high-yielding oil stocks were the no-brainer place that you should look if you wanted to find a company that possessed a high quality, gave prospective owners an entry price offering value, and would throw in some growth as well. Conoco (NYSE:COP), Royal Dutch Shell (NYSE:RDS.A) (NYSE:RDS.B), and BP (NYSE:BP) fit that bill well.
A year later, the valuations have shifted; Conoco and Royal Dutch Shell have entered "hold and collect the dividends or reinvest them if you want" mode, and although BP is probably still one of the better values out there, the current $51 price doesn't smack of the same obviousness that it did when the price was barely around $40.
When the European oils and Conoco aren't the place of choice for high yield, you usually get two other places left to investigate.
The first is big tobacco. Altria (NYSE:MO) is starting to flirt with 20x earnings, which is the kind of valuation you'd place on the stock as if cigarettes weren't regulated at all and the business was just peachy in a pre-surgeon general's warning kind of way. I would think the constant taxation and regulation would put demand a fair value somewhere between 15 and 17x current profits, but that's just me. Reynolds (NYSE:RAI) and Lorillard (NYSE:LO) are flirting with marriage, and the accompanying googley eyes have brought both of those companies well above what you'd be able to get if you said, "I'm the kind of investor who can be patient for five years if need be."
And that means the only other place to look for high-quality current is big telecom, which principally means AT&T (NYSE:T). At some point, I'm going to sit down and write up what the consequences of the DirecTV deal means for shareholders, but I wanted to make sure it gets by regulators before I devote the time to it.
DirecTV (NASDAQ:DTV) isn't a company that gets a whole lot of attention, but it generates absurd amounts of cash flow. It never showed up on the lists of many investors because it doesn't pay a dividend at all, and it wouldn't necessarily show up on a whole lot of stock screens because the company has taken a lot of earnings impairments throughout the years that understand the significant, linear growth of its cash flow per share. I mean, wow, DirecTV grew its cash flow every year this past decade, quintupling from $2 per share to $10 per share during the 2006 to 2013 stretch.
Without much fanfare, DirecTV repurchased over half of its stock since 2008, lowering the share count from 1.0 billion to 507 million shares today. It makes $2.7 billion in net profits, which is compared to AT&T's $13.4 billion for those of you who wanted to get a feel for the size of the transaction comparison (if you own a share of DirecTV today, each share will convert into $28.50 cash and $66.50 in AT&T stock).
But let's put all of that aside for a moment, and just talk about what AT&T can do for you if you hold stock in the company for a long time. I put together a crude Excel chart to illustrate: someone who bought 1,000 shares in 2004 at an average price of $20 would have received $17,330 if he collected the dividends along the way, and at least 700 additional shares if he chose to reinvest (I say at least because I'm not armed with a stable of graduate school assistants to perform the calculations of 40 reinvestment periods, but I took the average reinvestment price of the stock over that time period and calculated the reinvestment all at once; in reality, the total share count would be slightly higher).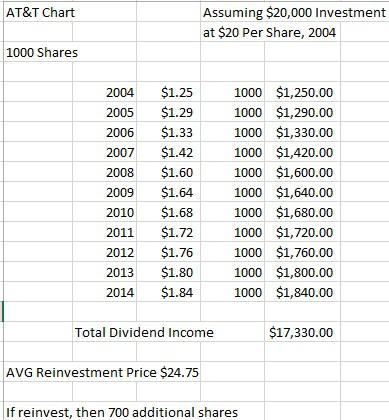 For me, that was a wild insight: Even though AT&T's earnings per share growth rate was less than 2% over the past decade, the dividend payout is so high in relation to its share price that each dollar put into AT&T in 2004 would now be paying out almost $0.16 in annual dividends. That's because you would have picked up 70% additional shares through reinvestment. In my example, a $20,000 investment of 1,000 shares in 2004 grew to 1,700 shares paying out $3,128 in annual dividends today. AT&T's ability to increase your yield-on-cost is very good, and exceptionally so when you consider that the company did it while only growing at 2% annually.
This has ramifications for conservative, retirement, and plain old income investors. When the topic of AT&T comes up, people are perpetually concerned that it is too big to grow. I think it's fair to say, "So what?" in response, because you can achieve satisfactory returns even if AT&T is a quasi-bond growing at a glacial pace. Even though AT&T only grew at 2% annually since 2004, it's the classic story of the tortoise in the hare because of what happens when a high payout is allowed to compound upon itself: even with 2% growth, you can still end up collecting $0.16 in annual dividends on every dollar you invest in AT&T within a decade.
Disclosure: The author has no positions in any stocks mentioned, and no plans to initiate any positions within the next 72 hours. The author wrote this article themselves, and it expresses their own opinions. The author is not receiving compensation for it (other than from Seeking Alpha). The author has no business relationship with any company whose stock is mentioned in this article.