Background: eBay (NASDAQ:EBAY) is one of the world's largest online trading communities. The company's shares are heavily traded, with an average of 9.7 million shares per day, and the company has a market cap of $65 billion.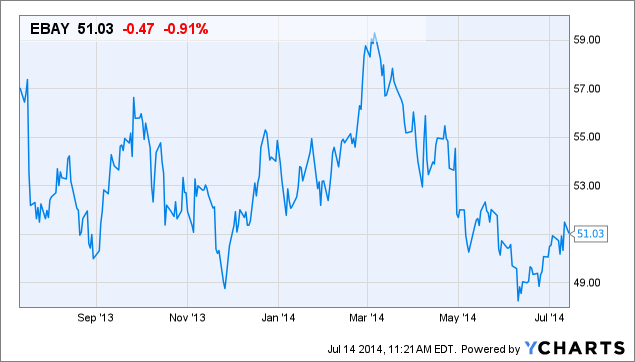 Significant competitors include Amazon (NASDAQ:AMZN), Staples (NASDAQ:SPLS), Wal-Mart (NYSE:WMT), Yahoo (NASDAQ:YHOO) and Target (NYSE:TGT). Because eBay is most like Amazon and Staples, I will focus my comparison on them. An argument could be made that Yahoo Shopping should be included, and indeed it once was the premier shopping portal, but as one commenter stated in my Yahoo earnings preview, Yahoo Shopping is all but forgotten. Upcoming IPO Alibaba, 24% owned by Yahoo, is far from forgotten, albeit somewhat unknown.
eBay is anticipated to report solid second-quarter earnings after the market closes on July 16, 2014. The consensus estimate is currently about 68 cents a share, an improvement of 5 cents (7.9%) from 63 cents during the same period last year. Analysts' estimates for this quarter range from 64 cents to a high of 72 cents per share. The whisper numbers I've read range from 70 cents up to 73 cents.
Analysts as a whole like this company. Currently, eBay has 25 buy recommendations out of 39 analysts covering the company, along with 14 holds, and zero sell ratings. The average analyst target price for eBay is $61.05 on Yahoo Finance, $59.87 on Analyst Ratings, and $60.89 at The Wall Street Journal. The 52-week trading range is $48.06 to $59.70, making eBay a relatively stable stock with a beta of .82.
Beta is a measurement of volatility, with 1 representing the market average. Above 1 indicates the stock on average has been relatively more volatile, and below 1 represents greater stability compared to the overall market.
Considering the breath of products sold through eBay, it's a fair statement that it competes with just about every bricks and clicks retailer out there, and is a partner for most of them. The partnership comes in part through the auction site, but also from PayPal, eBay's crown jewel subsidiary.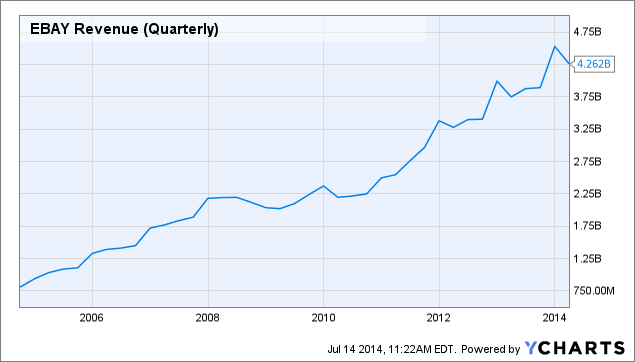 EBAY Revenue (Quarterly) data by YCharts
Compared to Amazon 112 and Staples' 11.2 price-to-earnings multiples, eBay's 15.2 is closer to Staples' and reasonably priced. Amazon's P/E ratio is so high - an oxygen mask is required to buy it. A curious situation awaits eBay and Amazon that few fully appreciate, especially Amazon shareholders.
Alibaba, the world's largest venue in online sales, is coming to America. First with 11main.com as a testing and proving ground for what surely will entail Alibaba's entry into North America. For eBay, it means another formidable competitor, however, for Amazon it's a complete and unmitigated disaster in the making. I'll get back to this, but let's examine what other investors and market participants are expecting for eBay's earnings through options.
Option buyers and sellers are betting on a price change of $2.88 up or down in the stock price, or about a 6% change during the next 8 days.
In other words, shareholders or potential investors should reasonably expect the stock to trade as low as $47.45, or as high as $53.21, and still remain within one standard deviation.
After last quarter's results, the shares decreased a modest 5%, or $2.71 from the close before the earnings release to the next closing. The final price preceding the report was $54.54, and concluded at $51.83 the next trading session.
Regardless of the change in price, investors can capture the time premium between now and after the earnings release by selling call options, while also protecting their portfolio. Simply buy back any calls and or puts sold after the report. If the shares jump higher, what you lose in stock appreciation is likely more than made up through the expected fall in implied volatility after the report.
Returning to Amazon and Alibaba, Amazon isn't eBay's greatest threat any longer, Alibaba is. More goods are sold through Alibaba than eBay and Amazon combined. You probably haven't shopped there unless you're a business that imports products from China. You may soon buy products through Alibaba's new site, 11main.com.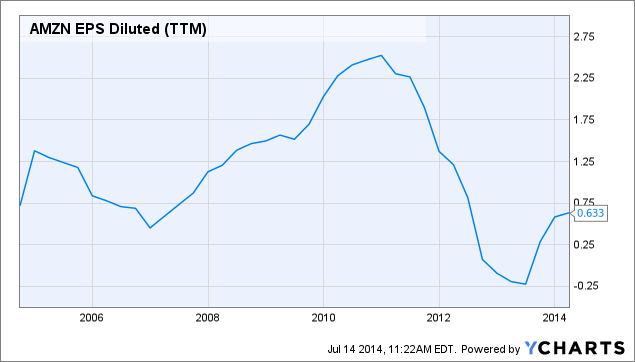 I expect 11main.com is a "practice" site before unleashing a full frontal attack on Amazon and eBay. Regardless of the level of success, eBay and Amazon can expect, at a minimum, margin compression. For eBay shareholders, it means a likely headwind. Amazon shareholders are going to feel some real pain. With a current forward P/E multiple of 120 and trailing-twelve month figure over 200, Amazon is priced for rapid growth.
If Amazon's shares fall in half, yes half, the P/E will still be priced for well above average growth. The shopping portal is Amazon's cash cow, and Amazon charges between 6% and 25%, depending on the item. 15% is a good average number for back-of-the-envelope math, and eBay's fees are closer to 10%. Alibaba's success, in part, is based on its low-referral commission rates.
I believe Amazon's current sellers will face a choice of less than 5% referral fees from an Alibaba-like U.S. site and Amazon's 15%, and will offer the same products they do now for less. Price-conscious consumers will quickly figure out that most, if not all, of the same products are available on an Alibaba site for less than Amazon.
Amazon will face a decision of lowering its fees or losing sales. In either case, Amazon's shares will collapse on the first earnings conference call, when it guides to lower sales and margin than Wall Street expects. eBay is priced more modestly, and as stated above, will have an additional headwind, but it won't be anything like the perfect storm Amazon faces.
Disclosure: The author has no positions in any stocks mentioned, and no plans to initiate any positions within the next 72 hours. The author wrote this article themselves, and it expresses their own opinions. The author is not receiving compensation for it (other than from Seeking Alpha). The author has no business relationship with any company whose stock is mentioned in this article.