There aren't a lot of levers left for J.C. Penney (NYSE:JCP) to pull in the short term that might meaningfully move the company's stock price higher. SG&A has been cut about as much as it can and is holding steady at around $1B per quarter. Without new stores and big increases in SG&A, gross sales can only increase so much, even if the economy continues to improve ever so gradually. And easy sales comps will become harder to come by as time goes by and the missteps of the Johnson era fade further into the past.
The one metric to watch out for is Gross Margin, and this is a sleeper that could awaken the stock big time in the next couple of quarters. I'm actually surprised that more upgrades didn't follow last quarter's earnings, especially given the forward-looking nuggets that J.C. Penney Management was dropping on the conference call.
Let's take a look at a few of these and see what they might portend for Gross Margin performance moving forward.
CEO Myron "Mike" Ullman:
Selling more merchandise at the promotional price and less at the clearance price, now that we've edited out the unproductive brands that was accretive to our gross margin. We expect to continue to improve gross margins by managing clearance in a more effective way. Our private brands are now fully in stock."
Translation - Even with a greatly-improved 33% Gross Margin number for the quarter, J.C. Penney is just now finally breaking free from the "unproductive brands" that were holding it back. If 33% is representative of a business that at the time was still partly handicapped by Johnson-era goods, one can only imagine what that number will be moving forward in a merchandising scheme that isn't weighed down by a sub-optimal product mix.
CFO Ed Record:
Gross margin was negatively impacted by increased clearance sales as a percent of total in February-March as well as negative clearance margins on those clearance sales."
Translation - The 33% Gross Margin number was in spite of increased clearance sales designed to flush out the last of the Johnson-era merchandise.
And if you need any further evidence, it doesn't get clearer than this, from Ullman:
While we're pleased with our gross margin progress this quarter, we recognize there is still lot of room for improvement. Looking ahead, we anticipate further gross margin expansion in the second quarter."
What would 36% Gross Margins for 2014 mean for J.C. Penney?
Back in February of this year I wrote an article backing up my statement that, "with revenues of $12.85B, SG&A of $3.75B, sss increase of 6-7%, and gross margins of 36%, the path to $800M in EBITDA is straightforward and doable." I was lambasted by the bears and shorts, and accused by some in the comments to my article as being unreasonable, and that 36% was an outlandish number. Oh how things have changed! While it doesn't look like we'll quite get to $3.75B in SG&A, we're already at 6% same-store sales increase and 33% Gross Margin, with lots of room left in 2014 to get into the mid-to-high 30s.
If in fact the new Sephora stores, better merchandising, and an improving economy can nudge sales into the vicinity of $13B for 2014 - which I believe is quite doable - then 36% Gross Margins for 2014 puts J.C. Penney comfortably into the black, if my math serves me right.
How High Can Gross Margins Get in 2014?
To get to 36% for the full year, Gross Margins would probably need to be in the high 30s for the balance of the year. So is that doable? Comparing J.C. Penney's historical Gross Margin performance to that of Macy's (NYSE:M) over the last decade or so tells an interesting story and I believe answers the question in the affirmative. Macy's actually provides a good benchmark because of its steady performance over time.
Macy's vs. J.C. Penney Gross Margin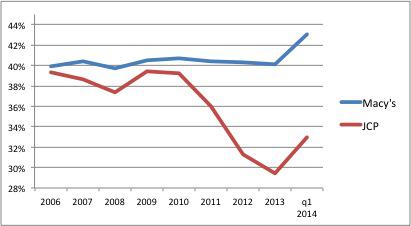 The Johnson-era business strategy shift starting in 2011 can be clearly seen in the above chart, as can Ullman's gutsy course correction. All things being equal - and Macy's provides that good, steady yardstick - there is no reason to believe that J.C. Penney cannot quickly return to the 37-39% Gross Margin range now that the business model is being returned to pre-Johnson form. There are those who argue that this isn't possible now with more competition, but Macy's holding steady and even increasing its Gross Margins completely invalidates this line of thinking. If the macro environment were fundamentally changing against Brick & Mortar in a way that would cripple Gross Margins, we would be seeing an impact on Macy's as well, which we are not. If anything, Macy's omni-channel strategies are improving their bottom line.
Is 36% Gross Margin Priced Into The Stock?
So the next question is whether or not Mr. Market already believes JCP will get to black ink in the next couple of quarters on the back of 36%+ Gross Margins. I believe the answer is authoritatively NO, and that the stock is still priced as a distressed asset. I conclude this by comparing JCP to some of its peers based on two important valuation metrics, Price/Book and Enterprise Value/Revenue.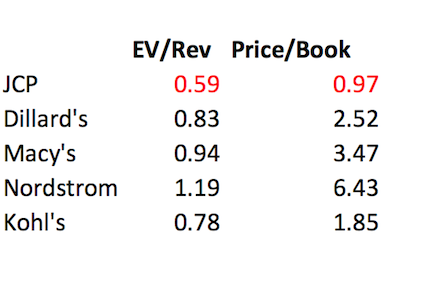 Clearly, JCP is grossly undervalued at these levels, IF you buy into the idea that the company will be in the black anytime soon. And that's where I think the market is making a mistake on JCP, a mistake that can be capitalized on as it becomes even clearer that the company can meaningfully pull the Gross Margin lever.
Bottom Line
Management's comments during the last earnings call definitively suggest that 33% Gross Margin performance was still heavily handicapped by low margin goods and the clearance sales needed to wipe them away. However, institutions and other large buyers clearly want more evidence of this before bidding JCP higher, given that the stock is still priced as a distressed asset. How much more evidence is needed before the investing public fully awakens to the fact that J.C. Penney is no longer walking dead?
Please do your own due diligence prior to investing. The content of this article contains my opinions only, and it should not be used as the basis to make an investment decision.
Disclosure: The author is long JCP. The author wrote this article themselves, and it expresses their own opinions. The author is not receiving compensation for it (other than from Seeking Alpha). The author has no business relationship with any company whose stock is mentioned in this article.