Universal Display Corporation (NASDAQ:OLED), is losing share at its major customer, Samsung (OTC:SSNLF). Analysts indicate that Samsung (makes up more than 75% of revenue in any given quarter, putting tremendous concentration risk with one customer. UDC relies heavily on Samsung's success with high-end phones that incorporate OLED screens such as the newly launched Galaxy S5, yet to add to the worry, IDC recently reported that it expects total worldwide smartphone shipments to grow 19.3% in 2014, which is a sharp deceleration from 39.2% last year.
To understand how much revenue is at risk, let's break down its sales. UDC's revenue is broken down between royalty and license fees, technology development and support revenue, and material sales. Royalty and license fees are essentially from a commercial license agreement with Samsung Display that runs through the end of 2017. UDC receives payments in the second and fourth quarter of each year until the contract expires ($50m in 2014). Technology development and support revenue is related to government contracts, development and technology evaluation agreement and commercialization assistance fees, which in aggregate amount to around $1m a quarter. Material sales make up over 90% of total revenue excluding Samsung royalty payments. It is broken down into phosphorescent emitter sales (red and green) and phosphorescent green host sales. The combination of emitter and host material is the magic that makes OLEDs work. In the past, UDC was the sole provider of green host material to Samsung Display, which made up 35% of material sales and 33% of total sales in 1Q14. It appears that Samsung has decided to source the green host material within the Samsung Group as Cheil Industries has emerged as a new supplier.
On recent conference calls with analysts, UDC admitted that the phosphorescent host business is very competitive with all suppliers owning patents.
Our customers are not required to purchase our host materials in order to utilize our phosphorescent emitter materials, and the host material sales business is more competitive than the phosphorescent emitter material sales business. Thus, our long-term prospects for host material sales are uncertain.
There does not appear to be much risk in the current quarter given the launch of Samsung's new flagship model Galaxy S5 in May of 2014. The build for the new launch will have surely helped the current quarter, but if Samsung's recent preliminary 2Q14 report is any indication of future smartphone sales, it does not look pretty. Samsung reported a decline in operating profit of 24% year-over-year, and said it "witnessed a slowdown in the overall smartphone market growth and saw increased competition in the Chinese and some European markets." This clearly does not bode well for UDC which relies heavily on Samsung smartphone unit sales.
Current street expectations are for UDC to earn $1.01 in 2014, which values the company at close to 32x versus the S&P 500 at 18x. If Samsung switches over to Cheil Industries for green host material for new products in the 2H of 2014 and beyond, then there will be risk to the current 2014 guidance and beyond.
Do investors continue to pay an extremely high multiple for a company that might be losing 35% of its business to a competitor, while smartphone unit growth is decelerating and the TV opportunity is still years away? What happens when the commercial license agreement with Samsung expires in 2017, putting risk to $50m a year in high margin license revenue?
Here are two charts of companies that were high flyers with very high revenue exposure to Apple (NASDAQ:AAPL). As you can see, high customer concentration never ends well.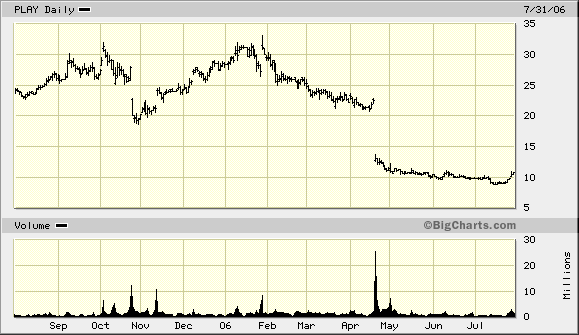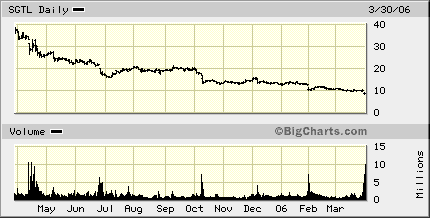 Disclosure: The author is short OLED. The author wrote this article themselves, and it expresses their own opinions. The author is not receiving compensation for it (other than from Seeking Alpha). The author has no business relationship with any company whose stock is mentioned in this article.
Editor's Note: This article discusses one or more securities that do not trade on a major U.S. exchange. Please be aware of the risks associated with these stocks.