One of many mergers announced today on "Merger Monday" was Whiting Petroleum's (NYSE:WLL) acquisition of Kodiak Oil & Gas (NYSE:KOG) for some $6B, including $3.8B in stock and $2.2B in net debt. This will make Whiting the biggest producer in the Bakken, surpassing Continental Resources (NYSE:CLR). Both stocks are up nicely in today's trading, on the back of this announcement.
I highlighted Whiting in November 2012, when it was trading at just over half its current level. Unfortunately, I took profits a bit too soon on this emerging mid-major. I was more fortunate on Kodiak, which I profiled as deeply undervalued in February, when it was trading for under $11 a share. I managed to keep my stake in this Bakken producer, and am still holding, as I think a higher bid is possible.
This acquisition might force Continental to pursue a similar acquisition to keep its leadership in this fast-growing energy producing region of the country. Other majors also may also look to make a move, as it seems obvious that values on acreage in region is climbing as infrastructure and drilling techniques continue to improve in the area.
Here are two Bakken producers I think could find themselves targets on the back of this latest acquisition in the region.
Emerald Oil (NYSEMKT:EOX) is small cap (less than $500-million market capitalization) E&P play in the Bakken. There are things I like about Emerald. First, it is showing robust production growth. Revenues are tracking to more than doubling 2013's levels. The consensus has sales increasing better than 70% in 2015 as well. This growth is falling to the bottom line. After posting a loss of 75 cents a share in 2013, earnings should post 15 to 20 cents in profit this year. Emerald is currently projected to earn over a half dollar a share in profit in 2015.
Second, Emerald assets are underappreciated in the market. The company has no net debt, and actually has a small net cash position on its books. More significantly, compared to other players in the Bakken, the market is assigning a much lower value per operated acre on Emerald's properties. I believe the company either grows its way to prosperity and gets awarded by investors, or it gets bought out by larger player looking to acquire productive acreage at a low price, even paying a nice premium over the current market price.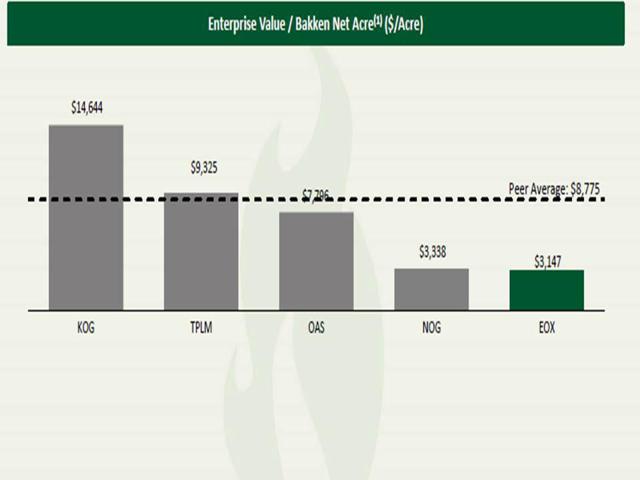 Chart Source: Recent investor presentation
Oasis Petroleum (NYSE:OAS) is a larger player in the Bakken, with a market capitalization of just under $6B. A major or mid-major looking to make a larger splash in this energy-producing area of the country should have Oasis high on its list.
Although the E&P concern is not growing production as fast as Emerald, it is doing it on a much bigger base. Revenues are tracking to ~35% gains in 2014, with a projected 20% to 25% increase in 2015. The stock has a five-year projected PEG of under 1(.91).
Earnings are projected to rise 20% to 25% both for FY2014 and FY2015. The shares are selling at a reasonable under 14 times next year's projected earnings, despite impressive growth in earnings and revenues. Oasis Petroleum's price target was recently raised from $55 to $64 a share over at Topeka Capital. The shares could find themselves buoyed as well over the next week or two as analysts speculate about the next major acquisition in the Bakken.
Disclosure: The author is long EOX, KOG. The author wrote this article themselves, and it expresses their own opinions. The author is not receiving compensation for it (other than from Seeking Alpha). The author has no business relationship with any company whose stock is mentioned in this article.