1. Introduction
Tompkins Financial Corporation (NYSEMKT:TMP) is a financial holding company headquartered in Ithaca New York. It has six subsidiaries that operate in 12 counties within New York State and 5 counties in Pennsylvania. In total, there are 46 offices in New York and 20 offices in Pennsylvania. The company offers commercial and consumer banking, leasing, trust and investment management services, financial planning and wealth management, insurance, and brokerage services. The company's six subsidiaries are listed below.
Tompkins' Six Subsidiaries
1. Tompkins Trust Company, New York
2. The Bank of Castile, New York
3. Mahopac Bank, New York
4. VIST Bank, Pennsylvania
5. TFA Management, Inc., New York
6. Tompkins Insurance Agencies, Inc., New York
The company has $5 billion in assets and $4 billion in total deposits. It had net income just under $51 million for 2013. TMP has been operating in New York since 1836. It has strong deposit market share positions in several New York and Pennsylvania counties. The bank's deposit base provides exceptionally low cost funding and it's overall yield on assets is above average. The bank's asset quality is exceedingly high. In addition, the company has auxiliary sources of revenue that add meaningfully to net income.
Valuation
I started researching TMP in May when the company had a market cap of about $680 million and sold for $45 a share. After researching the company thoroughly, I now believe it has the potential to grow to a market cap of $1.35 billion in five years. On this basis, TMP's shares are worth somewhere in the low sixties today. This equates to a total return of 18.5% excluding dividend growth. However, over the previous five-years, TMP has increased its dividend by 6% compounded. This would give shareholders a compounded return in the 20% range.
In order to meet my estimated market value and shareholder return, TMP will have to grow assets and more specifically loans by 5%-6% and earnings by about 4% annually. The bank's return on assets will have to improve to around 1.25%. The company has demonstrated the ability to easily meet these marks in the past with current management. After reviewing their banking history and current position, I have full confidence they will meet these targets once again in the near future.
2. Industry Overview
In the counties which Tompkins competes, they faces familiar competitors in Bank of America, M&T Bank, and First Niagara National Bank. In several of its operating areas, it competes against a strong local competitor in New York based Five Star Bank. Interestingly enough, Tompkins competes remarkably well against its much larger rivals.
The success of a community bank of Tompkins' size in many ways depends on the economic characteristics of the geographic area within which it operates. This section of my analysis provides demographic data in additional to a description of each of Tompkins' deposit markets.
The largest market for TMP is Tompkins County. The county's 2013 estimated population is 103,617 according to the U.S. Census. Population density, a potential measure of branch customer reach, is about 214 people per square mile as of 2010. The population growth rate beginning April 2010 to July 2013 was 2% versus 1.4% for all of New York State. Median household income in the county from 2008-2012 was $50,539 versus $57,683 for New York State.
Tompkins County is part of the Ithaca metropolitan area. This area has a GDP of $4.1 billion as of 2012. The largest contributing industry is education and health services which contribute about $1.7 billion. The ten-year growth rate of Ithaca's GDP, from 2002-2012, is 3.8% versus 3.9% for New York state. The unemployment rate as of May 2014 is 4.1%.
Deposit Market Share
Tompkins Trust Company has a dominant 57% deposit market share in Tompkins County. In addition, it has been stable over the years remaining above 50% since 2009. Bank of America and M&T Bank are TMP's largest competitors. Both have been at their respective percentages, about 10%, during each of the past five years and appear unable to make meaningful gains.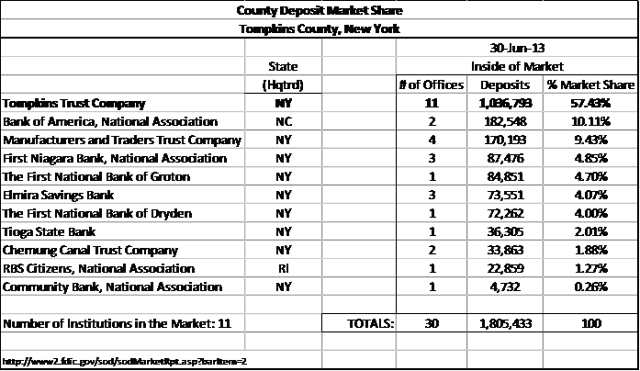 Additional Markets
Tompkins Trust also operates in Cayuga, Cortland, and Schuyler counties. For deposit market share analysis, I grouped them together because only one Tompkins office is located in each. The data below shows Tompkins ranking 3rd with over 10% market share in the combined area. Cayuga County holds the bulk of TMP's deposits wiht $132 million. Cayuga is the largest deposit market out of the three with just over $1 billion in .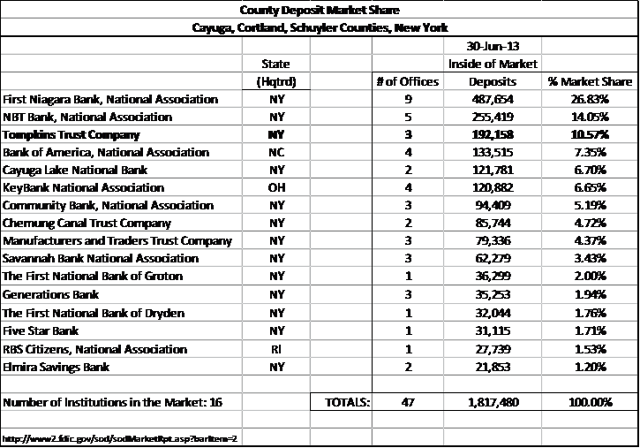 Bank of Castile
The Bank of Castile is TMP's banking franchise in Genesee, Livingston, Monroe, Orleans, and Wyoming counties in New York State. The estimated 2013 population in each county ranges between forty to fifty thousand people. Monroe County is the exception with nearly seven hundred and fifty thousand residents. Population density is in the 100-125 persons per square mile range with Monroe again being the exception at 1,133. The average income range is $40,000-$60,000.
Genesee, Livingston, Monroe, Orleans and Wyoming Counties fall within the Rochester Metropolitan Area. This area has GDP over $47 billion, GDP growth has been about 2.5% over the past ten years, and its largest industry is manufacturing which employs over six thousand people. The unemployment rate is 5.8%.
TMP's banking franchises in Genesee, Livingston, Orleans, and Wyoming counties appear to be well positioned within their respective deposit markets. In only one of these counties does Bank of Castile have less than 25% deposit market share. The other three each have deposits around $800 million making the total deposit market of all four counties around $2.4 billion.
The strongest competitor in each market appears to be Five Star Bank. Five Star is headquartered in New York State and they are a formidable competitor with good size, over $2 billion in total deposits, and good profitability with returns on assets averaging around 1% for the most recent 5-year period. The bank is owned by publically traded Financial Institutions Inc. (NASDAQ:FISI) which has a market capitalization of about $317 million. This bank does offer similar banking and wealth management products to Tompkins although they don't offer the menu of insurance products.
Deposit Market Share
Castile has over 25% of the deposits in Genesee County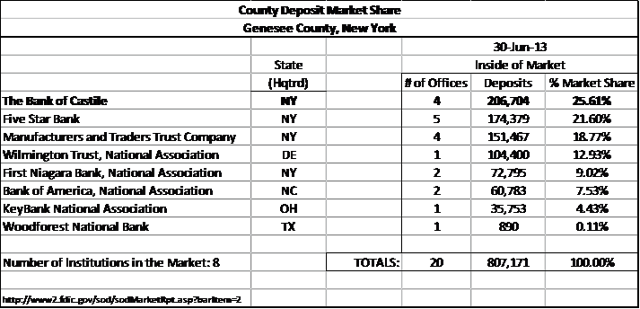 Deposit Market Share
As seen in the chart below, the bank has nearly 30% deposit market share in Livingston County.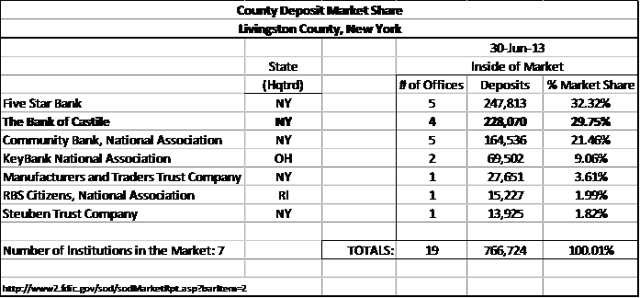 Deposit Market Share
Castile has its smallest market share position in Monroe with 1.21% of this $11 billion deposit market. This is a market where M&T Bank dominates with 31% of the market. JP Morgan has just over 17% while RBS Citizens and First Niagara have 12% and 9.79% respectively.
Deposit Market Share
Castile has just under 10% of Orleans County's deposits. New York based Five Star Bank and First Niagara hold very strong positions which combined make up nearly 50% of the market.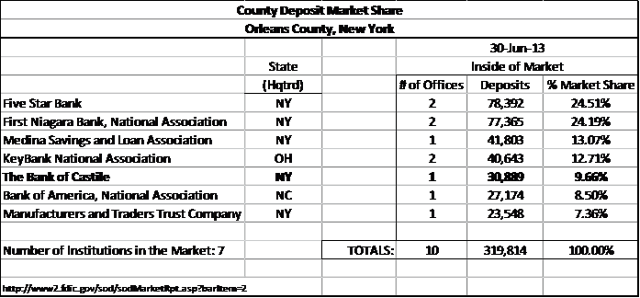 Deposit Market Share
In contrast to Orleans County, Wyoming County is Castile's strongest deposit foothold with over 35% of the market. Again, Five Star has a larger market share but combined with Tompkins, the banks have over three quarters of the market.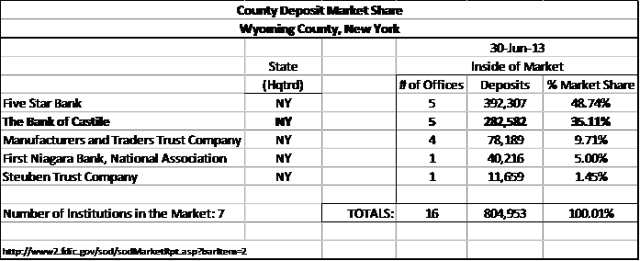 The strongest competitor in each market appears to be Five Star Bank. Five Star is headquartered in New York State and they are a formidable competitor with good size, over $2 billion in total deposits, and good profitability with returns on assets averaging around 1% for the most recent 5-year period. The bank is owned by publicly traded Financial Institutions Inc. which has a market capitalization of about $317 million. This bank does offer similar banking and wealth management products to Tompkins although they don't offer the menu of insurance products.
The Mahopac National Bank
The Mahopac National Bank is TMP's banking franchise in Putnam, Dutchess and Westchester counties in New York State. Their populations are about 99,000, 969,000 and 300,000 respectively. These are three of the wealthiest counties in New York with median household incomes ranging between $71,000 and $95,000. Population density range in Putnam and Dutchess county is 374-433 persons per square mile while Westchester is 2,205.
The counties are part of the New York-Northern New Jersey-Long Island Metropolitan Area. This is New York's most populated metro area and generates GDP of over $1.3 trillion, GDP growth was 3.7% over the most recent ten year period, with its largest industry being real estate, rental, and leasing. The unemployment rate is 6.7%.
Deposit Market Share
Tompkins Mahopac Bank has a strong position of over 21% deposit market share in Putnam County. The bank faces larger competitors in this market however it is still one of two dominant players. The combined deposit market share of the third and fourth largest players, Wells Fargo and JP Morgan, still only narrowly exceed the share owned by The Mahopac.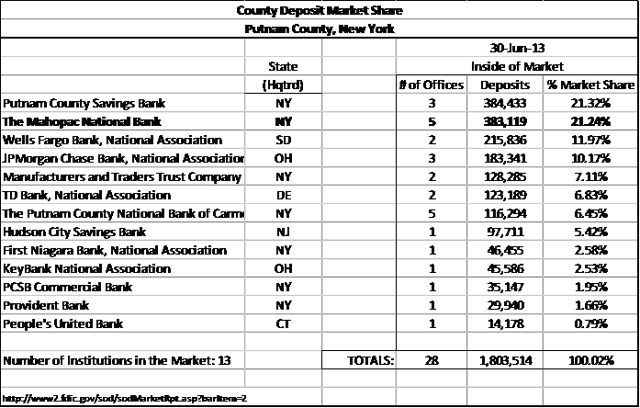 Deposit Market Share
Tompkins' Mahopac National Bank has a small, less than 1%, presence in these two counties. Meanwhile it is dominated by Morgan Stanley, JP Morgan, Citibank, Emigrant Bank, and to an extent Wells Fargo. However, Mahopac's deposits for these counties are not necessarily small relative to TMP's overall deposit base as it makes up over 10%.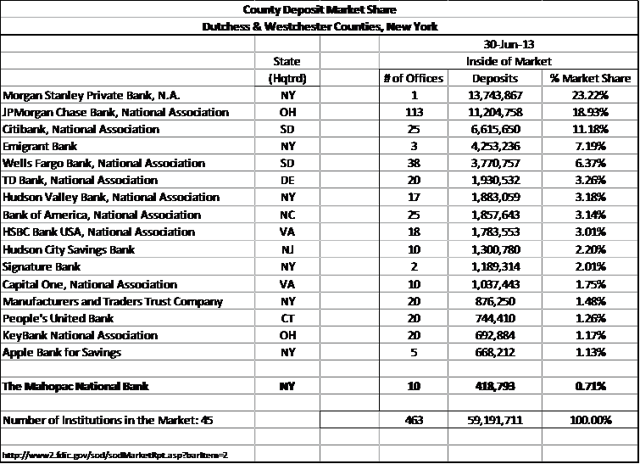 VIST Bank
VIST Bank is TMP's recently acquired banking franchise in the state of Pennsylvania. It operates in five counties, Berks, Delaware, Montgomery, Philadelphia, and Schuylkill.
The largest by far is Berks County. It's 2013 estimated population is 413,521. Its population density as of 2010 was 480 people per square mile. The County had population growth rate of -.5% April 2010 to July 2013 versus .6% for the state of Pennsylvania. Median household income was $55,021 compared to $52,267 for Pennsylvania during 2008-2012.
Berks County is classified as part of the Philadelphia-Camden-Wilmington, PA-NJ-DE-MD (Metropolitan Statistical Area). GDP for this MSA was $364 billion as of 2012. Ten year GDP growth 2002-12 was about 4.22%. The largest industry contributing to GDP is real estate and rental and leasing. The unemployment rate is 6.1%.
VIST has a presence in four other counties in Pennsylvania which are Montgomery, Schuylkill, Delaware, and Philadelphia. However, its largest deposit market share position is just under 3% while the others are less than 1%.
Deposit Market Share
Berks county is the largest deposit market in which TMP participates. The county's total deposits amount to nearly $10 billion. VIST Bank has about 7.50% of the market with over seven hundred million in deposits. VIST ranks 5th in market share with two large banks, Santander Bank (NYSE:SAN)(formerly Sovereign Bank) and Wells Fargo (NYSE:WFC) at the number one and two positions along with the larger regional rivals National Penn (NASDAQ:NPBC) and Customers Bank (NYSE:CUBI).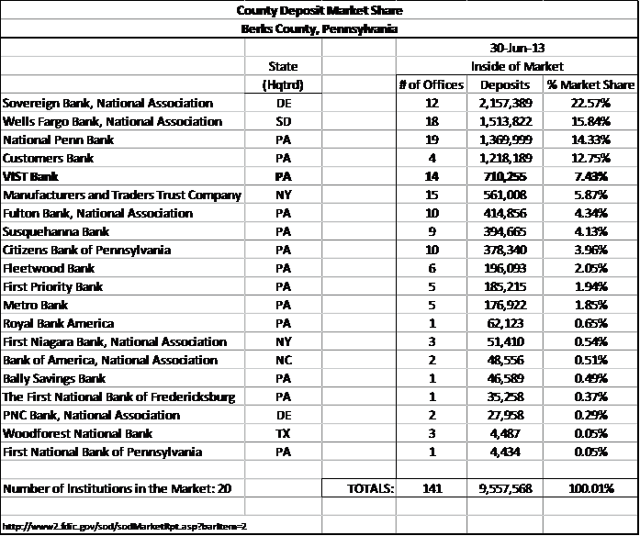 Berks county summary, GDP for the area was $364 billion as of 2012. Ten year GDP growth was about 4.22%. The largest industry contributing to GDP, according to the Census data, is real estate and rental and leasing.
Deposit Market Share
Again, VIST has less than 3% deposit market share in all of these markets. Technically, Philadelphia County is the largest deposit market TMP competes in with $45 billion in deposits. TMP's share of that market is only .08%. When combining all four deposit markets, TMP's VIST Bank ranks 25th on the list with .39% of the deposits. However, I do see these areas as having very good growth potential. TMP's purchase of VIST is a recent transaction and Tompkins subsidiary banks perform much better. Over time, it is likely that management will improve VIST's operations to align more with the results of Tompkins. This may take time but growth is most likely what TMP's management had in mind when it purchased VIST in January of 2012.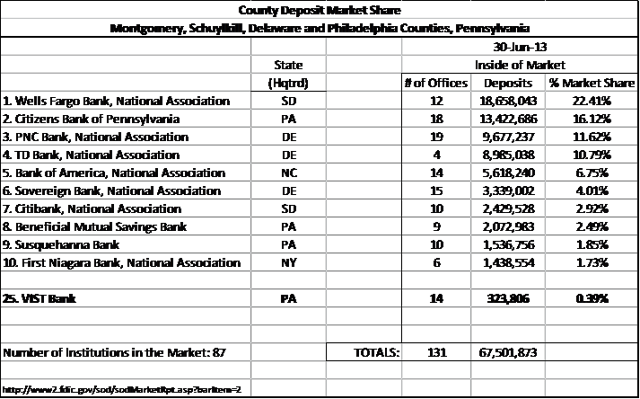 3. Business Strategy
I have heard one of the banking industry's biggest risk factors is what has been called "Copycat Behavior or Social Proof Risk." I would define this in the most recent decade as a willingness to engage in unsound mortgage lending and the purchases of unsound mortgage-backed investment securities because competitors and top industry performers are doing so and financial history loosely supports their actions. Tompkins however, did not fall victim to this risk and the reason is inherent in its business strategy. Tompkins' 2013 Form 10-K states the following regarding their strategy;
"The decision to operate as four locally managed community banks reflects management's commitment to community banking as a business strategy."
It appears this focus on community banking has led them on a path of strength and stability over the company's operating history. This, in turn, has led to positive results for investors seeking safety of principal and an adequate return. The historical experience and current data will show these operating and shareholder outcomes are likely to continue.
The Great Recession and related events, i.e. subprime mortgage crises, housing bubble burst, and global financial crises tested the strength of the global financial system and individual financial institutions, such as Tompkins, like no other experience in recent memory. In many ways, it proved the durability of Tompkins' strategy and its financial strength. During the recession, many banks lost money, market share, and financial strength. In severe cases, banks were going bankrupt, forcefully merged, or bailed out. None of these occurrences apply to Tompkins. The bank did not feel the need to accept government funds in order to withstand and grow within the potentially fatal economic conditions. The bank was confident that their lending was conservative and deposit base solid which I believe are by-products of their unique but simple community banking strategy.
In November of 2008, the wake of the financial crises, Tompkins' issued a press release in response to inquiries regarding its potential participation in the U.S. Government's TARP program. President & CEO Stephen S. Romaine stated the following;
"Tompkins Financial is a well capitalized institution with strong financial performance that has continued to serve its markets throughout this crisis. As a result of our strong financial condition, we are not currently in need of capital, unlike many other financial institutions. Further, we believe that our financial strength provides us with access to capital through more traditional private sector alternatives that we feel would offer a better long term value to our shareholders."
Romaine's actions and those of Tompkins' employees proved this statement true even as the financial crises became more severe and a prolonged recession ensued. TMP, however, continued to serve customers, earn money, increase its book value, and pay its shareholders a dividend consistent with prior years. It even grew its business by acquiring VIST Bank, a bank with $1.4 billion in assets. Equally as important, it continued to safeguard customer deposits and make loans in the communities it serves.
The chart below summarizes TMP's growth during this time. I used 2005 as a base year to represent fairly normal times just before the downturn. Using a base year slightly before or during the recession may have made the rates appear higher than what actually occurred. As you can see, TMP had a very strong showing with double digit deposit and loan growth.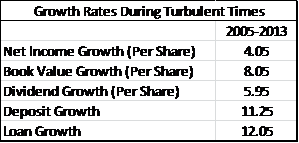 4. Funding Costs
The chart below compares the weighted average costs of funding earning assets for Tompkins subsidiaries to the averages for New York State, Pennsylvania, and the overall national average for banks. Tompkins is higher than the average for New York State. It appears the average bank in New York has lower funding costs than the national average as well. Tompkins is still competitive in that its funding costs are also lower than the National average and Pennsylvania.

5. Earnings on Assets
While Tompkins funding costs are slightly above the New York average, its yields on earning assets significantly exceed those of the typical New York bank. Tompkins yield on earning assets were 161 basis points above the New York average and 31 points above the national average. Tompkins yield also exceeded the Pennsylvania bank average by 39 basis points.

The ways in which earning assets are taken on the books are equally as important as their spreads. Understanding the risk in a bank's loan portfolio is a laborious task indeed. My approach focuses on two areas. The first is the bank's historical charge-off record which I believe is indicative of yesterday's lending policies that may govern tomorrow's originations.
The second approach requires analyzing the composition of the bank's loan book over time. This analysis attempts to identify drastic changes in the types of loans the bank has made and the direction in which loan composition is going.
If, historically, loans resulted in below average charge-offs, the past record compared to more recent trends becomes more relevant. This may also be a positive attribute if charge-offs have been historically low and each category of loans maintains the same percentage share of the total portfolio. Typically, I'm looking for a record of low net charge-offs to average total loans and stable percentages of each loan category making up total loans over time. In addition, the loan book must have a positive overall growth trend.
Tompkins charge-off record is better, by a large margin, than the average of all U.S. Banks as well as Tompkins peer group consisting of all FDIC insured banks with assets between $1 and $3 billion. In every one of the past ten years, Tompkins charge-off rate has outperformed its peers and the average of all U.S. banks. During the Great Recession, Tompkins charge-offs were a fraction of the national and peer group averages. Looking at this record is demonstrated proof of Tompkins' ultra conservative lending standards.

The next important aspect of TMP's lending is determining the likelihood that these high quality loan producing standards continue to guide the bank's loans in the years to come. My analysis now looks to identify deviations from TMP's excellent past performance as a possible warning sign that lending standards have eroded.
To undergo this task, I created the chart below. It separates TMP's loan portfolio into four groups. It shows the proportion of total loans each category contributes. Each year is then displayed in a timeline format. The timeline format shows the expansions and contractions that may have occurred for each category.
There are several important changes to note. First is the gradual but significant change in the Commercial Real Estate (:CRE) category. In 2001, CRE made up only 20% of the loan book. Twelve years later CRE loans make up 40% of total loans. This certainly qualifies as a drastic change but for reasons I will explain, is not a warning sign of trouble ahead.
Next, we see that Commercial and Industrial (C&I) loans held steady during the period mostly fluctuation between 25% and 27% of total loans. Moving along now to the residential real estate category we see a decline from the high 30% range to the low 30% range over the past few years. The decline has been steady with declines of about 100 basis points or a declined percentage carrying over the following year. Last, we see a huge and drastic drop off in the Consumer and Other loan category comprising 13% of total loans in 2001 and falling to about 2% in 2013.

Further examining the changes in TMP's loan composition, I look at the balances in total as well as two different ways of looking at the growth experienced in each category. The first chart displays the figures representing TMP's total loans and leases net of unearned income and deferred costs and fees. This data was used to derive the two growth charts below.

The chart below shows the historic year-over-year growth in each category. It helps identify various changes and patterns within the loan portfolio. It also helps to identify when trends in the loan book start and end. The two years with the highest level of growth both overall and for three of the four categories were 2008 and 2013, both in bold text. The growth was primarily due to acquisitions in these years which grew the loan book by 26% and 18% respectively. What is also important to note is CRE loans experienced the largest percentage increase. Also, in both years C&I loans grew by 20%. I believe this indicates TMP's desire to move from a bank geared toward consumer-type lending to a commercial bank. In conjunction with the first chart above, we see that in 2013 65% of the loan book is focus on commercial loans while in 2001 only 46% of loans were focused in this area. Now, C&I is still only a quarter of total loans and CRE is the big gainer over the 12 year period, however it appears to be the focus of TMP to maintain a portfolio including C&I and CRE loans making up the largest share of the portfolio. This appears to be a very concerted and gradual change versus a drastic one that merits caution. It has taken place overtime through two acquisitions and steady double digit growth in CRE loans over eight years.

The growth rates of each loan category are the next area of analysis. Below is a chart showing loan growth during three different time periods. Here, I'm looking to see if recent growth trends differ noticeably from the past record. Over the most recent 10 year period overall loan growth was 8%. Both C&I experienced growth of 8.60% and Residential Real Estate loans grew 6.30% for the period. The largest variances from overall loan growth were the CRE and Consumer loan categories.
Looking at the year-over-year record for CRE loans, there is double digit growth in each year until 2010. Again, this looks to me like a determined effort to build over time as opposed to hastily jumping into a particular loan area. The 7-year and 5-year rates show a decline in growth both individually and overall. A consistency is observed as C&I and Residential loan growth declines but each maintains a rate similar to the other. CRE remains the larger growth category. Consumer and Other continues its decline however, this aspect is almost welcomed as they generally appear to have more risk due to current trends in household debt. In addition, this trend is consistent with TMP's strategy to be more of a commercial bank within the local communities it serves.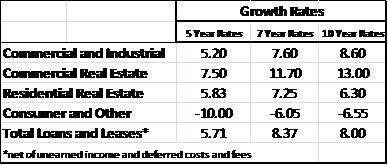 A Note on the Risks Involved in Making Commercial Real Estate Loans
In 1997 the FDIC published a study titled "History of the Eighties - Lessons for the Future." The publication discusses the general risks inherent in commercial real estate loans as these types of loans were largely involved in the banking crises of the 1980s and early 1990s. The full publication is available at the FDIC website.
The study describes real estate markets, both commercial and residential, as cyclical. Generally, commercial real estate projects have multiple stages depending on size which can take several months even several years to complete. As a result, these projects can become a casualty of the economic cycle. Even if the project is sound, it may still suffer if an expansion phase of the economic cycle results in an over building of similar projects.
Second, demand for commercial real estate is said to be affected by local economic factors as well as regional and national economic developments. This is due in part to a firm's ability to choose among various building sites in different states within the county. A third factor is related to the ability to obtain information about specific projects from contractors related to quality and project specifications. In addition, data on commercial real estate purchases and sales are also difficult to obtain. The last factor related to information gathering is obtaining information on the various financing techniques used for these projects that influence transaction pricing such as tenant improvements and rent discounting. Yet, a fourth risk is the high level of leverage typically used for CRE projects as well as the amount generally used in the industry. This makes commercial real estate projects even more at risk due to changes in interest rates and the availability of credit. If rates rise or available credit declines, the value of commercial real estate tends to decline significantly. Other risks are unforeseeable changes in state and local laws as well as zoning changes that may cause restrictions on new construction and add unexpected costs to these projects.
Lastly, commercial real estate loans involve legal risks inherent in contract structures that favor the developer. Commercial loans many times include nonrecourse provisions preventing lenders from recovering losses from other borrower assets. In the event of problems, commercial borrowers may usually possess the resources to contest lender foreclosures. Banks are said by the article to "often have little specialized in-house expertise for dealing with the unique problems of commercial REO (foreclosed real estate) sale and management. "
These risks are important to consider especially in light of the percentage of TMP's current loan book held as CRE which is 40% and its long term trend in growing this area of the portfolio. What gives me confidence in TMP's position is again, their exceptional charge-off record achieved while steadily growing this loan area over time. Industry peaks were seen as recent as 2011 and 2012 however TMP's rate was still below its peer group and significantly below the national figure. Additionally, the most current charge-off rate is a fraction of both the peer group and national averages. Keeping an eye on this performance measure along with an awareness of TMP's current position may be the best way to quickly observe problems if they arise.
6. Growing Deposit Base
The first chart below highlights TMP's deposit growth rate over four time periods within the past twelve years. All four are about 10%. The 3-year average was bumped up due to TMP's acquisition of VIST. I don't consider a 3-year average to be a meaningful trend for a bank that needs to grow deposits through acquisitions. I believe Tompkins falls into that category as many of its New York markets and surrounding markets outside but close to its regional footprint are saturated and competitive. Growing within these markets or expanding close to its footprint would most likely require an acquisition as seen with VIST Bank and Sleepy Hollow Bank before it. These acquisitions appear to take time to identify, negotiate, complete, and integrate. Also, it doesn't appear to be TMP's strategy to acquire several large banks within a three year period. They seem spend time looking for banks that fit their community banking strategy and culture.

The second chart below shows TMP's growth within its twelve largest deposit counties combined. TMP's figures and market share position are displayed along with that of its' closest competitors. TMP moves from a rank of 10 in 2003 to number 7 in 2013. Within these markets TMP grew deposits by over 7% and increased in market share by just over 100 basis points. Only three other banks in the area grew deposits faster. That said, it's hard to say if growth within this area will continue and it TMP can climb up in the ranks as the banks ahead of them have strong positions and significant financial resources. The deposit market share breakdown at the beginning does give me some indication that TMP will at least maintain its positions within many of its deposit markets.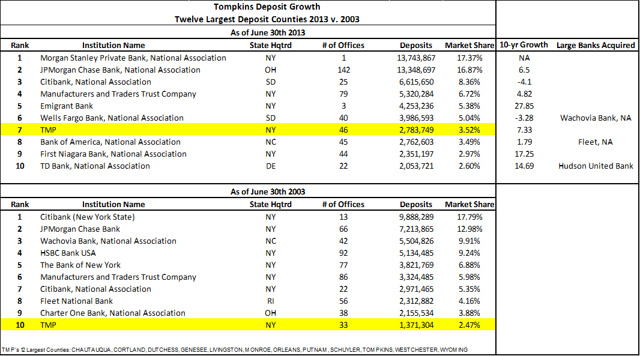 7. Additional Sources of Income
As discussed in the introduction, Tompkins non-interest income makes up 11% of net income and this compares well to one of the larger diversified banks in the country. The insurance segment has grown meaningfully with the VIST acquisition which about doubled the segment's annual revenue.

Below is another chart showing TMP's additional sources of income over time. Starting in 2004, the nonbanking segments contributed about 40% to total noninterest income. This has grown steadily over the years to about 60% over the past four years. The VIST acquisition seemingly will make sure this rate is at least maintained in the coming years. I believe it also demonstrates the acquisition abilities of TMP's management. VIST complements TMP's insurance segment as well as expands the banks presence outside of the bank's previous market area.

8. Liquidity Management
Liquidity management has grown in importance since the financial crises. More specifically the ability of a bank to support deposit withdrawals, cover calls from bondholders, and absorb loan losses during a time of economic stress has come into question. In response, Basel III devised new provisions on bank liquidity requirements which include criteria establishing two ratios to measure the strength of a bank's liquidity position.
The first provision involves using what's called the liquidity coverage ratio ("LCR") and the second is the net stable funding ratio ("NSFR"). The LCR assess a bank's ability of liquid assets to meet the banks needs during a 30-day scenario of economic stress. The NSFR measures a bank's funding of assets and activities with a focus on using sources maturing or lasting longer than one year. Tompkins most recent 10-K doesn't provide these ratios as they are still being evaluated for broad adoption by the U.S. banking system.
In my opinion, the theory behind the Basel III ratios appears to have real merit. Therefore I have used several points of view to create my own measure of liquidity to take place of the Basel III measures for the time being. In pursuing this, I created my own measure and adopted a ratio from a foreign banking authority as well as provided for analysis a historical account of TMP's deposit performance after the liquidity crises that followed the bankruptcy of Lehman Brothers in 2008. Under all accounts, TMP performs quit well.
I devised a liquidity stress test to take the place of Basel III's LCR and provide it in graphic form below. Its purpose is to give me a snap shot of what TMP's liquidity position would be after 90 days of large deposit withdrawals, loan losses, and distressed security sales to shore up more liquidity.
The top line is TMP's main source of funding and liquidity, core deposits. The lines following show the next source of liquidity. Next, I assume under economic stress, the bank will have to sell 10% of its security holdings. In doing so, it receives only 80% of the securities values in proceeds, again showing the impact of declining financial markets. Pre-tax quarterly income is a quick measure of cash inflow into the bank before losses. Totaling all three provides the bank with the amount of liquidity the bank has to absorb deposit outflows and loan losses.
The second section of the liquidity stress test attempts to simulate significant economic stress. I calculate deposit outflow over 3 months at 12% of total deposits, core and noncore. The 12% rate is not randomly selected. This rate was obtained from the Financial Crises Inquiry Commission's "Wachovia Case Study" and a presentation by Jonathan Rose an economist for the Board of Governors of the Federal Reserve System called "Old-Fashioned Deposit Runs". While this specific rate is not referenced or suggested for my purposes, my own analysis of Wachovia's liquidity crises using both referenced materials likens it to a case of a struggling but viable bank that didn't successfully manage its liquidity. If it had, it is suggested that they would have continued operating during the financial crises. The next dimension of an economic stress for a bank is large loan losses. Behind my assumptions here, there is little theory aside from 10% of total loans suffering 30% losses on principal balances would be stressful for any bank. Loan funding is the last item and I assume the bank will make no new loans in order to maintain liquidity. Perhaps this is an unlikely assumption however human nature has resulted in zombie banks that lasted years in Japan during their financial crises and betting on human nature seems to me a conservative assumption. The total of these three areas equals the liquidity needs of Tompkins during financial crises similar to the one experienced in 2008.
Subtracting the liquidity needs from the liquidity available leaves Tompkins with $1.78 billion. This scenario drains TMP of over 50% of its liquidity after 3 months. Tompkins would have another 3 months to borrow from the fed's discount window or find some other way of shoring up deposits. I do believe this to be a good buffer for a bank as internal data would give them this result sooner and action could be taken well within the first 3 month period. However, even if Tompkins is slow to move, my calculation would give a market signal of needed liquidity and in turn management can now react to market forces and have a three month window to obtain additional liquidity. By my measurement, Tompkins would stomach a liquidity crisis much better than Wachovia did in 2008 and as you'll see in my analysis of quarterly deposit changes in 2008-2009, they already have.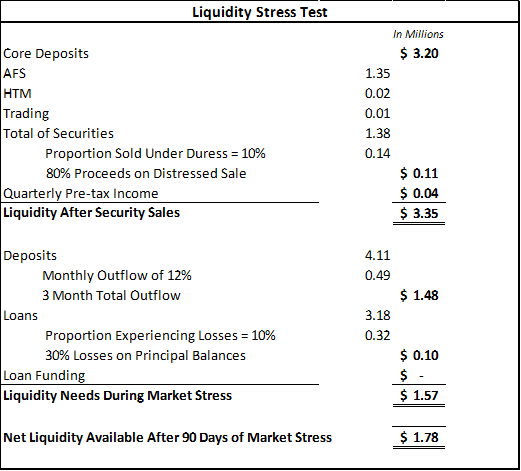 While researching the Basel III liquidity provisions, I came across a metric similar to the liquidity coverage ratio ("LCR"). This measure is called the Liquidity Ratio and was used by the Central Payments Office of East Timor (CPO). East Timor is definitely not a thriving financial center by any means and is a small country in Southeast Asia. There is nothing noteworthy about the country's banking system in fact its economy is considered a lower-middle-income economy by the World Bank and about 37% of the country's population lives under the international poverty line. However, it does have one economic bright spot. It is estimated to have the sixth fastest percentage growing GDP in the world.
With that background aside, I like the ratio because it is easily calculated from the financials as well as intuitively simple. It lists a bank's most highly liquid assets and compares them to its total liabilities as a percentage. This shows as a percentage how much liquid funding is available to offset deposit outflows and calls on the banks borrowing. The CPO requires a minimum of 15%. This compares well with the 12% rate at which deposits appear to flow out of Wachovia on a monthly basis. The result for TMP, as you can see below, is nearly double the CPO requirement.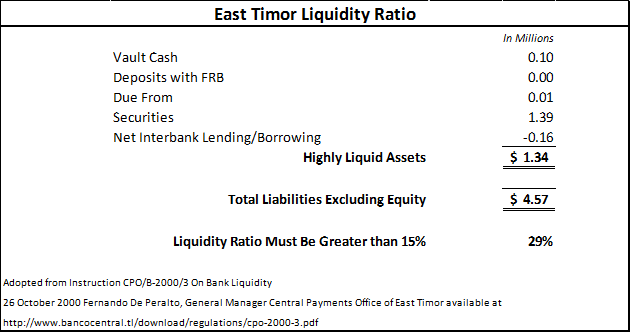 My final analysis on liquidity draws upon a method more commonly used in the social sciences whereby history provides the raw data. Here I look at how Tompkins total deposits changed on a quarterly basis after Lehman Brothers declared bankruptcy in 2008. This single event is believed by many to be the catalyst of the squeeze on bank liquidity which forced the U.S. government and central bank to act swiftly as many banks were facing increasingly rapid deposit withdrawals.
The chart below shows total deposit activity over the quarters following Lehman's insolvency. No declines occur until 2009. Still this was a time of great economic stress as stock markets globally plummeted and many banks were going bankrupt or forced into mergers. The decline was moderate, with an outflow of only 2% of total deposits however it took place after deposits rose by about 9.5% largely due to TMP's acquisition of Sleepy Hollow Bank. The decline may be a result of deposit outflow from some of the acquired depositors after the acquisition. After reviewing the data, it appears TMP's deposit base didn't change in the face economic calamity across the globe. If TMP can continue to be an outstanding operator and maintain their excellent financial performance, it is likely their depositors will react the same way in the face of a similar event in the future knowing their deposits are being safely protected.

9. Investment Management
A bank's investment portfolio serves many purposes. Among them are to act as an additional source of income, offset credit risk in the loan portfolio, help hedge against interest rate risk, add geographic diversification, and serve as collateral to secure government deposits. The two areas I focus on are providing a backup source of liquidity and strengthen the bank's balance sheet. To assess both these areas, I believe the most important aspect of the portfolio is its ability to protect the principal amounts invested so the initial funds set aside to invest have the potential to be sold at no cost to the bank. Below is a chart that summarizes Tompkins' results for the last ten years investing in securities categorized as available-for-sale. At first glance, losses occurred in three out of the ten. However, in each of those years, the losses amounted to less than 2% of the overall cost of the portfolio. Overall, the portfolio appears to perform well in terms of maintaining liquidity, earning income on a net year-over-year basis, thereby adding strength to TMP's balance sheet.
It's my hope that the policies previously governing the banks investment activities continue to guide investment operations in the future. Looking at the composition of these assets, it appears they will. The bulk of these holdings are in U.S. Treasury securities and mortgage-backed securities of U.S. Government Sponsored Entities. Less than 1% of the portfolio is held in U.S. corporate debt, equity securities, and non-government agency or sponsored MBS investments. In short, the risk of losses appear to be low as TMP's management has chosen to invest in asset classes that are regarded as having a low risk profile.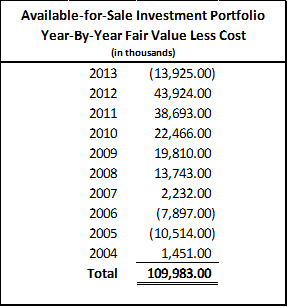 10. Interest Rate Risk Management
One of the biggest risks to a bank's profitability is the effects of fluctuating interest rates adversely impacting net interest margin. Consistently predicting market interest rates with a high degree of accuracy appears to be virtually impossible due to the number of possible variables impacting market outcomes. However, much like my analysis of a bank's investment management operations demonstrating an ability to provide a high level of liquidity over a high level of profits, I believe minimizing risk levels for various possible interest rate changes is an attainable goal.
Interest rate risk occurs when various assets and liabilities mature or reprice and changing market rates dramatically increase interest expenses or cause asset values to decline. Generally these assets and liabilities are considered interest-sensitive. When they mature or reprice, the bank is forced to scrap old rates and accept the prevailing market rates for a given asset or liability in order to remain competitive or retain the funding as with deposits.
To explain further, let's say a given bank has a large amount of its deposit funding in CDs and those CDs are about to mature. In this case, the bank will have to offer a competitive rate on new CDs in order to retain the deposits. If the current market rate has risen substantially, the interest expense required to retain the deposits will also rise substantially or deposits will flow out if the bank's rate is not competitive. In order for the bank to offset this increase, it will need repriceable assets that will bring in an increasing amount of interest income due to the change in the market rate. A problem may occur if the bank has no or very little maturing or repriceable assets relative to the size if it's maturing or repriceable liabilities. In turn, net interest margin will decline; losses in interest income will cause losses in overall net income and erode the bank's capital. The only way to avoid this type of scenario or one like it is to have interest-sensitive assets equal to interest-sensitive liabilities. This is, however, impossible as market rates on products that are assets vary significantly from those of products that are recorded as liabilities. Therefore, interest rate risk management is always necessary.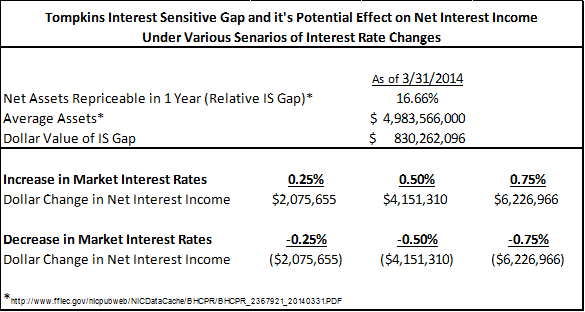 The table above summarizes the effects of changes in interest rates on Tompkins net interest income. Because Tompkins' balance sheet contains more interest-sensitive assets than interest-sensitive liabilities, it will experience gains in NII if market rates increase. The indication is that management expects an environment of increasing interest rates for the coming year. Because of the size of the IS Gap, it appears management is anticipating small changes in markets rates and has positioned the bank's balance sheet so that the effects of these potential changes have a small effect on overall net income. In the case of a 75 basis point change, the highest shown, TMP would experience a 10%-12% change in NII relative to 2013's total net income. Even still, if rates began to change, TMP would still be able to hedge their balance sheet before the 75 basis point change occurs as market rates tend to change gradually without the presence of a major shock to financial markets.
Disclosure: The author is long TMP. The author wrote this article themselves, and it expresses their own opinions. The author is not receiving compensation for it (other than from Seeking Alpha). The author has no business relationship with any company whose stock is mentioned in this article.
Disclosure: The author is long TMP.
The author wrote this article themselves, and it expresses their own opinions. The author is not receiving compensation for it (other than from Seeking Alpha). The author has no business relationship with any company whose stock is mentioned in this article.