This article is part of a regular series in which we interview our App Providers - the companies and people that develop the amazing stock-market Apps on the App Platform we recently launched.
In the interview, we ask App Providers to describe their applications in their own words; tell us which aspects of their apps they're most enthusiastic about; and share some of their future plans. Please use the comment stream below to share your own experiences - and feel free to suggest to the Providers any improvements or changes you'd like to see (or write a review!)
This week's interview is with Justin Carbonneau of Validea (free version, premium version with discount) - whose App "lets Investors see how their favorite stocks stack up based on the strategies of investment legends like Warren Buffett, Peter Lynch and Ben Graham."
Editor's note: Our App Platform team has arranged a 30%/six-month discount for anyone who subscribes to Validea this week. Use coupon code valideapro30off.
And now, the interview:
What are the key differences between the Free and Pro versions of Validea?
The first thing to be aware of is that both apps incorporate and utilize the publicly disclosed stock selection strategies of some of history's best investors. There are three groups of strategies included in the app: value, growth, and growth/value hybrid models.
The value models include computerized strategies based on the approaches of Warren Buffett, Benjamin Graham, John Neff, Joel Greenblatt, David Dreman and Joseph Piotroski.
The growth strategies consist of approaches outlined by Martin Zweig and Tom and David Gardner of The Motley Fool.
And the combo growth/value strategies are based on the stock selection techniques detailed by Peter Lynch, Kenneth Fisher, and James O'Shaughnessy. These fundamental stock selection models sit at the foundation of both our free and premium apps.
Users of the Validea Free app can see how a particular stock scores using the various guru-inspired models mentioned above. The quote page gives a snapshot of the guru strategies that give the stock the highest scores, and by clicking a link users can access a report that gives an overall rating for the stock, as well as more details relating to the company and its stock. Below is a screenshot of the widget on the quote page, and an example of what you might see when researching a particular stock.
(click on images to enlarge)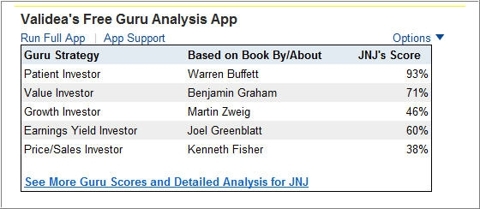 Click to enlarge
The Validea Premium App is a much more robust tool that gives users access to a number of different features. The app can act as a stock analysis tool, an investment idea generation tool, or a combination of both.
For investors who are looking for validation of their own investment ideas, we think the Premium App's Guru Stock Report offers a unique approach to analyzing stocks. Within the App, you can get a detailed analysis of over 6,000 securities using the various guru strategies we employ. The Guru Stock Report tells you what variables the stocks passes or fails on each individual strategy, and generates a final score for each approach. This feature gives you a wide-ranging look into a company's balance sheet, income statement, and valuation metrics, giving you insight into both the strengths and weaknesses of a firm and its stock.
For those looking for specific investment ideas, the Guru Stock Screener is a nice option. Using this tool, you can screen for stocks that pass one specific guru strategy, or mix and match approaches to find stocks that pass multiple guru-inspired models. For investors who are looking for just a few investment ideas, this is a powerful screening feature that can help narrow down the list of names to look into further.
The Premium App also includes the Featured Guru section, which showcases the twelve guru models within the App. Each guru capsule contains a profile on the individual guru as well as an overview of Validea's interpretation of his investment strategy. You can also access the current list of all stocks passing each guru model and the model's recent upgrades and downgrades via this page.
I typed a stock ticker (Weatherford International (NYSE:WFT)) into your "Get Report" field, and within a couple seconds, I received a report that could easily take me an hour to go through in detail! I assume many parts of this report are assembled algorithmically?
That is correct. This entire app is built on a set of systematic based investment approaches. We have spent over 10 years developing and creating this system, but it is important to point out that, unlike other providers who have teams of research analysts covering specific stocks, our reports are based on a set of quantitative rules that look at a number of financial strength and valuation criteria.
That's one of the key similarities among the gurus we follow - each focused on the numbers, using a set of quantitative criteria to assess stocks. They knew that while people are emotional, biased creatures, numbers are unemotional and unbiased, giving a true picture of the strength of a company and the value of its stock. Great investors like Peter Lynch and Warren Buffett didn't make decisions based on hunches, or some sort of investing sixth sense. They rigorously analyzed companies and stocks based on cold, hard facts and figures.
The actual strategies that are included in the stock analysis report are limited to the top five as a way to make the report manageable from a research perspective. We understand that some investors may not read the entire report in detail, but some may and we want to put the details out there so that it's clear why the stocks obtain the scores they do for the higher-scoring strategies.
Click here to view the entire sample Guru Stock Report on WFT; additional screen shots are included below.

Returning to my query, WFT received a D/Sell rating. Does this equate to a recommendation to short shares, or only exit any positions?
When our system scores a stock a D/Sell this really means that the stock does not pass (i.e., get a score of at least 80%) from any of the guru strategies we utilize in the app. Our research has shown that higher-scoring stocks, particularly when run in the context of actively managed model portfolios, produce superior returns to lower-scoring stocks. The D rating means WFT doesn't meet enough of the rigorous financial and valuation criteria of any of the strategies we look at. Therefore it wouldn't be one that we would consider to be worthwhile pursuing as an investment using this system.
How drastic of a change would it take for that to change to Neutral, or even Buy? Put differently, how sensitive are Validea's ratings to small and/or big fluctuations in a stock's price and other factors?
In order for the stock to improve in its overall ranking we would need to see one or more of the individual guru strategies rate the stock at least 80% or higher. A number of factors could influence this. For example, the price could come down enough so that, based on the valuation measures the models analyze, the score improves. (The Graham, Neff, Greenblatt, Buffett, Dreman and Piotroski strategies all look at valuation in various ways.) We could see new quarterly or year-end sales and earnings figures come in, which could impact quarterly or annual growth rates (a criteria looked at by our Buffett, Fisher, O'Shaughnessy, Lynch and Zweig strategies). So the sensitivity of the ratings is really a function of, 1) what has changed and the magnitude of that change, 2) the importance of the specific variable within the model, and, 3) the guru score on the stock and how many other criteria the stock already passes prior to the change in the fundamentals.
What we think is critical to point out is that the variables these models look at are variables that analyze the fundamental value of a firm and its shares. They aren't rapid trading methods that try to anticipate what the stock will do today or tomorrow. Instead, they are models that identify strong companies with solid track records, whose shares are trading at attractive values. The gurus we follow built their reputations (and fortunes) by keying in on similar stocks - not by rapid trading and attempts to guess the short-term direction of a stock, or the broader market.
I notice that WFT's rating dropped from B to D on Sept. 17. First of all, how did it fall two notches on one day? Can you describe what might have happened to drive that downgrade?
The fundamental grades are a function of the strategies in the body of the report. In the instance of WFT, at one point before the downgrade our Peter Lynch computerized strategy was scoring the stock higher, and due to a change in the underlying fundamentals of the firm the stock was subsequently downgraded.
We don't keep historical data on what exactly caused past downgrades, but Weatherford did make several regulatory filings on Sept. 16, some of which had to do with the issuance of new debt. Those filings could have contained new financial information that made its way into our system the next day (Sept. 17). In addition, the stock's price had risen about 12% since the end of August, which could have meant its price/earnings and P/E/Growth ratios had risen, making the stock less attractive to the Lynch-based model.
Let's drill down a little further: According to Validea, contrarian investor David Dreman gives WFT a score of 36%; value investor Benjamin Graham gives it a score of 71%; while others gives it a 0%. As I read further down the page, I understand that these numbers are somehow calculated according to different criteria that were valued by these guru investors. From where does Validea derive its understanding of gurus' methodology? And how does it quantify the importance of competing factors?
All of the strategies used in the app are derived from books or academic papers. For example, our Graham strategy is based on the "Defensive Investor" methodology he outlined in The Intelligent Investor, while our Dreman based approach was extracted from his book, Contrarian Investment Strategies. Our Warren Buffett model (also known as the Patient Investor strategy) uses our interpretation of Buffett's approach based on the book Buffettology.
Each stock gets a score of 0 percent to 100 percent from each guru strategy. The ratings factor the number of tests the stock passes for each strategy. If it passes none of the strategy's tests, it gets a rating of 0 percent; and if it passes all tests, it gets a 100 percent rating. Different tests within each strategy get different weightings, because each investor thinks some criteria are more important than others. Our interpretations of the books and papers written by (and in Buffett's case, about) each guru are what determines the weighting of each criterion.
The screen shot below and the sample report gives you an example of how the analysis works. As you will see, WFT passes five of the seven criteria in our Graham model. It fails the "long term debt in relation to net assets" criterion and the "long term EPS growth" criterion. The 71% score is derived by looking at these factors and then calculating a final guru score. This type of analysis can be conducted on over 6,000 stocks using 11 different strategies.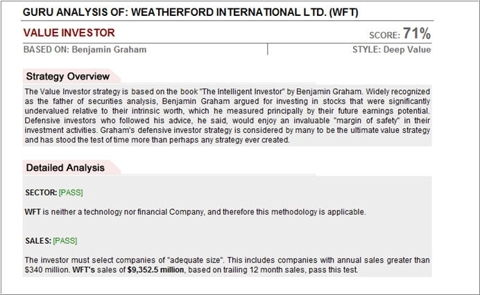 Click to enlarge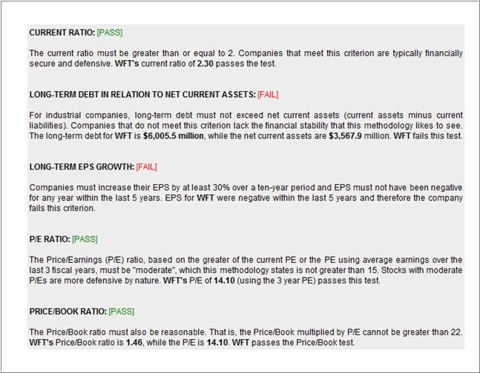 Click to enlarge
Your Guru Screener is intriguing. I expressed a 'Strong Interest' in Motley Fool's Small Cap Growth Investor strategy, and Validea returned five suggestions. Does that mean there are only five stocks that satisfy my interest, or is there a way to surface a broader set of stocks for my consideration?
With the Guru Stock Screener, you can screen for stocks that get 'Strong Interest' and stocks that get 'Some Interest' from our strategies. Generally speaking, a score of 90% or higher on a particular strategy means a stock gets Strong Interest, while scores between 80-90% equate to Some Interest. Our research has shown that higher-scoring stocks are more likely to produce market outperformance vs. stocks that score lower.
Using The Motley Fool strategy as an example, we can screen for Strong Interest stocks, which give you the five ideas in the screenshot below. Note these are all small- to mid-cap names with strong fundamentals and strong momentum. In order to open up the list a bit more you could select "Some or Strong" in the dropdown and it produces a list of about 50 stocks that obtain an 80% score or higher from this specific investment strategy.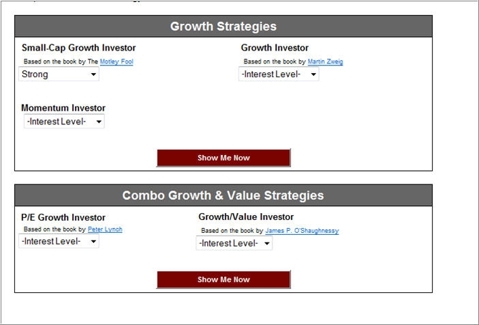 Click to enlarge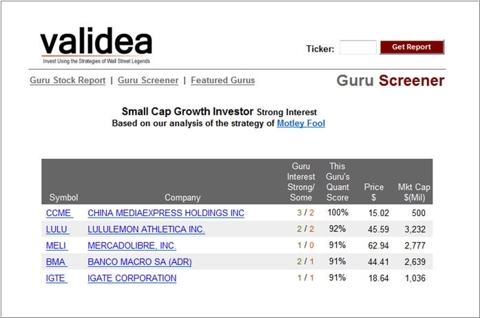 Click to enlarge

Can you share with us an example of a time when a guru screen, or a guru stock report, helped you or a Validea user discover and pull the trigger on a stock, or kept you out of a bad investment?
First, you should be aware of how we pick and choose specific stocks and track the performance of our various strategies. We follow several model portfolios on Validea.com. Each is managed using a disciplined, systematic approach in which the portfolio is rebalanced once a month, so that it holds only the highest-scoring stocks according to that particular portfolio's underlying guru strategy. We've found that such an approach keeps emotion - which many of the gurus we follow say is an investor's greatest enemy - out of the process.
The majority of these portfolios have been in place since July 2003 (see the total returns on all of Validea's guru-based portfolios below). All of our strategies except one has greatly outperformed the overall market, and in some cases the performance is 8-9 times the performance of the broader stock market over this period.
A good example of a time when these fundamental-based models found a big winner came during the financial crisis, and involved our Benjamin Graham-inspired portfolio. In early 2009, fear was still rampant on Wall Street. Investors were shunning stocks that figured to be particularly sensitive to more economic trouble, including most consumer discretionary/retailer stocks - even bargain-priced shares of strong, healthy, proven firms. But on Jan. 23, 2009, our Graham-inspired portfolio snatched up a retail clothing stock, The Dress Barn (DBRN).
Dress Barn had a strong balance sheet, good long-term track record, and its shares were trading on the cheap, but investors were still avoiding it like the plague. The stock had tumbled 50% over the previous four-and-a-half months. Because it focuses on the numbers, not the hype, however, the Graham model was able to snatch up a great stock selling at a bargain price. And as investors realized the financial world wasn't going to end, they recognized they'd been shunning a great buy. Dress Barn shares took off, gaining more than 70% in less than three months before the portfolio sold it. It turned out to be a good time to sell, too - the stock significantly lagged the broader market over the next five months or so.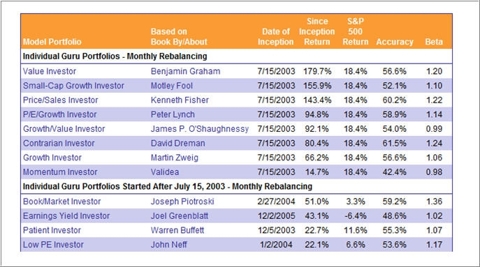 Click to enlarge

Do you have any plans to expand your 'guru universe,' or are you satisfied with the current group?
We are always on the lookout for new strategies, but at the current time there are no plans to add to the gurus mentioned above. The types of strategies that we look for are few and far between, so we don't add new strategies very often. The last time we did, it was the Greenblatt model in 2005.
Thanks Justin!
Have any thoughts, suggestions, or comments for Justin and his team? Tell them, and other SA readers, what you think in the comment stream.