Shares of Sirius XM Holdings (NASDAQ:SIRI) are up 4,470% since February 2009, when shares hit an all-time low of $0.05 per share. While the run in SIRI has been truly incredible, I believe the move is over and investors should sell SIRI.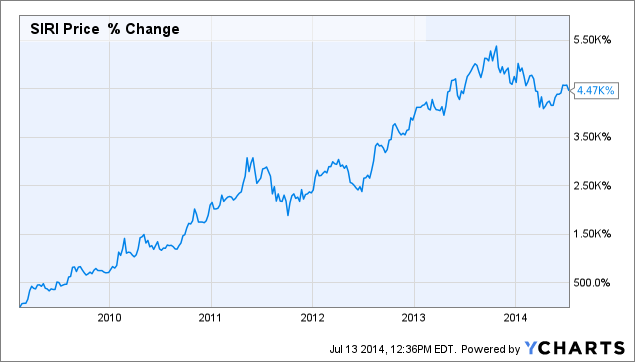 SIRI data by YCharts
Increasing Competition
In the past, SIRI was mainly competing with traditional radio. However, over the past few years a number of high profile tech companies have entered the music streaming business. The most successful company in the business has been Pandora (NYSE:P). Just weeks ago, Google (NASDAQ:GOOG) acquired streaming service Songza. Amazon (NASDAQ:AMZN) also recently launched its own music streaming service, Amazon Prime Music. In addition to Pandora, Google, and Amazon, Apple (NASDAQ:AAPL) also recently made a move to bolster its own music streaming service, iTunes Radio, when it purchased Beats Electronics for $3 billion. While SIRI has managed to continue growing its subscriber base over the past few years, I believe increased competition from Apple, Amazon, and Google will make it difficult for SIRI to continue growing.
Valuation
As shown by the charts below, based on multiple metrics, SIRI is an expensive stock. SIRI has commanded a high valuation in the past due to its growth prospects. However, based on new competition I believe the growth prospects for SIRI are quite limited. In addition to making it harder for SIRI to sign up new customers, increased competition could lead some current customers to cancel their SIRI subscriptions. Due to this, I believe SIRI is currently overvalued and could face significant downside.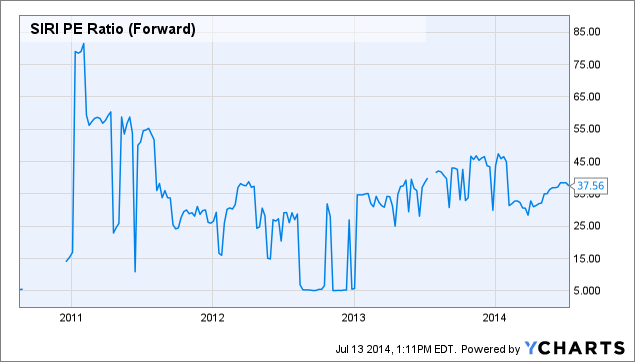 SIRI PE Ratio (Forward) data by YCharts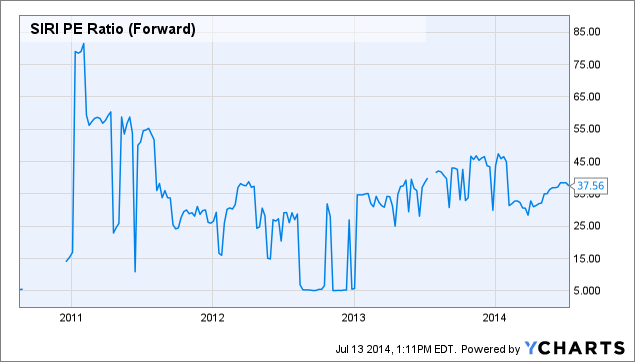 SIRI PE Ratio (Forward) data by YCharts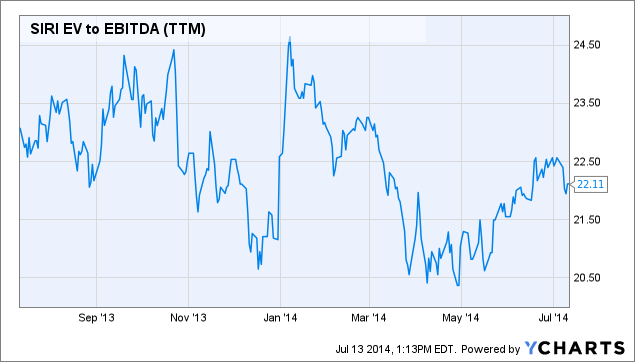 SIRI EV to EBITDA ((NYSE:TTM)) data by YCharts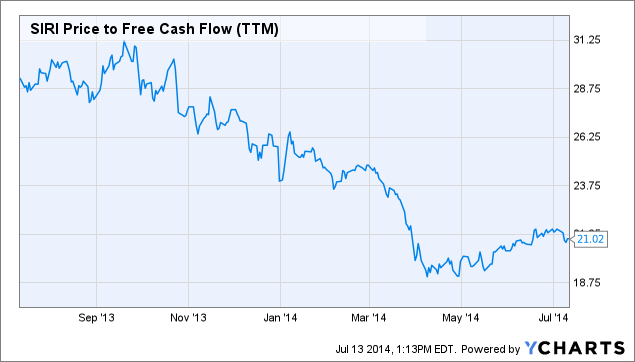 SIRI Price to Free Cash Flow ((TTM)) data by YCharts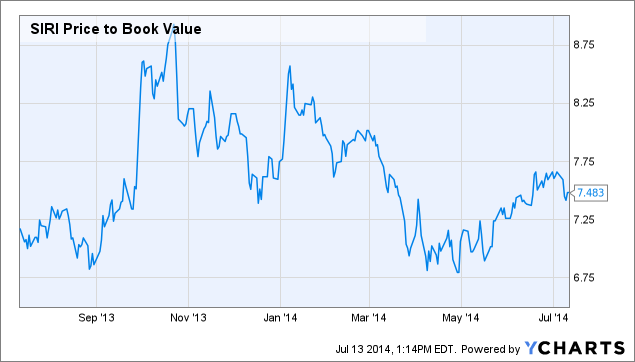 SIRI Price to Book Value data by YCharts
Alternative Investment Idea
While Pandora is the new market leader for music streaming, I do not believe the stock is a good investment based on valuation. Simply put, Pandora, like SIRI, is too expensive. Pandora is not yet profitable but the company is trading at a market cap of more than $5 billion. That being said, given the recent moves by Google and Apple to buy streaming service providers, Pandora could be a possible takeover target. At the same time, Pandora is likely to face increasing competition from Google, Apple, and Amazon. If Pandora is not bought by a larger company, I would not want to be long the stock due to the valuation. However, I do believe Pandora is a possible takeover target. In order to express this view, investors could consider buying out of the money call options on Pandora. If a buyout is announced, the calls will be a terrific investment. On the other hand, if no buyout materializes downside will be limited to the premium paid.
Conclusion
SIRI shares have had a tremendous run over the past few years. Investors who own SIRI should consider selling to lock in gains. Given the combination of increased competition and a rich valuation, I believe SIRI shares are a strong sell. Alternatively, investors could consider buying call options on Pandora as a speculation on a potential takeover.
Disclosure: The author has no positions in any stocks mentioned, and no plans to initiate any positions within the next 72 hours. The author wrote this article themselves, and it expresses their own opinions. The author is not receiving compensation for it (other than from Seeking Alpha). The author has no business relationship with any company whose stock is mentioned in this article.