Dividend investing is one of the best low risk investment philosophies for investors looking to build their portfolio over the long-term. By reinvesting the dividends, investors can take advantage of one of the great mathematical concepts: compounding. This is especially important for long-term investors. As the years pass, investors can get paid dividends on dividends they've reinvested, leading to a vicious cycle of market-beating returns.
One of the best ways to ensure you're getting the best dividends is by focusing on those companies that are like clockwork when it comes to not only paying a dividend, but consistently raising it. Dividend Aristocrats have a proven ability to reward shareholders. This group of S&P 500 stocks have raised their dividend payments for at least 25 years. Outlined below are the five largest (by market cap) dividend aristocrats, including Exxon Mobil (NYSE:XOM), Johnson & Johnson (NYSE:JNJ), Chevron (NYSE:CVX), Wal-Mart (NYSE:WMT) and Procter & Gamble (NYSE:PG).
The five largest dividend aristocrats don't sound all that sexy. These are huge companies that through the course of a year or two can look like no growth stocks, or even "dead money." However, it's the long-term that income investors are worried about. If you look out over the last 20 years, each of these mega-cap dividend aristocrats has crushed the market. While the market (S&P 500) has returned 505% (including dividends), the total return of all five mega-caps are at least 719% (which includes stock price appreciation and dividends). In part, the reason these stocks continue to excel decade after decade is their ties to must-have products, which include energy, consumer products makers and consumer products retailers. As a result, all of these five mega-caps also have a low beta (meaning they are less volatile than the broader market).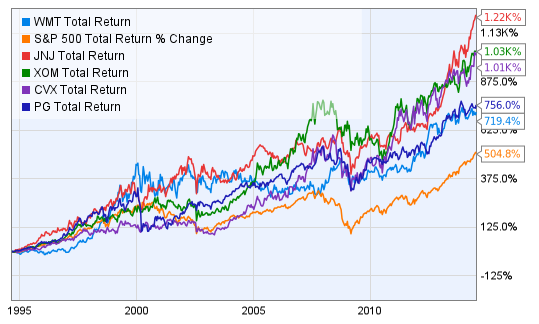 First up is Exxon Mobil Corporation. This oil/gas giant is a well-known name and one of the oldest in the industry. It is also the world's largest publicly traded oil and gas company, with a $444 billion market cap. Its dividend is a solid $2.76 per share, which comes out to an annual yield of approximately 2.7%. It has boosted its dividend every year since 1983.
These are profound numbers for a dividend enthusiast. Add to that, a low payout ratio of 26.50% which gives it sufficient opportunity to increase its dividend over several years to come. However, its valuation isn't very compelling. Even though its P/E ratio of 14 is at a discount to the market, it's still above many of the other major integrated oil/gas companies.
Although it's already one of the most diversified oil/gas companies in the market, it's launching several new projects later this year. Key areas include the U.S., West Africa and Russia. However, it is also active on the exploration side. It has made some notable discoveries in the Gulf of Mexico and offshore Tanzania. The Tanzania exploration project has been said to yield huge finds, bringing the finds in the area to over 20 trillion cubic feet of natural gas.
Along the lines of its exploration plans, Exxon is boosting its capital expenditure program by nearly 30% over the next half decade (versus the last 5 years). It will be spending $185 billion to develop over 20 oil and gas projects. This will add over 1 million in oil equivalent barrels of oil per day by 2016. Compare that to the 2.6 million that Exxon is already producing.
In second is Johnson & Johnson, which has increased its dividend every year since 1963. With a $300 billion market cap and a very recognizable name, the company needs no introduction.
A renowned leader in the healthcare field worldwide, Johnson & Johnson is another hit among investors who love dividends. Johnson & Johnson has a strong history of impressive performance when measured against liquidity, solvency and profitability. The stock price continues to grow and is currently sitting around its 52-week high at $106.00 per share. With a dividend payout of $2.80 per share and an annual yield of 2.7%, Johnson & Johnson continues to attract investors looking for a trustworthy, confident, long-term dividend paying choice.
Although it's known for its consumer goods products, Johnson & Johnson is still a large pharma company. Driving the pharma side of the business is Remicade, which is its best-selling drug. The drug continues to perform well (making up 24% of its pharma product revenues); it generated $6.7 billion in revenues during 2013, which was up nearly 9% year over year. But the real beauty going forward for Johnson & Johnson is that Remicade has been approved for various other indications. This includes Crohn's disease, ulcerative colitis and rheumatoid arthritis.
Beyond Remicade, Johnson & Johnson has various other products. This includes a number of products in final development stages. It plans to file for approval for at least 10 new products by 2017. A couple of key products include sirukumab (rheumatoid arthritis) and daratumumab (refractory multiple myeloma). This all comes as Johnson & Johnson is already the fastest growing pharma business in the U.S. and Europe in 2012, according to IMS Health. What's more is that IMS Health expects the worldwide pharma market to grow by 4.5% annually through 2016 to $1.2 trillion.
Coming in third is another oil and gas industry leader, Chevron Corporation. It is a direct competitor to Exxon Mobil, but has a market cap that is only around half that of Exxon, coming in at $250 billion. Its streak of dividend increases is the lowest among the five stocks listed, right at 26 years - having increased its dividend payment every year since 1988.
Chevron also has a higher beta (at 1.06) and lower EBITDA ($39.91 billion for TTM), compared to that of Exxon, which has a beta of 0.86 and TTM EBIDTA of $60.66 billion. However, Chevron does have a lower P/E to growth [PEG] ratio (at 2.30) and a higher dividend yield (at 3.20%). By all accounts, Chevron looks to be a better buy than Exxon.
Chevron got too big for its own good and ended up divesting various non-core assets. This includes getting rid of its marketing businesses in Western Africa and Brazil. The bigger picture plan is to get out of the low profit generating businesses. It's selling off pipeline/storage assets in Texas and Louisiana. However, despite its interest in selling off these midstream assets, Chevron is still one of the best upstream (as seen from their exploration success) and downstream operators. While its upstream success is no surprise, many oil/gas companies have chosen to separate out their downstream operations because they are lower margin; ConocoPhillips (NYSE:COP) spun off Phillips 66 (NYSE:PSX), and Marathon (NYSE:MRO), Murphy Oil (NYSE:MUR) and Hess (NYSE:HES) have all done the same. However, Chevron has been one of the downstream operators in the business. It has outperformed its major peers on a margin per barrel basis (for refined products) since 2009. Its average margin since 2009 is $2, while the peer average is around $1.50.
In Fourth, Wal-Mart Stores Inc., is another stock requiring no introduction, and is easily the leading retail store chain in the world. Its market cap comes in at $25 billion, and it has a history of rewarding its shareholders with a regularly increasing dividend. The retail giant has boosted its dividend every year since 1975. With a payout of $1.92 per share and an annual yield of 2.50%. Wal-Mart's top competitor, Target Corporation (NYSE:TGT), is also a dividend aristocrat (with dividends increases since '68) and pays a 3.5% dividend yield.
Although Wal-Mart has struggled with same-store sales growth in the U.S. and is expecting revenues to remain strained for the rest of the year, the rising global population is a positive. The world will need more retail goods, groceries and food, with Wal-Mart positioned nicely (geographically) to meet this demand. What's more is that Wal-Mart trades at a P/E of 16, compared to Target's 20.3.
The other major opportunity for Wal-Mart is a greater focus on international markets. So while the U.S. looks to be slow, Wal-Mart can still turn to international markets -- namely China and India. Over 30% of the world's population is located in these two countries, and they have a rapidly growing middle class that will be looking to increase consumption over the next few years. International sales are up to nearly 30% of total sales, versus 19% in 2005.
Then there's its Sam's Club stores, of which it has 400 in China and plans to add another 100 over the next 18 months. Back to the e-commerce space, Wal-Mart continues to ramp up investments. It purchased Stylr earlier this year, which is the mobile app that gives consumers the ability to locate clothes in nearby stores. Last year, Wal-Mart bought four companies (including Tasty Labs and OneOps) that are focused on speeding up websites.
Fifth is the $221 billion market cap company, Procter & Gamble Company, which also happens to be one of the largest consumer goods companies in the world. P&G has the longest dividend increase streaks of the five stocks listed and one of the longest streaks in the entire market. It has increased its dividend payment every year since 1957.
A dividend payout of $2.57 per share (putting its yield at 3.20%), together with a low beta of 0.40, makes this stock a solid choice for dividend investors looking for low volatility. P&G's profit margin declined from 2009 to 2012, but fiscal year 2013 showed some improvement. Its debt to equity ratio is also down to decade lows as of 2013, and its free cash flow to net income conversion is at three-year highs. While its P/E ratio of nearly 22 is high, it is below the 30 P/E you'll get with Colgate-Palmolive (NYSE:CL).
P&G has a suite of leading products. Some three-quarters of its products have market leading positions; it also has 25 brands that generate $1 billion or more. Going forward, P&G's focus will be on the faster growing developing markets. This includes increasing its production in developing countries, which should help lower supply chain costs and boost margins. This comes as sales in developing markets has grown at an annualized 12% over the last 12 years. What's more is that developing markets is a $34 billion business for P&G, which makes its developing markets business the largest for any consumer products company.
Bottom line
All five-dividend aristocrats above appear to be solid investments. Each have dividend yields above the S&P 500 average dividend yield (just under 2%). While just looking for a superior dividend yield is never a great investment policy, it does help when you start from a list of stocks that have increased their dividends for 25 straight years (Dividend Aristocrats). The five massive companies above are all market leaders, and while a couple might seem expensive, in the context of their peers, they might still be worthwhile investments.
Disclosure: The author has no positions in any stocks mentioned, and no plans to initiate any positions within the next 72 hours. The author wrote this article themselves, and it expresses their own opinions. The author is not receiving compensation for it (other than from Seeking Alpha). The author has no business relationship with any company whose stock is mentioned in this article.