By Bryan McCormick
A second clear bullish pattern has emerged on the chart of the PowerShares DB Agriculture Fund (NYSEARCA:DBA), following an earlier one that we cited in late July.
In part the recent price gains have been explained by the drop in the dollar. Since the end of July, the greenback has lost nearly 7 percent against other currencies.
The summer of weather disasters in various grain producing nations, as well as ongoing crop estimate reductions into the fall, have been the fundamental drivers of increasing prices. China demand has also helped fuel the rise.
The pattern we are looking at today is a bullish "flag," shown in yellow below, which became active when DBA broke above $28.50. The pattern would become inactive on a move below that level.
The upside potential for the formation is shown by the light blue vertical line. It has an upside objective of $31.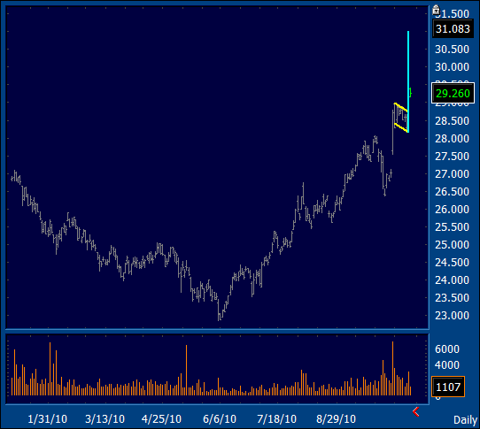 (Click to enlarge)

Disclosure: No position