By: Craig Bowles
Overview
Bank of America (NYSE:BAC) is scheduled to report 2Q 2014 earnings before the opening bell on Wednesday, July 16th. The results are expected to be released at 7:00 a.m. EST with a conference call webcast at Bank of America Investor Relations to follow at 8:30 a.m. Bank of America has the potential to impact the broader market indices, including the S&P Index Futures and corresponding ETFs. The earnings come after previous releases from JPMorgan Chase (NYSE:JPM), Citigroup (NYSE:C), Goldman Sachs (NYSE:GS) and Wells Fargo (NYSE:WFC).

Outliers and Strategy
Key measures:
Earnings Per Share: The current Street estimate is $0.29 (range $0.24 to $0.33) (Source: Yahoo Finance). Consensus has been reduced from $0.34 three months ago. Bank of America typically provides a clean earnings number but will produce an Adjusted Earnings Per Share or Earnings Per Share Excluding Items when necessary that compares with consensus estimates.
Revenues: Analysts expect a decline of 4.0% y/y to $21.62 bln (range $20.89 bln to $22.97 bln).
Bank of America shares have a price/book of 0.7% which is above the five-year average 0.6% but below the industry average of 1.1%. The stock trades at 20.8x trailing earnings compared to an industry average of 15.9.
Insiders bought 18,947 shares the last three months after having sold 934,656 shares the last twelve months, so at least are willing to support the stock somewhat on the recent weakness. Bank of America recently announced a $4 bln buyback, following last year's $5 bln. Plans to increase the dividend to 5 cents were suspended in late April due to miscalculating their capital ratio.
Bank of America shares have a one-day average price change on earnings of 3.85%. Options are pricing in an implied move of 1.22% off earnings.
Recent News
07/14: Citigroup's $3.8 bln charge and $7 bln mortgage fraud settlement sets the stage for BAC negotiations with the DoJ, according to the NY Times.
06/12: A dismissal has been hinted at in Bank of America's $850 million case for misleading investors by selling faulty RMBS, according to the Zacks Equity Research.
06/07: Bank of America Global Wealth and Investment Management (GWIM) is worth $48 billion if valued at 16x 2013 profits, according to a post by Fool.com.
06/05: Bank of America is in talks to pay at least $12 billion to settle civil probes by the Justice Department and a number of states into the bank's alleged handling of shoddy mortgages, according to the Wall Street Journal. (The bank initially paid $4 billion for Countrywide Financial and has already spent more than $50 billion to resolve claims.)
06/04: Goldman Sachs, Barclays Plc and Bank of America were fined $1 million each for submitting inaccurate information about securities trading to regulators, according to a post by Bloomberg.com.
06/03: Bank of America says it mistakenly reported the size of its dark pool to Finra which would have made it the largest operator of the banks, handling 428 million shares, according to a post by TheStreet.com.
Technical Review
Bank of America's return to the 200-day moving average also tested a balance area of support near $14.00. So far, the stock has acted favorably. If the stock were to move below $14, the next balance is $12. Early 2010 saw shares trade as high as $19.50, so that's possibly an upside target if shares can get back over $17. An earnings release breakout from the current $15.25-$15.75 area would give a suggestion as to whether the bulls or the bears have the upper hand. (Chart courtesy of StockCharts.com)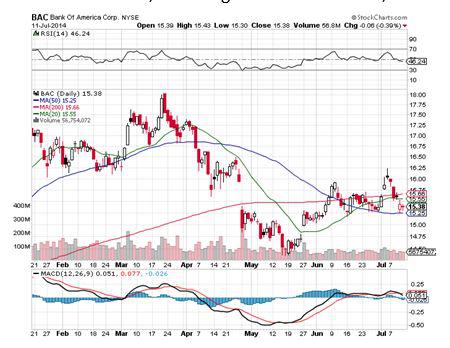 Summary
Bank of America has beaten estimates three out of the last four quarters by at least 2 cents, so anything less might be taken as a negative. Earnings probably need to beat the reduced estimates by more than 2 cents on revenues of $22 billion or more to be viewed favorably by traders. Citigroup moved up on news of the DoJ settlement and BAC is next on the DoJ mortgage fraud list.
DISCLAIMER: By using this report, you acknowledge that Selerity, Inc. is in no way liable for losses or gains arising out of commentary, analysis, and or data in this report. Your investment decisions and recommendations are made entirely at your discretion. Selerity does not own securities in companies that they write about, is not an investment adviser, and the content contained herein is not an endorsement to buy or sell any securities. No content published as part of this report constitutes a recommendation that any particular investment, security, portfolio of securities, transaction or investment strategy is suitable for any specific person.
Disclosure: The author has no positions in any stocks mentioned, and no plans to initiate any positions within the next 72 hours. The author wrote this article themselves, and it expresses their own opinions. The author is not receiving compensation for it (other than from Seeking Alpha). The author has no business relationship with any company whose stock is mentioned in this article.