Overview
"Good fortune is what happens when opportunity meets with planning." ~ Thomas Edison
Kinder Morgan (NYSE:KMI), (NYSE:KMP), the largest midstream and the fourth largest energy company in North America with a combined enterprise value of approximately $105 billion, is scheduled to report earnings on Wednesday, July 16, after the market closes. The following article is my earnings preview.
Current Chart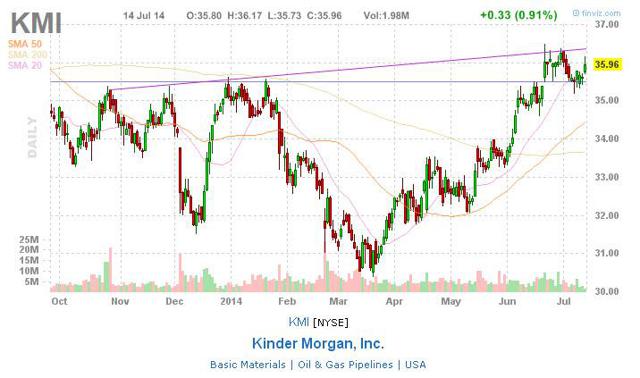 Click to enlarge
(Source: Finviz.com)
Previous Earnings Assessment
On 4/16/2014, KMI reported first quarter 2014 earnings of $0.28 per share. This result missed the $0.33 consensus expectations of the 12 analysts following the company. Nonetheless, the results beat last year's first quarter results by $0.15. In fact the company has missed earnings estimates for the past five quarters.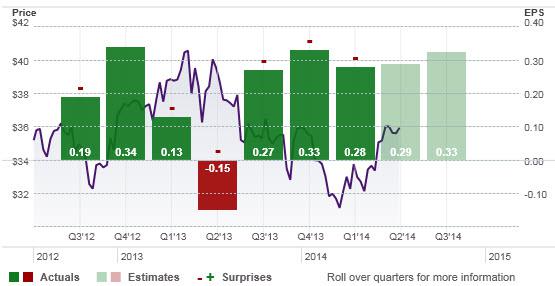 (Source: Scottrade.com)
Regarding fiscal year 2014 second quarter earnings, the consensus of the eleven analysts covering KMI for is a mean per share value of $0.29. The high estimate is $0.47 and the low is $0.17. Currently, KMI's PE ratio is among the highest of any stock in the Natural Gas Utilities industry signaling investors have high hopes for this company's future business prospects. In the following section I will lay out the reasons why this is so.
Why is everyone so bullish?
In a previous life I worked as a consultant for Ernst & Young. In the course of doing my due diligence and research regarding Kinder Morgan, I discovered a very enlightening report from Ernst & Young regarding the outlook for LNG demand. The report makes the case that global demand for LNG will outstrip supple by a three to one margin for years to come.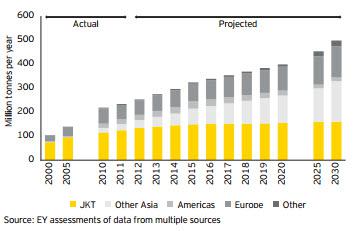 This fact has always been a part of my thesis to buy Kinder Morgan, yet I have never found such detailed analysis of the subject. Ernst & Young is a top notch research firm. I can tell you from working for the company these types of reports are not published until after an extremely rigorous vetting process. All the facts and assumptions are challenged and triple checked prior to the release of the report. I suggest everyone take the time to read the full report. I have provided a link here. The following is a short excerpt.
"Total global natural gas demand is estimated to have grown by about 2.7% per year since 2000; however, global LNG demand has risen by an estimated 7.6% per year over the same period, almost three times faster.

The strong LNG demand growth has been largely driven on a regional perspective by Asia, and from a broader perspective, underpinned by what analysts at JPMorgan termed "durable, investible and politically charged themes."

National energy supply security - ensuring supply diversity
National energy infrastructure renewal to improve system resilience to supply/demand shocks, stimulate investment and reduce unemployment
De-carbonization of economic growth as a social imperative, continuing the displacement of coal by natural gas
Rising popular opposition to nuclear power generation

Global gas demand is expected to continue to grow strongly. In its most recent annual World Energy Outlook, the International Energy Agency (IEA) forecast a growing role for natural gas in the world's energy mix, with the natural gas share growing from 21% in 2010 to 25% in 2035, with natural gas as the only fossil fuel whose share was growing. The IEA sees global natural gas demand growing at about 1.6% per year through 2035, more than twice the expected growth rate for oil. Some other analysts/forecasters put gas' growth rate even higher."
With Kinder Morgan basically sitting in the LNG liquefaction cat bird seat as we speak, the conclusion of the report stating LNG prices should continue to rise for the foreseeable future sound like great news for the company going forward.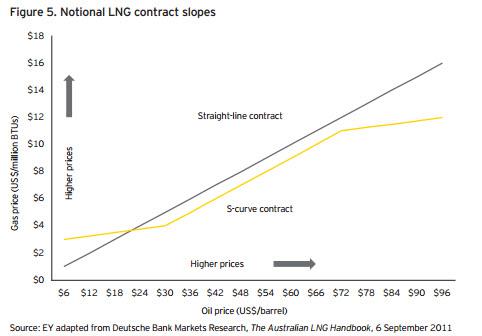 Nevertheless, there are always risks involved. The following is a list of the potential risks to the report's conclusion.
Risks to LNG price increase thesis
The report does list several risks to the potential price increase of LNG as well. Beyond the obvious cost and pricing issues, there are a number of other risks and challenges detailed in the report that investors in Kinder Morgan should consider as well. The issues are as follows:
Price volatility
Political risk (exports)
Political risk (environmental)
Calorific concerns (Lean versus rich gas)
Transfer pricing issues
Skilled labor shortages
Supply technology issues
Potential LNG tanker capacity issues
Checked past of industry delays and cost overruns
The report goes into detail regarding each of these potential drawbacks. Nonetheless, I feel confident that the vast demand for LNG will continue to outstrip supply for the foreseeable future. Insiders seem to believe so as well.
Insider buying has been rampant into earnings
Insiders have been picking up shares at an increasing pace over the past year. Several insider buys have been made at current levels. Furthermore, no one has sold a share either. See chart below.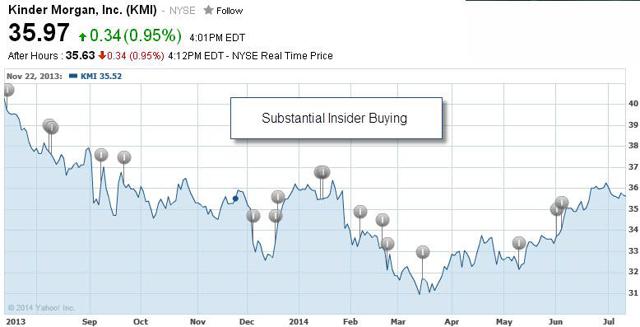 Click to enlarge
(Source: Yahoo.com)
I see this as a good sign there will not likely be some type of major negative surprise going into earnings. Even though the company has missed over the past few quarters, insiders have used the weakness in the stock to dollar cost average down their positions. I see the upcoming quarter in the same light. If the company does happen to miss for some reason and the stock/unit price suffers, this merely presents another excellent buying opportunity in my book. Although, I do expect Kinder Morgan to beat consensus estimates in the upcoming quarter. Still, there are several downside risks that could throw a monkey wrench into my estimates. The following is a list of those potential downside risks.
Downside Risks
Below is a list of the top potential downside risks I see presently.
Regulatory risks related to Products Pipeline FERC / CPUC cases, Natural Gas FERC rate cases, and potential legislative and regulatory changes.
Upstream operator crude oil production volume uncertainty.
Commodity price uncertainty.
An economic downturn.
Rising interest rates - The full-year impact of a 100 basis point increase in floating rates equates to an increase of approximately $53 million in interest expense for KMP.
The distribution coverage ratio is slim. This leaves little room for error.
Conclusion

Kinder Morgan currently pays a dividend with a yield of 4.72% and currently projects approximately 5% distribution growth for the balance of 2014. I expect the company to reiterate guidance and maybe even raise it at this point. This will be good news for dividend and income investors. The company is well positioned to take advantage of the tremendous growth prospects offered by the revival of the North American oil and gas industry. The company has an unparalleled asset footprint and a well-diversified midstream energy platform. This will provide stable, fee-based cash flow to underpin distributions and dividends for years to come. Kinder continues to focus on maintaining a strong balance sheet, has an attractive project backlog, and an established track record. The company is the preeminent midstream industry leader. What more could you ask for? Like the quote from Edison states, when preparation meets opportunity good things happen. This quote exactly reflects my position on Kinder Morgan right now. The company is in the right place at the right time.
Disclosure: The author has no positions in any stocks mentioned, and no plans to initiate any positions within the next 72 hours. The author wrote this article themselves, and it expresses their own opinions. The author is not receiving compensation for it (other than from Seeking Alpha). The author has no business relationship with any company whose stock is mentioned in this article.