Volatility Worries Investors
Yahoo's (NASDAQ:YHOO) 24% stake in Alibaba has been a significant reason behind the volatility of the stock over the past few quarters. Uncertainty surrounding the valuation of Alibaba made YHOO's stock spike on historical price charts and YHOO's stock is jolted by any news related to Alibaba's valuation. The IPO is drawing nearer and our estimate is that Alibaba will be valued at around $200 billion. This event will create new options and prospects for YHOO. YHOO is expected to sell a fraction of its stake in Alibaba and use the proceeds to invest in business and products with good growth potential.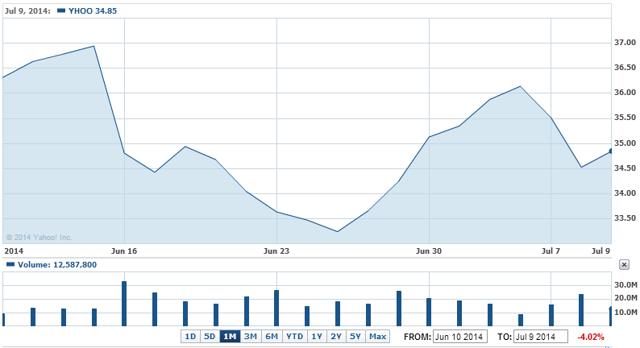 Approaching earning release
The approaching earnings release is another reason behind the somersaulting of YHOO stock. YHOO lost 4.02% in one month and gained 0.77% in one day; see exhibit below. In the last year YHOO gained 31%.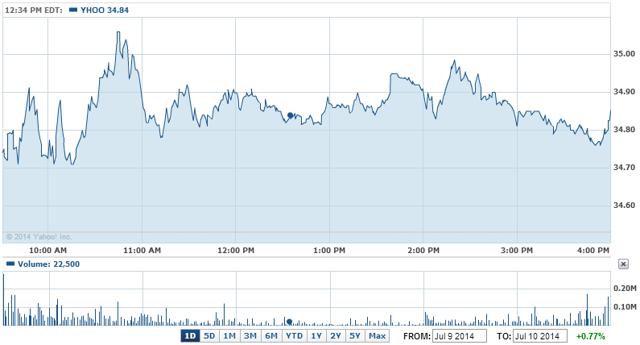 What Does the Consensus Say?
If we look at the consensus estimate of upcoming earnings we see that analysts are expecting an average of $0.38 compared to $0.35 last year reflecting a growth of 8.6%. The highest EPS estimate is $0.48 which is 37% above the EPS of last year. The lowest estimate expects a drop of 11% compared to last year. There we see a relatively large spread showing a wide variation of what analysts expect from this earning release. We expect YHOO's EPS in the upcoming earnings release will be bullish and we expect a positive earnings surprise. That would push the stock price upward and investors that entered YHOO at a lower price level would earn a decent price return.

If we look at the full earnings estimate for the year ended Dec 14 we see that analysts' average estimate offer a YOY growth of 6.6%. Analysts are expecting $1.62 on average for full year earnings compared to $1.52 last year. The highest earning estimate is $2.25 which is 48% higher than last year's earnings.
The earnings estimate for next year ended Dec 2015 is expected to be $1.81which is 12% above this year's earnings estimate of $1.62. The lowest estimate expects a 17% fall in EPS compared to this year's consensus earnings estimate.
The bull and bear fight is furious in the case of YHOO but we expect that the bullish stance will be dominant in the upcoming months. This outlook is based on the efforts that YHOO is making to bring growth to its top and bottom lines.
Preparing for Profit YHOO is preparing itself to earn a significant share of the proceeds of Alibaba's IPO. YHOO's merger and acquisitions activities will tap into growth opportunities under the leadership of CEO Marissa Mayer and are a good way to identify opportunities that can drive future growth and contribute to the top and bottom lines. Following the IPO YHOO would be able to utilize the proceeds to invest in products that have potential to boost top and bottom line in the future. In our view YHOO is likely to be successful in its efforts to create value for its investors.
However, YHOO needs to be cautious as tapping into opportunities through merger and acquisitions may turn out to be costly. We have seen that some of the acquired companies are scraped as YHOO finds that investments do not always successfully monetize. There is another concern that YHOO will lose focus while working on different genera of businesses. This loss of focus can cost YHOO loss of users to the hands of competitors that compete furiously in the industry.
Walking Among the Giants
Walking among giants like Google (NASDAQ:GOOG) and Facebook (NASDAQ:FB) has been intimidating for YHOO but the company has succeeded in gaining more unique users in the past few quarters. YHOO has achieved higher user engagement and that is expected to boost YHOO's ad business. YHOO is reported to have attracted 800 million monthly unique visitors in 2013 compared to 676 million users in 2012. Higher user engagement was mainly driven by YHOO's customized content offering that is based on shared content on social media and the search history of users.
Since mobile phones are the fasting growing advertising platform YHOO is trying to monetize this growing phenomenon. YHOO is putting serious efforts into expanding the unique visitor base through its mobile platform and this effort is expected to bear fruit.
Relative Valuation
If we look at YHOO's relative valuation we find that the P/E ratio of 21.31 is higher than the industry P/E of 17.75 times and the S&P 500 P/E of 19.40 times but it is below the sector P/E of 31.59 times. Now if we incorporate the growth in our analysis of valuation by using the PEG ratio we see that YHOO's PEG ratio is 2.65 and that is lower than the other three benchmarks. On the basis of PEG ratio YHOO is attractively priced and has growth potential.

Conclusion
Yahoo is putting serious efforts into bringing growth to its top and bottom lines through inorganic means and we expect that the company will succeed in its efforts. Volatility fed by Alibaba's expected IPO and more recently due to the upcoming earnings release is a cause for concern for investors. However, we expect that Yahoo will be able to deliver a positive earnings surprise that will push the stock price upwards.
Disclosure: The author has no positions in any stocks mentioned, and no plans to initiate any positions within the next 72 hours. The author wrote this article themselves, and it expresses their own opinions. The author is not receiving compensation for it (other than from Seeking Alpha). The author has no business relationship with any company whose stock is mentioned in this article.