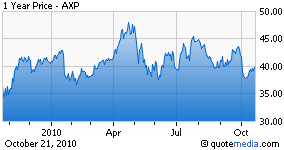 American Express (NYSE:AXP) is expected to report Q3 earnings after the market close today with a conference call scheduled for 5 pm ET.
Guidance
The consensus estimate is 85c for EPS and $6.79B for revenue, according to First Call. The consensus range is 69c-95c for EPS, and $6.61B-$6.98B for revenue. American Express' net write-off rate for Q3 dropped to 5.2% from 5.7% in June. The credit card issuer's net write-off rate for September was 4.7%.
Analyst Views
Meanwhile, a Bernstein analyst recently predicted that American Express would report higher than expected Q3 EPS and improved credit quality, as well as sequential revenue growth. The firm believes that the company's Q3 EPS will come in at 89c. On October 12, a SunTrust analyst upgraded the credit card company to Buy from Neutral based on valuation. The firm set a $47 target on the stock. In addition, American Express competitor Capital One (NYSE:COF) earlier this week reported significantly higher than expected Q3 EPS. However, American Express does have a couple of overhangs. Investors are concerned about the outcome of a lawsuit by the Justice Department, which alleges that the company's contracts unfairly prohibit retailers from directing consumers to less expensive card brands, In addition, there are concerns about how a new limitation on credit and debit card fees paid by retailers will affect American Express.