After getting grounded in the financial crisis, the airline industry has staged something of a comeback and announced its best earnings in years. That is being translated into gains for the airline ETF.
Combined, the eight top carriers are expected to post a profit of $2.4 billion – the best earnings since the third quarter of 2007, reports the Associated Press.
Proof of the global travel industry mending can be found in Delta Air Lines Inc. (NYSE: DAL), which said Wednesday it posted a profit in the third quarter and expects to repeat that in the fourth. The Associated Press reports that most of the recovery owes to international flights and higher baggage fees.
U.S. Airways (NYSE: LCC) credits its better than expected earnings with the fact that they've cut costs, raised money from assorted fees and got smarter about ticket prices.
Overall, passenger revenue rose 19% on higher demand and ticket prices, while revenue from cargo shipments surged 28% on higher volume and prices. And don't forget: this all comes even as the economy remains weak and fuel prices are relatively high.
The booming airline business has certainly helped Boeing (NYSE: BA), too.
The Associated Press reports that the aircraft maker posted an $837 million third-quarter profit on Wednesday and raised its profit guidance for the full year as it sold more commercial airplanes. Boeing expects to deliver 460 commercial planes this year, though at the low end of what it predicted in April. Revenue rose 2%.

Guggenheim Airline ETF (NYSEArca: FAA) rose 5.1% on Wednesday and is up 16.5% in the last three months
click to enlarge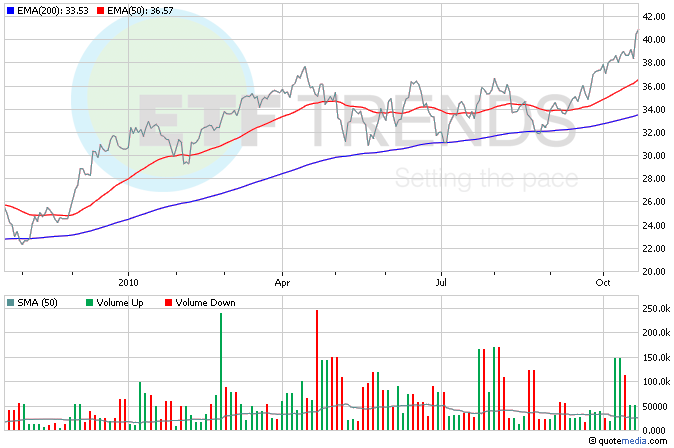 Tisha Guerrero contributed to this article.
Disclosure: None