A few days ago someone commented on an article that "the words 'blue chip' refer to stocks on the Dow" and while that may have been the case before my time, the generally accepted definition of a blue-chip is summed up by Investopedia as:
A nationally recognized, well-established and financially sound company. Blue chips generally sell high-quality, widely accepted products and services. Blue chip companies are known to weather downturns and operate profitably in the face of adverse economic conditions, which help to contribute to their long record of stable and reliable growth.
The name "blue chip" likely originated from the game of poker since blue chips used to have the highest value. However, beyond poker, Brendan Koerner, a contributing editor at Wired and a columnist for Gizmodo, offered this explanation:
No one's quite sure why blue chips were accorded such exalted status, but it may have something to do with the color's royal lineage-an aristocrat, after all, is known as a "blue blood." And blue-dyed cloth was a privilege of ancient and Medieval kings.
In the investing world, blue chip stocks are viewed as a less volatile class compared with non blue chip companies without the elite status. Accordingly, most investors who own blue chips are generally seeking steady growth with a very consistent track record of profitability. So while the name "blue chip" may have originated from the speculative game of poker, the actual definition as it relates to investing is exactly the opposite. As Ben Graham explained:
An investment operation is one which, upon thorough analysis, promises safety of principal and satisfactory return. Operations not meeting these requirements are speculative.
In my monthly newsletter, The Intelligent REIT Investor, I often write a column on a blue chip REIT and the purpose for my article (and research) is to determine how the company weathers downturns and operates profitably in the face of adverse economic conditions. In order to include the blue chip REIT brands as content, the REIT must have demonstrated a sustainable track record for contributing a long record of stable and reliable growth.
Accordingly, in order for the REIT to get on my blue chip list, the successful candidate must offer a differentiated and widely-accepted value proposition of repeatability. In the book, Repeatability, co-authors Chris Zook and James Allen provide an excellent definition of differentiation (*):
Differentiation is the essence of strategy, the prime source of competitive advantage. You earn money not just by performing a valuable task but by being different from your competitors in a manner that lets you serve your core customers better and more profitably.
But wait a minute. What does a "wide moat" have to do with a "blue chip?" Just because a company has a better competitive advantage doesn't mean it's a blue chip. That's correct and Zook and Allen went on to explain what separates the best from the rest:
Really successful companies' build their strategies on a few vivid and hardy forms of differentiation…the strongest sources of differentiation in a company's strongest businesses are its crown jewels.
So in REIT-dom the best of the best REITs - the blue chips - are all identified by the same "vivid forms of differentiation" - the "crown jewels" we call DIVIDENDS. Not just dividends, but durable dividends that provide a very predictable and reliable source of income for investors. After all, blue chips are usually not cheap to own and the premium tendered for a share of predictable income is often justified by the overall safety and pattern of predictability.
Are There Any Blue Chip REITs on Sale Today?
Fortunately I was able to take advantage of the REIT sell-off last year and pick up a few blue chip REITs. So far this year US Equity REITs have bounced back to life with Total Returns (through June) of around 17.5%. That's good news if you got in at the bottom of the cycle but for REIT investors who rode the bull all of 2013, Total Returns were less thrilling (US Equity REITs returned 2.5% in 2013).
As a value investor, it's important to not only stay fixated on the quality of the stock but also the price of the shares. I would never recommend buying a blue chip for the sake of owning a blue chip. It's important to always seek out stocks with above-average appreciation potential. Finding attractive dividend-paying stocks is only one piece of the puzzle. Paying for them is another.
In my monthly newsletter, I include a list of around 20 high-quality REITs that I refer to as the SWAN portfolio. SWAN is an acronym for "sleep well at night" and the reason I describe the list of REITs as SWANs is because I wanted to define them as the most "stress free" alternatives that provide powerful forms of dividend repeatability. Within my SWAN portfolio, I have included below 10 REITs that I consider "blue chips" (based on my standards) and I have also provided my Target BUY prices:
Realty Income (NYSE:O): This REIT is a no-brainer. It should be in just about every investor's portfolio. I own shares and I am continuing to accumulate more via DRiP. The company is paying a 4.83% dividend yield and based upon the P/FFO valuation of 17.6x, I would wait on a pull-back or Target price of $44.00 (shares closed at $45.37).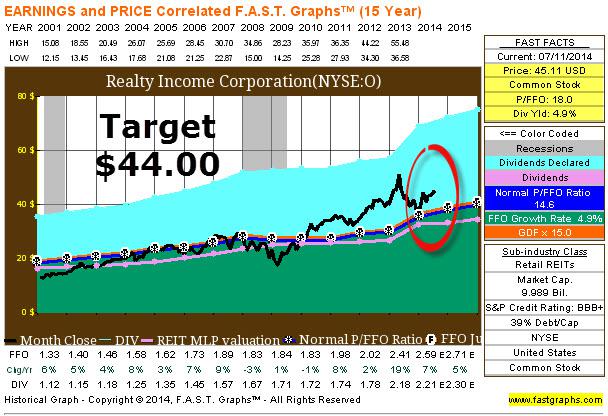 Digital Realty (NYSE:DLR): See my recent article HERE. Digital is back on track and investors (like me) are now getting rewarded for the heartburn suffered over ten months (starting in May 2013). Although shares are still somewhat cheap (P/FFO is 12.4x), I would wait until the new CEO is named and Q2 earnings are released. DLR's credit rating was recently affirmed and I consider the dividend (yield is 5.54%) safe. Shares closed at $59.57.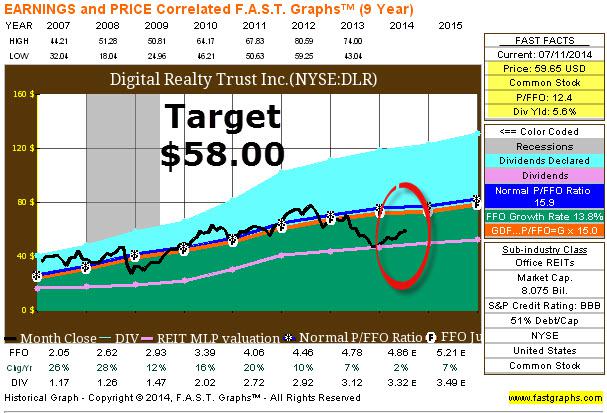 Ventas, Inc. (NYSE:VTR): I'm meeting with my favorite CEO, Debra Cafaro, later this week. One of the primary reasons that Ventas is a blue chip is because the company has a blue chip CEO. Over the last 10 years investors have been adequately rewarded for owning shares in Ventas and I'm glad that I was able to find a desirable margin of safety in January (2014). Ventas has moved into fair value (P/FFI is 14.6x) and I would wait for a pull-back to invest new money in the stock. I consider the dividend safe (current yield is 4.51%) and Ventas has grown its "crown jewel" considerably over the last several years. Shares closed at $64.24.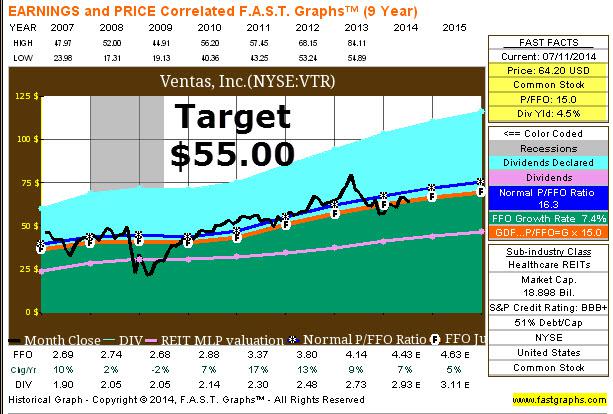 HCP, Inc. (NYSE:HCP): I was an owner in HCP and I left when the previous CEO left. Of all of the blue chips mentioned (in this article), HCP is the only one that I would BUY today. The only reason that I have not gotten back into a position with HCP is because I am already over-weighted with Ventas and Health Care REIT. HCP has an attractive P/FFO multiple of 13.7x and the dividend yield of 5.26% is solid. HCP shares closed at $41.44.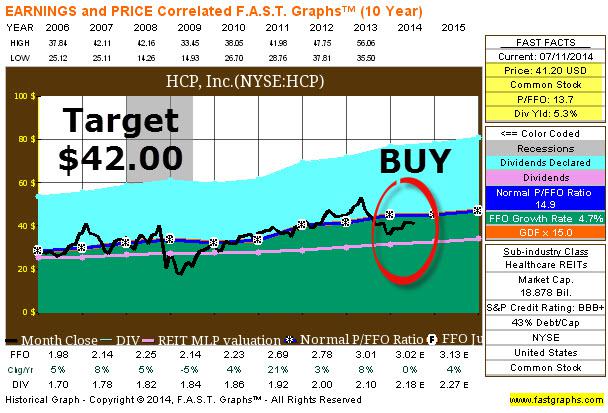 W.P. Carey (NYSE:WPC): Although Bill Carey (the founder) is not alive today, his passion for "investing for the long-haul" is still visible in the current management structure. A few months ago I decided it was time for me to dip my toe into WPC and "invest for the long haul." I was fortunate to find a "margin of safety" then as shares have moved back up. This REIT is not expensive today but at 17.1 P/FFO I would wait for a pullback. Remember that Carey has never cut a dividend (yield is 5.48%) and it has increased it for over 15 years in a row. Shares closed at $65.65.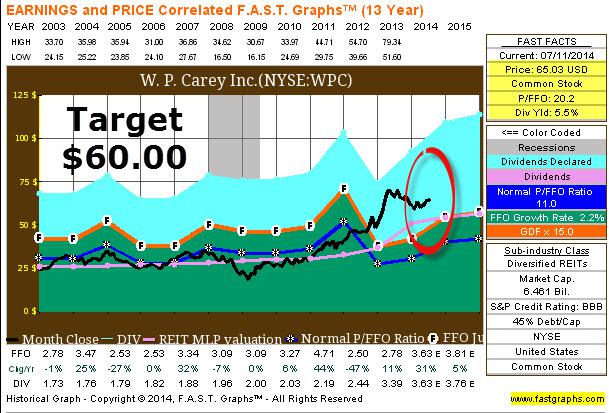 Tanger Factory Outlets (NYSE:SKT): Steve Tanger, CEO of Tanger Outlets, is another one of my favorite CEOs. In full disclosure, I'm also a UNC Tar Heel fan (my daughter attends the school now) and Tanger is an alum. In addition to rooting for UNC, Tanger and I also share the same love for dividends. Tanger (the company) has paid and increased dividends for over 20 years in a row. There is no question in my mind that Tanger is a blue chip and my only regret is that I have yet to see a blue light special. Shares are fairly valued at 18.1 P/FFO and I'm waiting patiently on the sidelines for a pullback. The current dividend yield is 2.72% and the closing shares price is $35.32.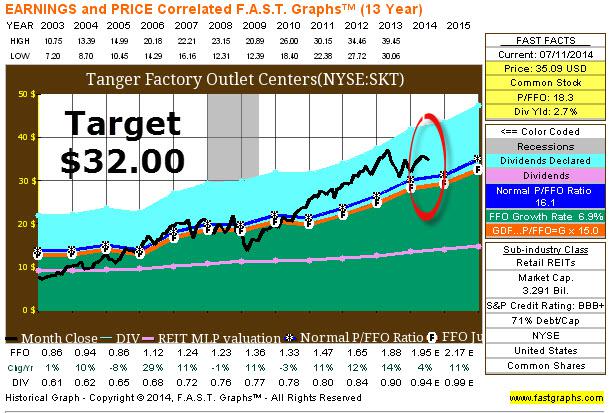 Federal Realty (NYSE:FRT): Wow! This REIT is definitely a blue chip brand - over 46 years in a row of dividends paid and increased. The chart below speaks for itself… but Mr. Market is screaming the words: BUY.BUY. BUY. I love this REIT and I even love the CEO, Don Wood (seriously, Don is a terrific risk manager) but the price is untouchable (P/FFO is 25.1x). I'm going to have to wait a while and unless I see a tumble in the price, the closest I may get to Federal is a dream. The current dividend yield is 2.53% and the share price is $123.36.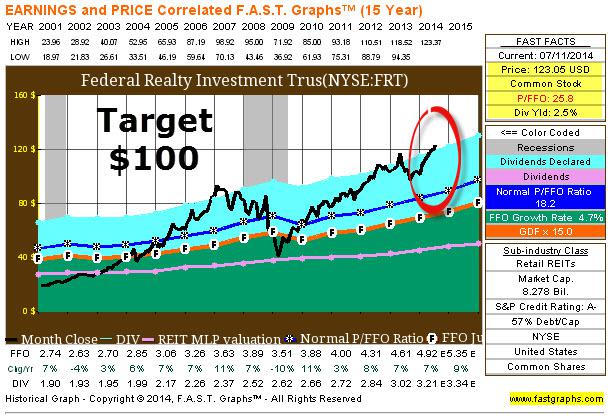 Essex Realty (NYSE:ESS): This apartment REIT is another example of dividend repeatability - a track record of 19 years in a row of paying and increasing dividends. At $189.11 per share this stock is a nose-bleed though. Like Federal, the valuation of 25.4x is untouchable and I can't compound much with a modest 2.75% (dividend) payout. I'm having a hard time justifying valuations for multi-family and Essex is a poster child for expensive.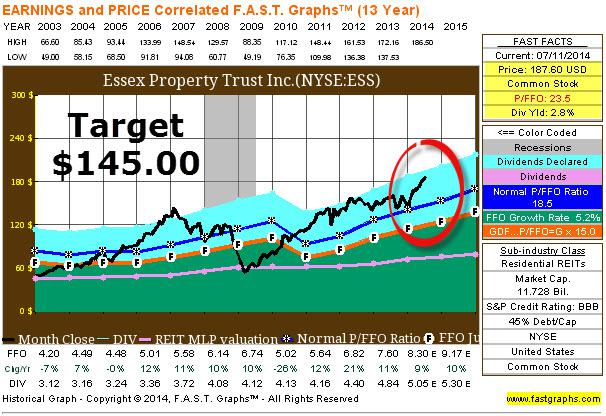 Health Care REIT (NYSE:HCN): Like Ventas, I was able to find a margin of safety in HCN a few months back. Shares have climbed steadily and at $62.98, I would wait for a pullback. HCN's dividend yield of 5.05% is sound but the P/FFO multiple of 15.5x doesn't tell me it's a BUY.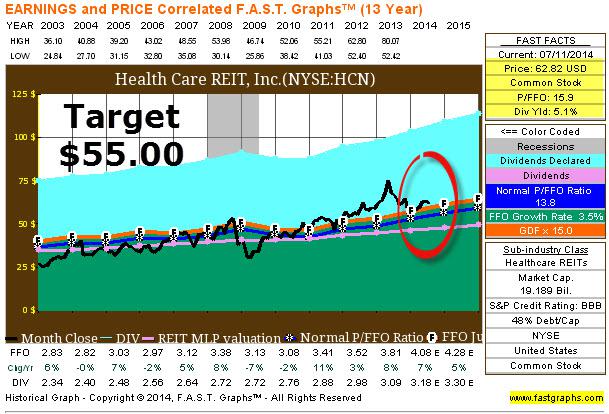 Omega Healthcare Investors (NYSE:OHI): Some would argue that OHI does not belong in the blue chip class since the company did cut its dividend back around 15 years ago. However, as I consider the company's more recent performance I tend to agree with Fitch's latest ratings affirmation: "strong credit metrics, including low leverage, high fixed-charge coverage, stable cash flows and exceptional liquidity due to no near-term maturities."
OHI has also established an exceptional near-term track record for paying and increasing dividends. I was fortunate to establish a good entry point with Omega in January (at $29.80). I would not BUY more shares today ($37.71) and I would wait for a pullback. The valuation (P/FFO) of 13.7x is sound but I think if you wait it out you may get a better entry yield than 5.3% (the current dividend yield).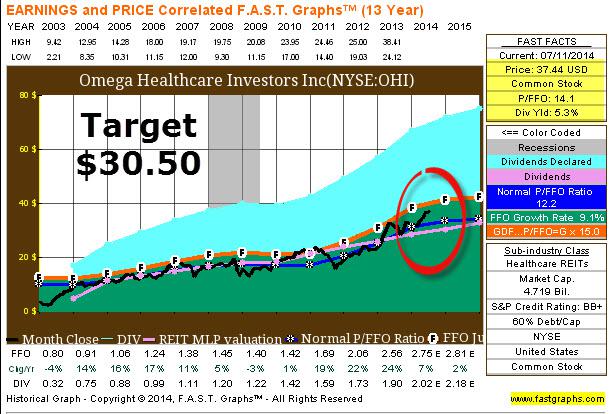 In closing, I thought I would provide you with Ralph Block's definition of a blue chip as he explains in his book, Investing in REITs:
There is no objective or commonly accepted definition of blue-chip REIT, so you will have to accept mine until you develop your own. Blue-chip REITs are, like all REITs, subject to the ups and downs of their sector's cycles but should, over reasonably long time periods, deliver consistent, rising, long-term growth in FFO, dividends, and asset value.

Because they are strong and widely respected, they will, in most periods, have access to the additional equity and debt capital that can fuel above-average growth. They will rarely provide the highest dividend yields or even, in many years, the best total returns, nor can we frequently buy them at bargain prices-but they should provide years of 7 to 8 percent total returns, on average, with only modest risk.
Well said Mr. Block. Now we can all sleep well at night! For more information, check out my newsletter HERE.
Sources: F.A.S.T. Graphs and SNL Financial.
(*) Brad Thomas wrote a book review in Forbes.com on the book, Repeatability. You can read it HERE.
Disclaimer: This article is intended to provide information to interested parties. As I have no knowledge of individual investor circumstances, goals, and/or portfolio concentration or diversification, readers are expected to complete their own due diligence before purchasing any stocks mentioned or recommended.
Disclosure: The author is long O, DLR, VTR, HTA, STAG, UMH, CSG, GPT, ARCP, ROIC, HCN, OHI, LXP, KIM, WPC, DOC, UDF, EXR. The author wrote this article themselves, and it expresses their own opinions. The author is not receiving compensation for it (other than from Seeking Alpha). The author has no business relationship with any company whose stock is mentioned in this article.