Apple (NASDAQ:AAPL) registered a new 52-week high of $96.89 yesterday. The small rally might be due to the leaked report that Apple allegedly ordered 68 million iPhone 6 units from Foxconn and Pegatron.
Apple is now the best performing smartphone vendor with YTD performance of +21.75%.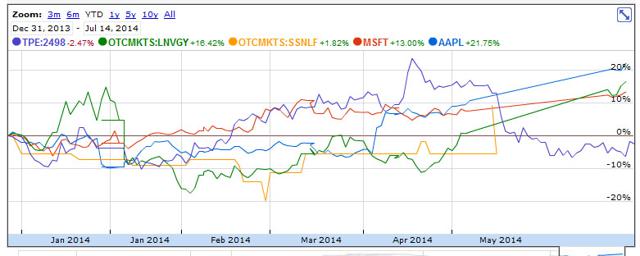 Source: Google Finance
Another probable reason for yesterday's small upswing is Morgan Stanley analyst Katy Huberty. Huberty raised her price target for Apple from $99 to $110. Huberty explained that Apple has a 90% retention rate among its smartphone clients. Customer loyalty will again help Apple sell record numbers of the iPhone 6 this year. Huberty also said Apple would be able to sell 30 to 60 million iWatch units within one year of its release.
The third probable reason why Apple went up yesterday is the recent reports which confirmed that the iPhone 5S remains the world's best-selling premium phone.
iPhone 5S is #1 in the World
ABI Research announced that Apple's 16GB iPhone 5S outsold the Samsung (OTCMKTS:OTC:SSNLF) Galaxy S4 Euro 16GB and Galaxy S3 16GB in global sales. Investors should also be happy to learn that the old iPhone 4s 8GB model still managed to land as the fifth best-selling high-end phone in Q1 2014.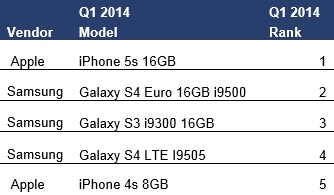 Source: ABI Research
Global customers still value old iPhones over newer Samsung Android handsets. The iPhone 4S outsold the new Samsung Galaxy Note 3.
ABI Research confirms my assertion that an Apple smartphone remains a social status symbol in many countries. Apple can always profit from exporting refurbished iPhone 4S and iPhone 5 units to emerging markets.
There will never be a $300 iPhone 6 because an unlocked $300 iPhone 4S will handily outsell a $300 Google (GOOG, GOOGL) Nexus 5 in China and other Asian markets.
Kantar World Panel's data shows the iPhone remains a favorite among customers in developed markets. France, Spain, and Japan iPhone sales posted Year-on-Year growth for the quarter ending last May.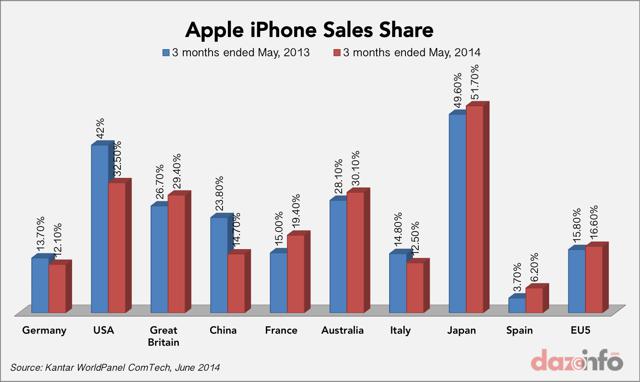 Counterpoint Technology Market Research says the iPhone 5S is the number one smartphone in 35 countries last May 2014. The iPhone 4S is again a top 6 best-selling handset.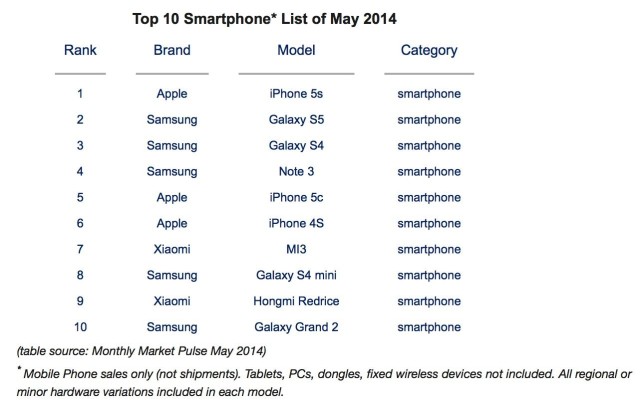 Source: cultofmac.com
The iPhone is #1 in the U.S.
The latest comScore data on U.S. smartphone subscribers also reveals that Apple phones still dominate. The iPhone even posted a +0.6% Quarter-on-Quarter increase. Apple is definitely not losing the domestic market to Samsung.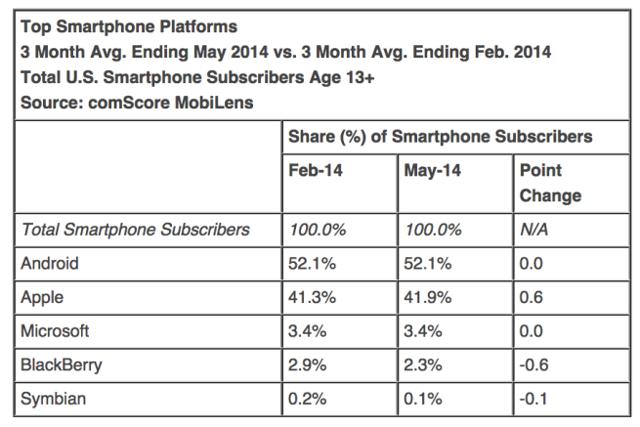 Source: comScore
Chitika's data fortifies comScore's results. The majority of North American web traffic is still coming from Apple devices. Likewise, iOS devices still generate more web traffic than Android devices with 45.61% of total global mobile web traffic.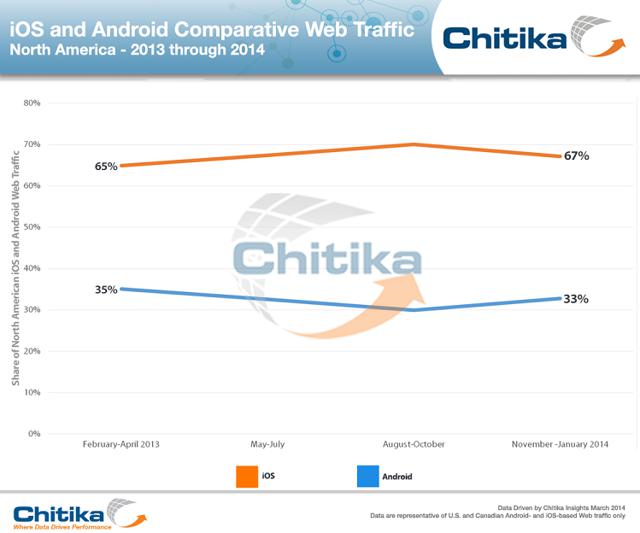 Apple Device Owners Still Dominate Online Shopping
Apple device users now generate more than 33% of all mobile online shopping. Tim Cook should consider an iMall subsidiary in the future. Apple can also monetize the shopping habits of iPhone and iPad users.
Apple has a potential future revenue stream from hosting online stores inside its iOS ecosystem.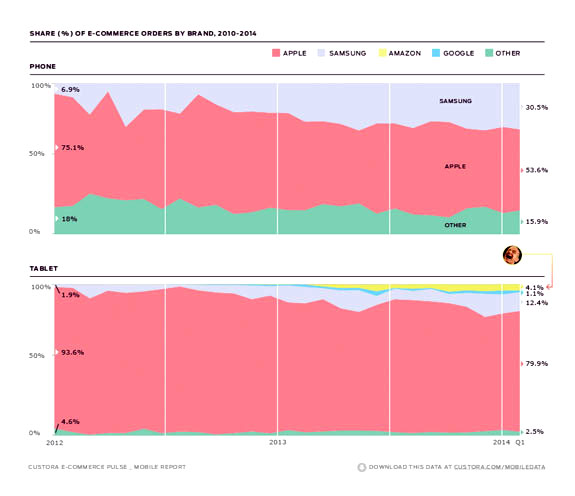 Source: Custora.com
Conclusion
The $110 price target of Katy Huberty is for the long-term scenario when Apple starts selling the iWatch. I agree with her assessment that Apple's very loyal bunch of customers is the company's biggest edge over its rivals.
Apple has a massive cult following that is very willing to buy anything that the company releases.
Furthermore, the recent data from ABI Research, Kantar, comScore, and Counterpoint are strong hints that AlphaWise might be right in saying Apple will post better-than-expected iPhone sales for the quarter ending in June.
The 39 million prediction of AlphaWise is 4 million more than Wall Street's estimate of 35 million. Past AlphaWise iPhone sales estimates were more accurate than Wall Street's guesstimates.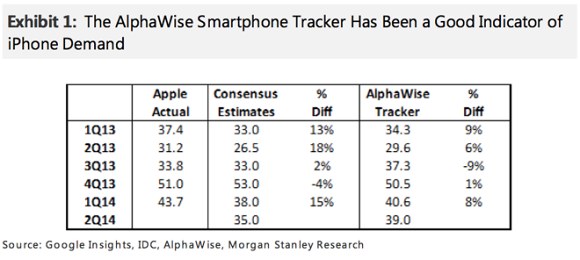 The July 22 earnings report may prove AlphaWise's prediction as true. Since Apple derives most of its revenue and net income from iPhone sales, the stock will likely shoot up.
AAPL's previous performance is largely dictated by how many phones Apple sold.
In spite of posting record revenue and net income, Apple took a beating last January because it missed consensus iPhones sales estimate (51 million vs. 53 million consensus). Likewise, the market boosted AAPL after it beat the iPhone sales estimate last April (43.7 million vs. 38 million estimate).
Considering all the new global/U.S. smartphone sales data which favors a beat on iPhone sales, Apple is also a short-term buy going into earnings.
In spite of the new 52-week high and over 16 P/E ratio, short-term technical indicators say Apple is still worth betting on.

Macroaxis supports the short-term indicators of BarChart Opinion. Macroaxis is projecting that AAPL might hit $104.25 within the next eight trading days.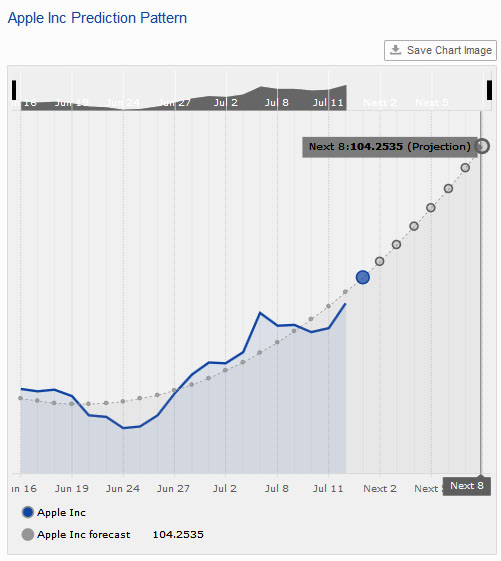 Source: macroaxis.com
Apple has a Next Trading Day Expected Value forecast of $97.75 from Macroaxis' forecast engine.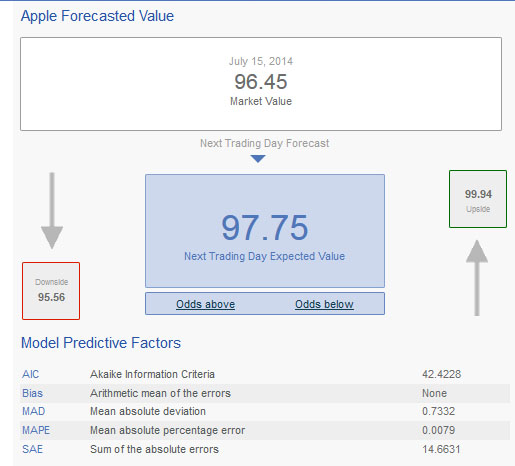 Source: macroaxis.com
Disclosure: The author is long AAPL. The author wrote this article themselves, and it expresses their own opinions. The author is not receiving compensation for it (other than from Seeking Alpha). The author has no business relationship with any company whose stock is mentioned in this article.