Comcast (NASDAQ:CMCSA) made headlines earlier this year when it proposed a takeover bid of Time Warner Cable (NYSE:TWC), through a stock swap that would value Time Warner at $45 billion. Since the announcement, regulatory authorities have been poring over both firm's documents, with some members of the investing public denouncing the move as monopolistic and others eager for the opportunities to capitalize that it would present. Since Comcast is looking to acquire another massive company, it must be doing well. Let's take a look at the fundamentals of Comcast's business to see whether the stock is at a good entry point.
Fundamentals
Comcast appears to be enjoying healthy revenue and revenue growth. As evidenced by the chart below, the firm's quarterly revenues grow in the double and triple digits fairly regularly. The revenue curve also has a healthy upward slope to it.

Click to enlarge
Source: YCharts
Looking at Comcast's revenue, it shouldn't come as a surprise that the company has astounding profit margins. It's not an infrequent occurrence that Comcast takes home a double digit post-tax profit margin some quarters. The firm's net income has also risen in correspondence with the revenue being taken in, which indicates that cash isn't being too heavily diverted, possibly in order to keep the firm's investors happy and ready to absorb a titan takeover stake.

Click to enlargeSource: YCharts
The firm's stock has appreciated well during the last several years and the firm has grown. Since the net income is growing, it shouldn't come as a surprise that the firm also took on some liabilities within the last several years. These liabilities were accrued in league with its assets, however, so Comcast's current ratio (assets/liabilities) has remained in a healthy range as well.

Click to enlargeSource: YCharts
Comcast has continued to acquire more of its cash from operations during the last several quarters. This coincides well with an increase in the stock's price; the company becoming more self-reliant in terms of cash is a strong indicator that it's healthy and ready to pivot its business operations.

Click to enlargeSource: YCharts
The stock may be at a good entry point as of now, judging by its low price-to-earnings ratio. Notice how the stock's price has continued moving up although the price-to-earnings ratio has stayed constant - the company's earnings have held up their end of the bargain.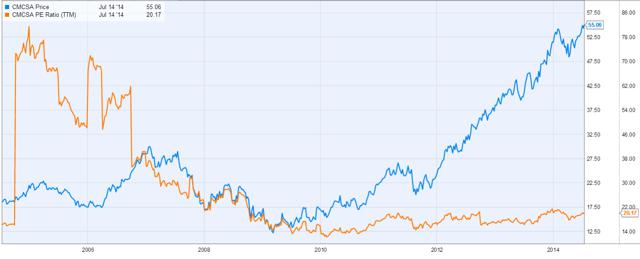 Click to enlarge
Source: YCharts
Conclusion
Fundamentally, Comcast looks great. The firm is putting up double digit profit margins while maintaining a brisk growth in its revenue. The company appears to have a very healthy balance sheet and excellent cash generation. This shouldn't be surprising as Comcast management wouldn't have made a bid like they did on Time Warner if the kind of cash that they needed wasn't on hand. That being said, Comcast is doing great and should continue to do great whether or not they acquire Time Warner. Although investors have been pouring in, the company has continued to make more money; all these signs point to Comcast being a strong buy at its current price.
Disclosure: The author has no positions in any stocks mentioned, and no plans to initiate any positions within the next 72 hours. The author wrote this article themselves, and it expresses their own opinions. The author is not receiving compensation for it (other than from Seeking Alpha). The author has no business relationship with any company whose stock is mentioned in this article.