The Big Picture
Immense speculation has shrouded the future of Yahoo! Inc. (NASDAQ:YHOO) as a result of the highly anticipated Alibaba Group Holding Ltd. (Pending:BABA) initial public offering, emerging questions about its core strategy, and recent merger rumors with AOL Inc. (NYSE:AOL). With its Q2 earnings set to announce at 5PM on July 15th, YHOO finds itself at a crossroads with investors all asking the same question, "Is YHOO worth holding with BABA public?" This question, and others, will somewhat be answered by the Q2 earnings release.
The BABA Effect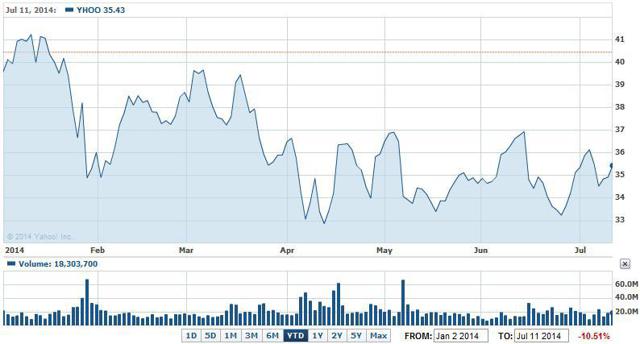 (source: finance.yahoo.com)
YHOO has been fluctuating uniformly between $33 and $37 since late March after a sharp decline following BABA initial public offering news. YHOO currently holds a 24% stake in BABA which is obviously of significant value. At the time of initial public offering, YHOO is required to sell 40% of its existing stake. Given these upcoming events, the finalization of the initial public offering could be a turning point for YHOO and its investors.
The BABA initial public offering will prove either beneficial or harmful to YHOO. On the one hand, the success of BABA bodes well for YHOO's valuation. Plus, the sale of the BABA holdings will leave YHOO with a sizable sum of cash that can be used for accretive or strategic acquisitions to boost its core business. On the other hand, many investors could very well close out their YHOO positions and hold BABA directly. In months and years past, YHOO has served as an indirect way to invest in BABA. Now with the initial public offering, investors who don't believe in YHOO's core business have no reason to hold YHOO, especially once their BABA stake decreases.
The Core Business
With the BABA initial public offering coming up quickly, heightened attention falls on this quarter's earnings. The earnings release will serve as indication of either strength or weakness of YHOO's future business. Street consensus forecasts hardly vary with management's guidance. At such a crucial time, a strong earnings beat will bode very well for YHOO, but an earnings miss this quarter could also put the nail in the coffin for YHOO. More so than ever before, YHOO must prove that it is able to stay ahead of innovations in order to generate cash flows and return for investors, two recurring issues it has faced in the past.
Acquisitions
Today, YHOO acquired RayV, a video distribution (streaming) platform, upholding Marissa Mayer's emphasis on expanding YHOO's offerings in Video and Mobile. It is possible that Mayer can revitalize YHOO with its foray into original content television, compounded by integration with existing, established segments.
Rumors lately have been circulating that YHOO is in talks to acquire AOL, but there is no basis to believe this is true. Now recall that YHOO will have a boatload of cash after it sells 40% of its BABA stake. Indeed, it is possible that Marissa Mayer and YHOO may be interested in AOL, but no conclusions should be drawn without further information.
Conclusion
Bloomberg recently reported that BABA is nearing passage of the regulatory hurdles leading up to its initial public offering, so doomsday could potentially be coming quickly for YHOO. From a valuation standpoint, it would be a crapshoot to try and predict what will happen to YHOO or BABA once the initial public offering goes through. Investors ought to cautiously ask themselves (amongst other pressing questions) whether or not the potential reward is worth the risk if they decide to hold YHOO through the BABA initial public offering.
Disclosure: The author has no positions in any stocks mentioned, and no plans to initiate any positions within the next 72 hours. The author wrote this article themselves, and it expresses their own opinions. The author is not receiving compensation for it (other than from Seeking Alpha). The author has no business relationship with any company whose stock is mentioned in this article.