Introduction
With the stock market near an all-time high, it is challenging to find attractively valued investment opportunities. As a dividend growth investor, I seek to invest in stocks that are not only attractively valued, but that pay consistently increasing dividends. My primary goal is to build a sustainable and rising stream of dividend income, but my secondary goal is to achieve a satisfactory total return on my investments. To achieve these goals over my long time horizon for investing (30+ years), I want stocks that have solid long-term growth prospects. In this article, I will discuss a stock that has an attractive valuation, an excellent dividend growth track record, and years of continued growth ahead of it: Ross Stores (NASDAQ:ROST).
Ross Stores: Dress For Less
Ross Stores operates off-price retail stores selling first-quality, in-season apparel, accessories, shoes, and home furnishings. The stores are routinely replenished with a wide variety of new merchandise, resulting in frequent visits that have been characterized as "treasure hunts." The merchandise often sells for prices that are 20% to 60% lower than those of department and specialty stores, attracting middle- and lower-income customers who are shopping for bargains. As shown in the chart below, the stores have a diverse merchandise mix, with ladies' apparel representing the largest percentage of sales.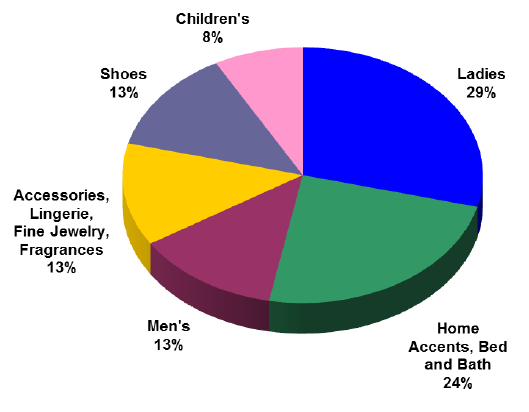 Source: Ross Stores Investor Presentation, May 2014
As of May 2014, the company has 1,309 stores in 33 states, of which 1,172 stores are Ross "Dress For Less" locations and 137 are dd's DISCOUNTS locations, the latter catering to more moderate income consumers. As shown in the map below, the largest concentrations of stores are in California, Texas, and Florida: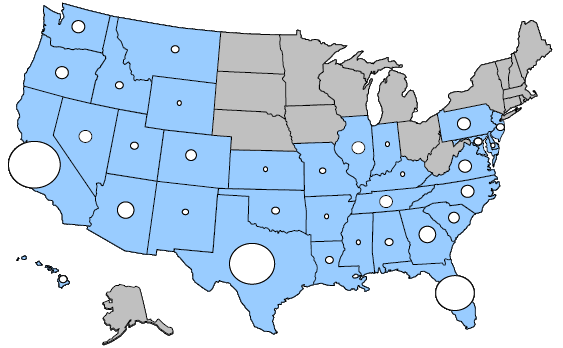 Source: Ross Stores Investor Presentation, May 2014
A major driver of future growth will be expansion throughout the country. This year alone, the company is planning to open 75 new Ross stores and 20 new dd's DISCOUNTS stores. To facilitate this expansion, two new distribution centers are also under construction. Management estimates that there is long-term potential for 2,500 stores in the United States, implying an almost doubling of the domestic store base in the long run. The company is currently focused on expanding into the Midwest region, which offers a large customer base in their target demographic.
Fundamental Analysis
Ross Stores has an excellent track record of growing revenue, earnings, and dividends for many years. As shown in the figure below, total revenue grew at a healthy compounded annual growth rate [CAGR] of 10.3% over the past nine years, a period that included a major recession.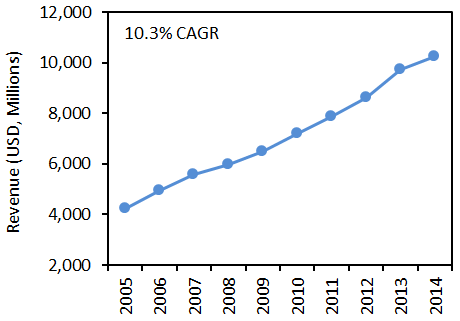 Data by fiscal year. Source: Morningstar
As the next two figures show, total earnings grew at a 19.4% CAGR, helped by improvement in the company's net profit margin: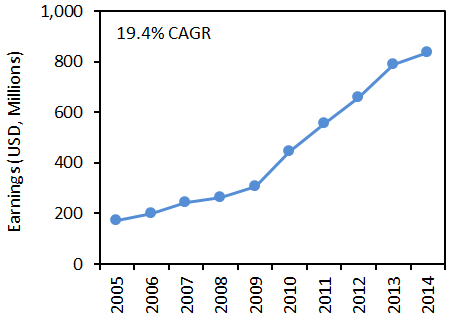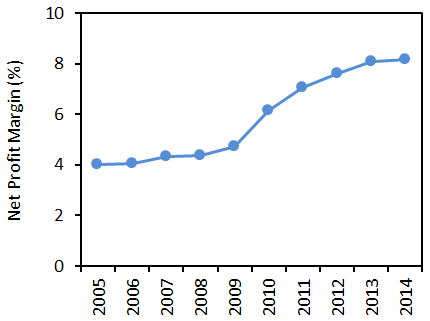 Data by fiscal year. Source: Morningstar
The next figure shows the growth of earnings per share [EPS] and dividends: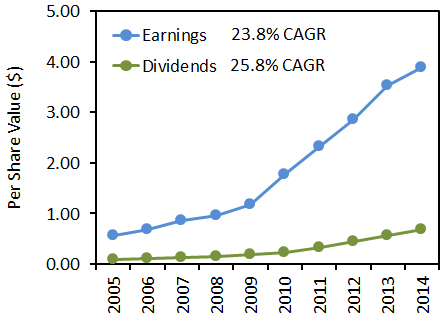 Data by fiscal year. Source: Morningstar
The EPS growth occurred at a 23.8% CAGR, which is higher than the growth in total earnings. This resulted from a successful stock buyback program that reduced the total share count by an impressive 28.2% over a span of nine years. The company expects to soon complete a recent two-year, $1.1 billion stock buyback authorization.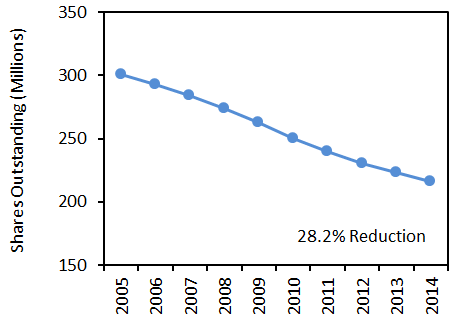 Data by fiscal year. Source: Morningstar
The growth in earnings enabled the company to grow its dividend at an exceptional 25.8% CAGR without much change in its payout ratio, which is currently about 20%. The company is classified as a Dividend Contender on David Fish's Dividend Champions, Contenders, and Challengers list, having increased its dividend for 20 consecutive years. Even more impressive is the fact that Ross Stores is the only company that has increased its dividend by at least 12% each year for the past 15 years (according to data compiled by Robert Allan Schwartz). The most recent dividend increase was 17.6%, announced on February 27, 2014. I anticipate that continued dividend growth will be driven by earnings growth and helped by share buybacks for many years to come.
Competitor Comparison
The closest competitor to Ross Stores is The TJX Companies (NYSE:TJX), which also operates as an off-price retailer of apparel and home furnishings, with stores that include TJ Maxx, Marshalls, HomeGoods, Winners, HomeSense, TK Maxx, and Sierra Trading Post. The TJX Companies have 2,471 stores in the United States, suggesting that Ross Stores' long-term projection of 2,500 stores is quite reasonable. Moreover, there is likely plenty of room for Ross Stores to expand outside of the United States, considering that The TJX Companies have 345 and 399 stores in Canada and Europe, respectively.
The table below provides a more quantitative comparison of the two companies: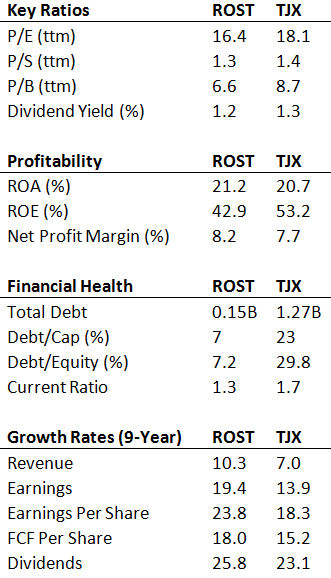 Data compiled from Yahoo! Finance, Morningstar, and Value Line
Ross Stores is moderately undervalued compared with The TJX Companies, as suggested by lower P/E, P/S, and P/B ratios. This is despite the fact that both companies are similar in terms of profitability, sporting excellent returns on assets and equity. Both companies are in great financial health, but Ross Stores carries less debt. Notably, Ross Stores has achieved higher growth in revenue, earnings, and free cash flow compared with The TJX Companies in recent years. Overall, this comparison favors Ross Stores as an investment, although I regard both companies as good investment candidates.
As some readers may have noticed, both stocks have low dividend yields (less than 1.5%), likely below the minimum thresholds set by many dividend growth investors. I also used to have a minimum yield criterion when choosing stocks, but I abandoned it when I realized that I was passing over excellent investment opportunities solely because of low yields. Since abandoning that criterion, I have purchased several low-yielding stocks that have turned out to be superb investments from both dividend growth and total return perspectives, helping me to achieve my primary and secondary investing goals.
Valuation
The preceding comparison suggested that Ross Stores is moderately undervalued compared with one of its peers. I also think the stock is undervalued in an absolute sense. According to Morningstar, which gives the stock a 4-star rating, ROST has a fair value of $80.00. According to S&P Capital IQ, which also gives the stock a 4-star rating and fair value rank of 5 (most undervalued), ROST has a fair value of $78.70. Using a Dividend Discount Model with a projected dividend growth rate equal to 15% (lower than the historic dividend growth rate and Value Line's estimate of 16.5% going forward) and a discount rate equal to the current yield plus the projected dividend growth rate, I calculate a fair value of $74.82. The average of those three estimates is a fair value of $77.84, which implies a margin of safety of about 16% at the current trading price of around $65.06. Quite frankly, I think Mr. Market is offering a great price for the stock of a high-quality, high-growth company such as Ross Stores.
Action
I like to put my money where my mouth is. As discussed in my most recent quarterly review, I have been aggressively increasing my position in Ross Stores over the past five months. After making yet another purchase last week, it is the largest position in my portfolio, with an 8.9% weight. I would be willing to buy more shares to bring it up to 10% weight, at which point I would be a bit reluctant to go higher because my portfolio would become somewhat unbalanced. However, in the absence of more compelling investment opportunities, I do not mind devoting a sizable chunk of my portfolio to this dividend growth gem.
Disclosure: The author is long ROST. The author wrote this article themselves, and it expresses their own opinions. The author is not receiving compensation for it (other than from Seeking Alpha). The author has no business relationship with any company whose stock is mentioned in this article.