By G C Mays
Potash Corporation's (NYSE:POT) newly installed CEO, Jochen Tilk recently stated that he intends to continue the practice of providing support to potash prices by attempting to match output to demand. Simply matching output to demand is always a sound strategy. However, questions remain. How elastic is potash demand to changes in price? How much of the potash industries price support strategy in recent years was the result of inflexibility in contract negotiations instead of matching output to demand? If so, what effect did this have on demand? What should changes in dividend policy over the last 3 years signal to investors?
Is Potash Demand Inelastic?
While it is unclear exactly how much any intransigence on pricing impacted demand versus adjusting production, what we do know is that during the first quarter of 2014, year-over-year demand surged in response to price concessions by North American potash producers that were in excess of 25% in most cases. In addition to Potash Corp., Mosaic (NYSE:MOS), Agrium (NYSE:AGU), and Intrepid Potash (NYSE:IPI) all reported higher year-over-year sales volumes in response to price declines, as illustrated in figure 1. Notably, Potash Corp. reported the smallest volume increase, despite the largest decline in average price.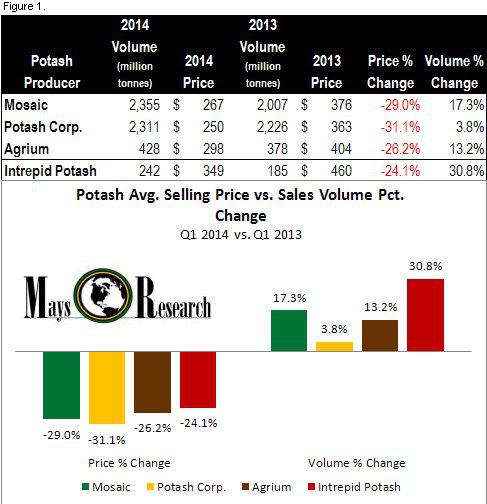 The year-over-year data from the first quarter suggests that potash demand is, in fact, sensitive to changes in price. However, this does not work in isolation. Falling crop prices are also responsible for the change in dealer and producer behavior. After being above their long-run averages for the last several years, the average price US farmers expect to receive for corn (NYSEARCA:CORN), wheat (NYSEARCA:WEAT) and soybeans (NYSEARCA:SOYB) are beginning to revert to their long-run averages.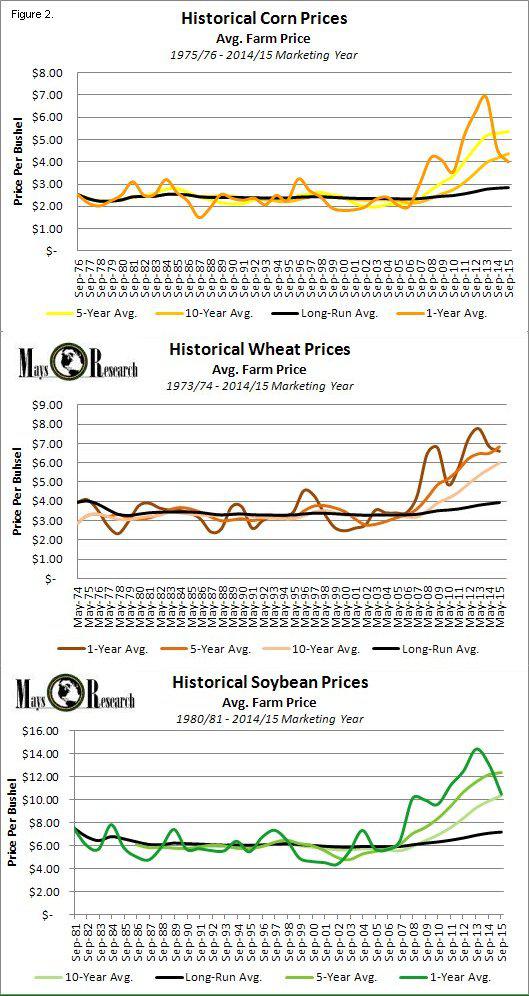 In my opinion, once wheat, corn, soybean, and other crop prices revert to their long-run mean averages, the cycle may slowly begin to turn bullish once again. The open question for Potash Corp. and the other fertilizer producers is one of future growth rates.
Until roughly three years ago, Potash Corp. fancied itself as a growth company in a growing industry. The firm's dividend payout ratio reflected this view until a few years ago. Figure 3 provides a review of Potash Corp.'s dividend payout ratio since 2004, which illustrates the dividend policy of a growth company until 2012, when the company began to increase its dividend at a faster rate in the face of falling earnings and earnings per share.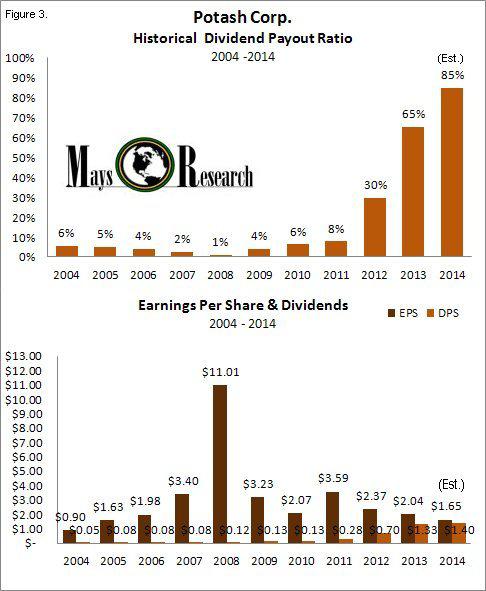 Generally, the more profitable opportunities a company has to invest in, the less it will pay out in dividends. Potash Corp. mine expansions are nearing completion, and with no drivers of new growth, it makes sense to return a greater percentage of earnings to shareholders in the form of dividends, in my opinion. The change in the dividend policy of Potash Corp., along with recent declines in the company's compound annual growth of pure earnings and earnings per share makes it challenging to forecast a growth rate over the next five years or so. Figure 4 illustrates changes in the compound rate of growth of earnings and EPS at various points over the last 10 years.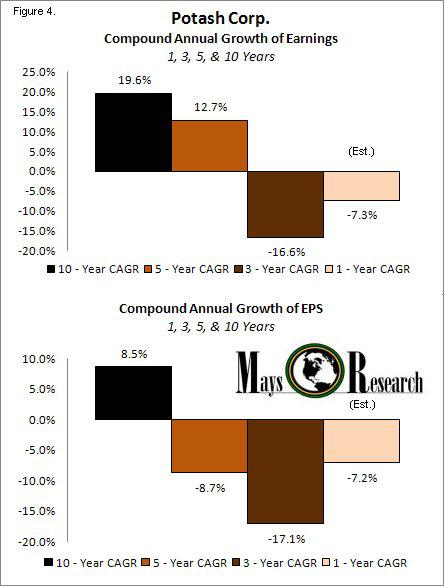 With such dramatic changes in recent years, what growth rate should we use to estimate value? Large, mature companies typically target dividend payout ratios of 40 to 60 percent (Clayman, 2012). Thus, the estimated 2014 dividend payout of 0.85 or 85% shown in figure 3 is unlikely to continue over the next 5 years as the company aligns dividend and EPS growth in a way that results in more typical payout ratios. Using the above range of dividend payout ratios and my estimate of a return on equity for 2014 of roughly 15 percent, we get an estimated range of sustainable growth between 6% and 9%. In my opinion, even this estimate seems a bit on the optimistic side, especially over the next year or two.
Accurately estimating a growth rate and risk premium is next to impossible, and in my opinion, it's best to look at estimates of stock value based on a range of these estimates. The bright yellow box in figure 5 illustrates that the market is now pricing the next 5 years at a higher rate of growth and lower level of risk than my estimate of $26.30.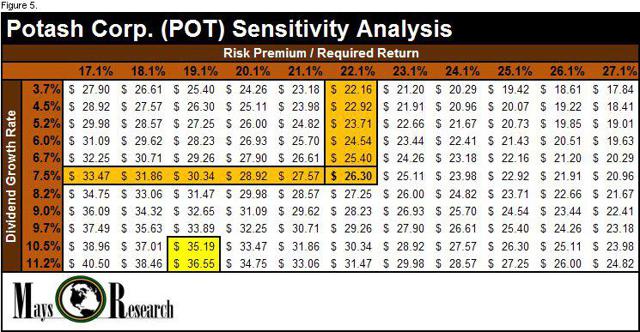 Click to enlarge
Over the long run, growth slows eventually for all companies, and they find themselves limited to the growth of either the global or their respective domestic economy. In agriculture, there will always be booms and busts brought on by adverse weather, etc. that will give fertilizer companies strong pricing power over the short run, but over time, growth rates tend to revert to their long-run averages. In my opinion, Potash Corp. has accepted this reality and signaled this acceptance through its change in dividend policy.
Disclosure: The author has no positions in any stocks mentioned, and no plans to initiate any positions within the next 72 hours. The author wrote this article themselves, and it expresses their own opinions. The author is not receiving compensation for it (other than from Seeking Alpha). The author has no business relationship with any company whose stock is mentioned in this article.