Amazon's third quarter topped projections and the company's fourth quarter revenue outlook is better than expected. Amazon's fourth quarter operating profits, however, look light.
The company reported net income of $231 million, or 51 cents a share, on revenue of $7.56 billion, up from $5.45 billion a year ago (statement). Wall Street was expecting earnings of 48 cents a share on revenue of $7.36 billion.
Meanwhile, the company also delivered a healthy fourth quarter outlook. Amazon (NASDAQ:AMZN) projected revenue of $12 billion to $13.3 billion. That's a wide range, but Wall Street was expecting fourth quarter sales of $12.3 billion. Amazon's mid-point of that range is well above expectations. Amazon also said it expected operating income of $360 million to $560 million. That outlook is below the $615 million in operating profit expected by Wall Street.
That outlook sent shares lower a bit afterhours on concerns that margins would be lower than expected. Then again, Amazon shares surged 33 percent or so leading up to the earnings report.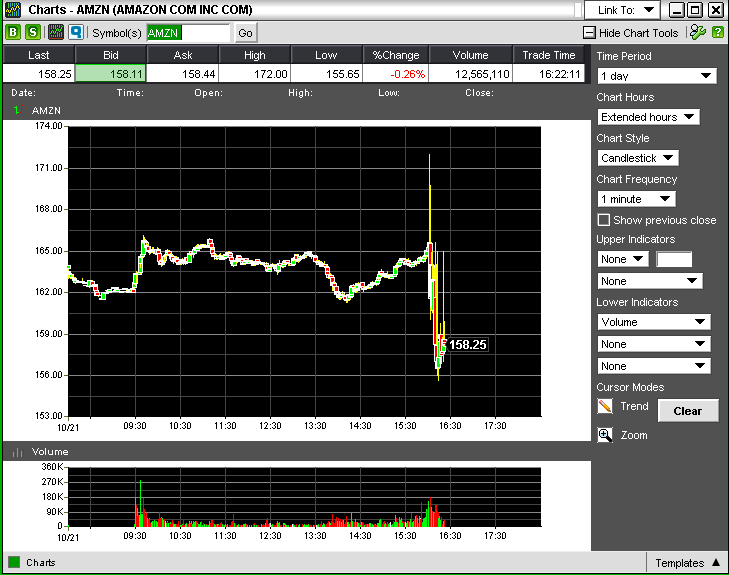 Here's a look at Amazon's third quarter by the numbers:
Amazon said that its latest Kindle is the fastest selling device in its history and is outpacing previous generations.
The Kindle store includes 720,000 books.
Sales in North America were $4.13 billion, up 45 percent from a year ago. International sales were $3.43 billion, up 32 percent from a year ago.
Media sales were $3.35 billion, up 14 percent from a year ago. Electronics sales were $3.97 billion, up 68 percent.