The news dropped this morning that Microsoft is getting ready to cut jobs as early as this week. Seeking Alpha reported:
Microsoft (NASDAQ:MSFT) is preparing for its next round of

lay

offs

as it looks to scale back and streamline its Nokia Oyj's handset unit, Bloomberg reports.
The restructuring may end up being the largest in Microsoft history, exceeding the 5,800 jobs cuts in 2009.
The company added around 30k jobs after it acquired Nokia's (NYSE:NOK) mobile device business, and it will announce the reductions centered around its Nokia unit and marketing and engineering divisions that overlap with the business.
This does a couple of things. First, it solidifies the notion that Nadella is starting to take true control over his empire at Microsoft. This, combined with the email manifesto issued by Nadella weeks ago, looks to be setting the company up for some type of rebirth.
Secondly, it should squelch lots of the complaints that have been passed around since Microsoft acquired Nokia. Many critics said the deal was too pork-laden for Microsoft and many argued that it simply wasn't the right move for the massive technology company. This confirmation that Microsoft is going to be addressing jobs related to the Nokia acquisition will likely come as good news to critics of the company.
It has been and can continue to be argued that Microsoft is in a bit of an identity crisis. I mean, for all intents and purposes, the company has performed beautifully for investors over the last year; yielding 16.5% plus dividends. They have a promising product coming out in the Surface 3, and they've recommitted themselves to Xbox, which I've long argued is a perfect stepping stone to launch your brand into the living room of millions.
Having said that, Microsoft has always made its coin by taking a page out of Apple's (NASDAQ:AAPL) book. They've been perfecting their technique since Microsoft rushed to get the original Windows onto old NEC prototypes in Japan before Apple was going to launch the Mac. Windows was based on Mac and slapped over DOS. Apple launched the iPhone, Microsoft bought Nokia. Apple launched the iPad, Microsoft started in with Surface. Apple found massive success with the iPod, Microsoft beefed it with the Zune.
(click to enlarge - sources Google Images/Microsoft.com/MacRumors.com)

Apple launched retail stores, Microsoft launched identical retail stores. Today, Microsoft's first foray into true operating system originality - tiles - is not being well received by critics on PCs. Even Microsoft has come out already and said that Windows 9 will have more of a focus on the desktop mode - great news for QTR, who, aside from on his tablet, doesn't like tiles. I'm guessing when the iWatch is released, it won't be long until we see the Microsoft smartwatch. Heck, at this rate, we might even see Microsoft's product first.
It starts to make one wonder if the next step for Microsoft is going to be to try and step out of the shadow of the products that Apple has developed and go out on their own. They would need a figure with vision like Nadella. They would need a figure that would want to take Microsoft to the next level evolution of computing (cloud) the same way that Steve Jobs brought the Internet to the Mac OS with the original iTools. Remember this gem from 2001? Light years ahead of its time: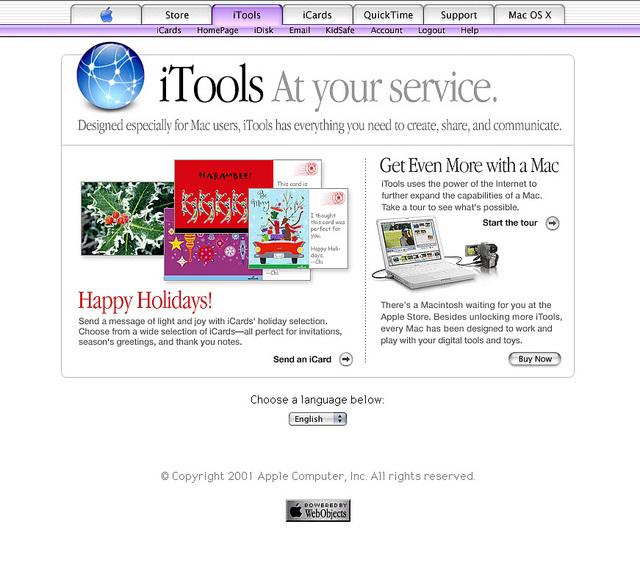 Microsoft would need an independent thinker who doesn't fear the remains of the Microsoft of old, which Nadella has already shown he's capable of by porting Office to iPad immediately.
Put simply, Microsoft needs a visionary to lead it into its new stage of growth. Can Satya Nadella be the next Steve Jobs?
(click to enlarge - image source/source)

He certainly is a friendly-enough looking fellow, isn't he?
And, recently, he seems to really be "taking the reins". In this email, sourced from Microsoft's website and reported on everywhere this side of the Van Allan belt, Nadella lays out his vision for the future of the company. And, he does so, suspiciously sounding like he's at the nascent stages of a new Microsoft born under his image.
Nadella started:
The day I took on my new role I said that our industry does not respect tradition - it only respects innovation. I also said that in order to accelerate our innovation, we must rediscover our soul - our unique core. We must all understand and embrace what only Microsoft can contribute to the world and how we can once again change the world. I consider the job before us to be bolder and more ambitious than anything we have ever done.
There sure does have a lot of a "do you want to make sugar water for the rest of your life, or do you want to make history" sound to it, doesn't it? Is innovation going to finally be the next big thing at Microsoft? Are they finally going to take the lead on something bigger than introducing multi-window workspaces on tablets (which by the way, is awesome)? Consistent with what Nadella has already said on conference calls and to the media, he alluded to the future of computing:
We live in a mobile-first and cloud-first world. Computing is ubiquitous and experiences span devices and exhibit ambient intelligence. Billions of sensors, screens and devices - in conference rooms, living rooms, cities, cars, phones, PCs - are forming a vast network and streams of data that simply disappear into the background of our lives. This computing power will digitize nearly everything around us and will derive insights from all of the data being generated by interactions among people and between people and machines. We are moving from a world where computing power was scarce to a place where it now is almost limitless, and where the true scarce commodity is increasingly human attention.
He's gotten into this lot before, on conference calls. In his short tenure as Microsoft CEO, Nadella has alluded to mobile and cloud as being two of his major focuses. It sounds like innovation at Microsoft could be coming in the form of "the internet of things" - where the company is going to have stiff competition in Google (NASDAQ:GOOG) (NASDAQ:GOOGL), Apple, and even BlackBerry (NASDAQ:BBRY). What is Microsoft going to do different that is going to make them innovators? These are the keys that are going to start to stack one on top of another to build the Nadella era.
Additionally, I'm loving the fact that Nadella has chosen to embrace Xbox as an avenue into monetizing consumer's living rooms - as opposed to continued talks about spinning off the division. I had been writing about this for the past year or so, claiming that the Xbox could essentially be the company's secret weapon:
The one opportunity that I always thought Microsoft had in the ecosystem area, however, was to leverage its Xbox. Xbox is, essentially, an easy way for Microsoft to find its way into your living room, if it's not already there. Once there, why make consumers go out and buy a set top box, too? Why can't the Xbox just play quarterback for your home ecosystem? I've been harping on this point for the better part of the last year, my readers know.
If you've read me consistently on Microsoft, you know I think that Xbox is one of the most valuable assets that the company has. In essence, Microsoft has a head start on consumers' living rooms for Xbox owners. They can use it as a medium for streaming media and it becomes the de facto digital hub for your television when hooked up through your cable.
Nadella gets this one right in his letter, when he says:
I also want to share some additional thoughts on Xbox and its importance to Microsoft. As a large company, I think it's critical to define the core, but it's important to make smart choices on other businesses in which we can have fundamental impact and success. The single biggest digital life category, measured in both time and money spent, in a mobile-first world is gaming. We are fortunate to have Xbox in our family to go after this opportunity with unique and bold innovation. Microsoft will continue to vigorously innovate and delight gamers with Xbox. Xbox is one of the most-revered consumer brands, with a growing online community and service, and a raving fan base. We also benefit from many technologies flowing from our gaming efforts into our productivity efforts - core graphics and NUI in Windows, speech recognition in Skype, camera technology in Kinect for Windows, Azure cloud enhancements for GPU simulation and many more. Bottom line, we will continue to innovate and grow our fan base with Xbox while also creating additive business value for Microsoft.
To wrap up his piece, he talks about not only pining over the customers' needs, but making Microsoft the target for innovative and ambitious people will want to work. Apple was able to recruit a cultist following of employees due to the nature of Jobs' vision. Now, it appears that Nadella is trying to put the same focus on intellectual diversity and appreciation of staff:
Rainer Maria Rilke's words say it best: "The future enters into us, in order to transform itself in us, long before it happens."

We must each have the courage to transform as individuals. We must ask ourselves, what idea can I bring to life? What insight can I illuminate? What individual life could I change? What customer can I delight? What new skill could I learn? What team could I help build? What orthodoxy should I question?

With the courage to transform individually, we will collectively transform this company and seize the great opportunity ahead.
So, for the question of whether or not Nadella is going to be the next Jobs, we're going to have to let the next couple years at Microsoft do the talking.
I would love to hear comments from those who agree and disagree. Are there upcoming niches of computing and technology where Microsoft can take the lead, without being prompted by Apple (or another company)? Can Microsoft salvage some of the OS market share it is losing to Mac? Will the continued focus on employees help drive the innovation that sures up the company's future for many decades to come?
I love Nadella in this role for this company, and will be watching anxiously to see how Microsoft fares under his watch. I remain bullish on the company's stock, but currently hold no position.
Best of luck to all investors.
Disclosure: The author is long AAPL, BBRY. The author wrote this article themselves, and it expresses their own opinions. The author is not receiving compensation for it (other than from Seeking Alpha). The author has no business relationship with any company whose stock is mentioned in this article.