Intel (NASDAQ:INTC) is set to report earnings after the bell today, Tuesday, July 15th, alongside internet giant Yahoo (NASDAQ:YHOO). The company will be offering insight into the PC market, how it's faring in the world of tablets, and updated guidance for the future today after the market closes.
Intel stock has been performing fantastically over the last six months. Investors have seen 17.6% gains in the last three months, 21.3% gains since the beginning of 2014, and 31.5% gains in the last twelve months.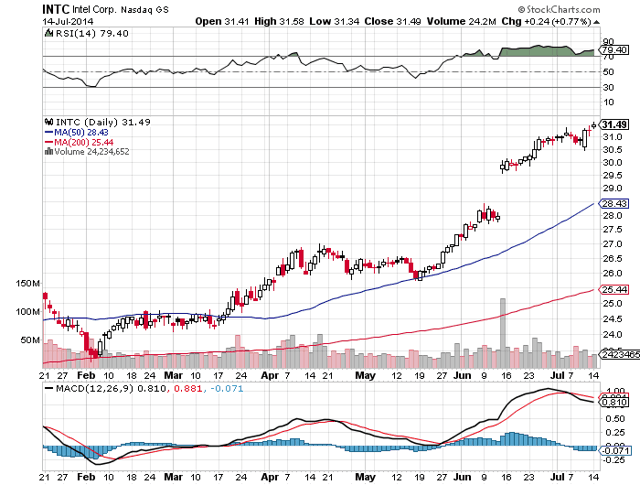 All the while, Intel has been dutifully paying their dividend to shareholders during a time where the company has been questioned for both its lack of vision and its late arrival to the tablet and smartphone party.
Due to the company still being at a stage where it's looking to find vision and traction, the dividend has remained steady. Even with the stock price's recent run, the yield is still on the impressive side of dividend-paying stocks, coming in at 2.86%.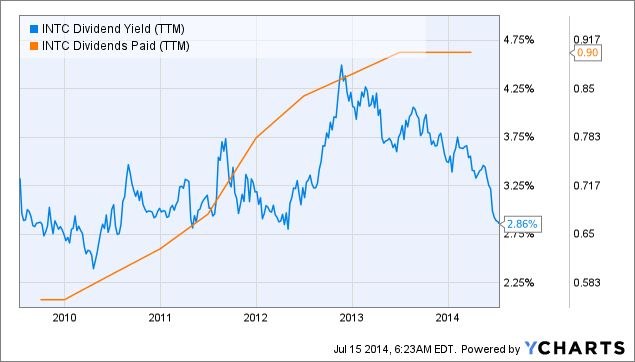 INTC Dividend Yield (TTM) data by YCharts
Intel has spent the better part of the last year trying to engineer ways which it could catch up to the tablet market - a market that had gotten away from the company who is dominant in the PC world. Not unlike BlackBerry (NASDAQ:BBRY), who once missed the "touchscreen keyboard" boat, Intel missed the tablet boat on its first go 'round.
While still maintaining a nice relationship with important customers like Apple (NASDAQ:AAPL), Intel was criticized for its lack of dominance in the tablet market - a market that was responsible for the tremendous slowdown in PC sales that we've seen globally over the past year. Intel's recent strategy to move forward in tablets - aside from a new slate of commercials - is to sacrifice margins and offer contra revenue offsets for its tablets. The thinking is to "get their foot in the door" at any cost, and then go from there and monetize.
According to Yahoo Finance, the consensus estimate today is for $0.52 in EPS and $13.69 billion in revenue - as per the company's newly issued guidance for $13.7 billion.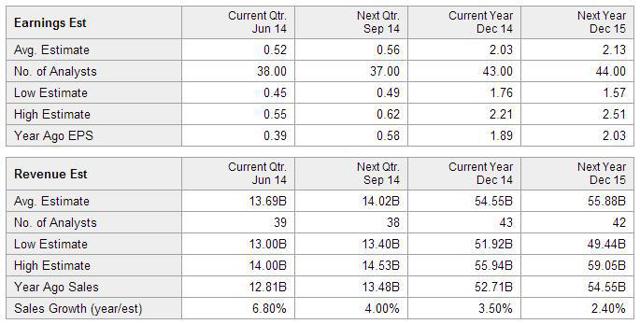 (Source: Yahoo Finance)
We were treated to outstanding news, not only for Intel, but for the PC maker sector as a whole last week. Seeking Alpha reported that the PC market decline - a longstanding factor in Intel's waning revenues and a challenge for basically everyone aside from Lenovo and Apple - seemed to be slowing down:
Global PC shipments fell only 1.7% Y/Y in Q2 to 74.4M, says IDC. That's much better than the firm's forecast for a 7.1% drop, and smaller than the 4.4% and 5.6% declines respectively seen in Q1 and Q4. Gartner is even more positive, estimating shipments rose 0.1%, thus ending a long string of declines.
Unsurprisingly (especially given INTC's Q2 guidance hike), IDC thinks business PC upgrades stemming from Microsoft's (NASDAQ:MSFT) ending of Win. XP support helped out. But it also says consumer demand was better than expected, with sales of low-end PCs (inc. Chromebooks) improving amid slowing tablet growth.
Sales in the U.S. and EMEA (two high-ASP regions) rose, while Asia-Pac (exc. Japan) still fell by nearly double digits. IDC now thinks full-year industry growth "could get closer to flat, rather than the May projection of -6%."
IDC's Q1 share data points to industry leaders gaining at the expense of smaller players: Lenovo (OTCPK:LNVGY) 19.6% share, +270 bps Y/Y. HP (NYSE:HPQ) 18.3%, +190 bps. Dell 14%, +180 bps. Acer (OTC:ACEIY) 8.2%, -10 bps. Asus (OTC:ASUTY) 6.2%, +30 bps. Everyone else 33.6%, -690 bps.
Important news for Intel, no matter how you spin it. The company still derives a bit more than 60% of its revenues strictly from PC sales.
This news came on the heels of the company offering better-than-expected revenue guidance based on both business customers and retail PC sales. Intel engineering deals like the ones that it has with Google's (NASDAQ:GOOG) (NASDAQ:GOOGL) Chromebook have helped contribute to Intel's chip revenue, which has traditionally been the company's bread and butter offering.
I'm sure many of you recall that Intel shares found the most momentum I've seen them have in years following the company's surprise guidance hike that came on June 12th:
Citing stronger-than-expected business PC demand, Intel now expects Q2 revenue of $13.4B-$14B, better than prior guidance of $12.5B-$13.5B and a $13B consensus.
Moreover, the chip giant now expects "some revenue growth" for the whole of 2014, after previously guiding for flat sales; the consensus is for 0.7% growth.
Full-year R&D/MG&A spending guidance has been upped by $300M to $19B-$19.4B.
The guidance hike follows several quarters of narrowing PC shipment declines, thanks in large part to healthy corporate demand. Windows 7 system purchases tied to Microsoft's decision to end Windows XP support have played a key role.
Likely to move the needle the most this afternoon is going to be Intel's guidance for the future of the PC market. Aside from that, enterprise, server and mobile will also contribute. However, the main metric that analysts are going to be trying to gauge is whether or not the PC market decline is finally over. This is likely to also affect PC makers like HP and those tied directly to the sector, like Microsoft.
QTR isn't expecting too much stock volatility after earnings - this could be a great situation to write calls ahead of the report. The important information was already dropped in early June, and despite any massive guidance changes going forward, Intel's stock has basically already priced in this good report.
Disclosure: The author is long AAPL, BBRY. The author wrote this article themselves, and it expresses their own opinions. The author is not receiving compensation for it (other than from Seeking Alpha). The author has no business relationship with any company whose stock is mentioned in this article.