Trupanion Inc. (Pending:TRUP), a pet insurer with principal offices in Seattle, Washington, plans to raise $99.8 million in its upcoming IPO. The firm will offer 7.1 million shares at an expected price range of $13-$15 per share.
If the IPO prices at the mid-point of that range at $14 per share, TRUP will command a market value of $429 million.
TRUP filed on June 16, 2014.
Lead Underwriters: Barclays Capital Inc.; RBC Capital Markets, LLC; Stifel Nicolaus & Company, Incorporated
Underwriters: Canaccord Genuity Inc.; Cowen and Company, LLC
Summary: Medical Insurance for Dogs and Cats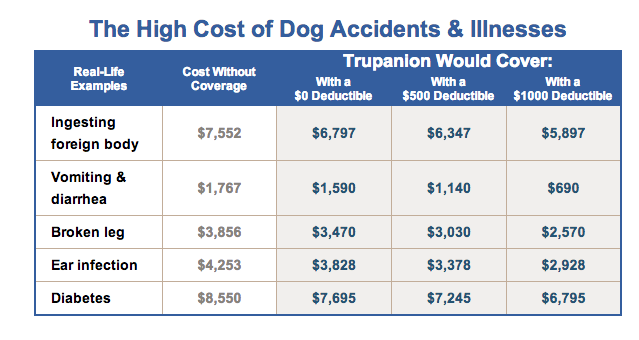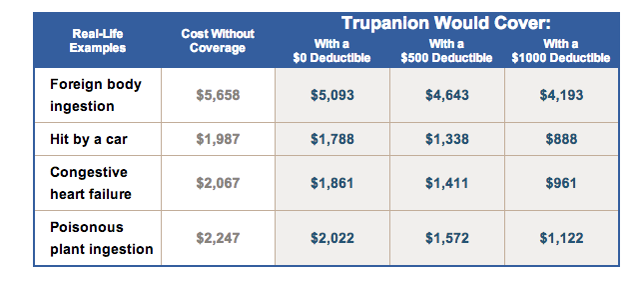 (Dog, Cat Illnesses/Coverage: trupanion.com/)
TRUP provides medical insurance for customers' dogs and cats through a monthly subscription service, offering medical plans specifically tailored to each pet's unique situation via a proprietary data platform.
The firm has rapidly expanded over the past few years in terms of pets insured, growing from 31,207 as of January 1, 2010 to 181,634 as of March 31, 2014.
TRUP's main source of income is monthly subscription fees. The firm claims to be able to provide greater value to its customers due to its vertically integrated structure, which permits it to spend more on claims than its competitors.
Whereas competitors typically spend between $0.45 and $0.64 of each dollar of premium on claims, TRUP spent $0.70 per subscription dollar on claims in 2013. The firm enjoys very high subscription retention rates; at least 88% of subscription revenue has come from existing customers in every quarter since 2010.
TRUP finds new prospective customers through third-party referrals and online advertising. Unpaid referrals from veterinarians are the largest source of referrals to the firm; the firm uses a referral network of independent contractors to raise awareness of TRUP's plans and their benefits among veterinarians.
The firm's website, Trupanion.com, plays a central role in converting leads; more than 85% of new customers for the three months ended March 31, 2014 visited the site in the course of the enrollment process.
Valuation
TRUP offers the following figures in its S-1 balance sheet for the three months ended March 31, 2014:
Revenue: $25,640,000.00
Net Loss: ($4,913,000.00)
Total Assets: $48,969,000.00
Total Liabilities: $54,475,000.00
Stockholders' Equity: ($37,230,000.00)
TRUP has achieved sustained revenue growth, with increasing revenues in every quarter since the first quarter of 2010; the firm posted revenue of $19.1 million for calendar 2010 and revenue of $83.8 million for calendar 2013. However, the firm posted growing net losses over the past three years, with net losses of $3.9 million, $6.4 million, and $8.2 million in calendar 2011, 2012, and 2013, respectively.
Competitors in the Pet Insurance Business
TRUP must compete with traditional pet insurance companies, some of which have access to greater financial resources than TRUP.
The largest such competitor is Veterinary Pet Insurance Company, a division of Nationwide Insurance; other competitors include ASPCA Pet Health Insurance and Embrace Pet Insurance.
Management Highlights
Founder Darryl Rawlings has served as TRUP's president and CEO since January 2000. He previously founded the Canadian Cigar Company.
Mr. Rawlings received a Diploma of Marketing Management from the British Columbia Institute of Technology.
We do believe that Mr. Rawlings' total compensation of approximately $3.9 million for 2013 is very excessive, given TRUP's current huge losses.
Conclusion
We are positive on this stock offering and hopeful it prices at the lower end or below the range.
Though TRUP has not posted profits in recent years, the firm's losses are the result of concerted efforts to expand its membership base and revenues - efforts which have apparently been successful, given the firm's 64% CAGR in terms of revenue since 2010.
Only approximately 1% of pets in North America are insured, presenting both an opportunity for TRUP to continue to grow and a challenge for the firm to convince pet owners that they should insure their animals. Given the growth in subscriptions over the past few years, TRUP seems to be more than up to the task.
As veterinary costs continue to grow with the addition of sophisticated and expensive technologies to standard veterinary care, more pet owners will likely start to turn to pet insurance.
We are somewhat concerned with the huge compensation of TRUP's founder and CEO, especially given his lack of substantial experience; however, he should have a chance to prove his worth in the coming years.
We suggest aggressive investors consider buying a small position in this IPO.
We invite readers wishing to join the discussion on IPOs to click the +FOLLOW button above the title of this article -- and those looking for the latest developments to click +Get real-time alerts.
Note: As a large sample of information sources does not yet exist for TRUP, we have taken much of the information for this article directly from TRUP's S-1 filing.
Disclosure: The author has no positions in any stocks mentioned, but may initiate a long position in TRUP over the next 72 hours. The author wrote this article themselves, and it expresses their own opinions. The author is not receiving compensation for it (other than from Seeking Alpha). The author has no business relationship with any company whose stock is mentioned in this article.