Background: Sirius XM Radio Inc. (NASDAQ:SIRI) provides satellite radio services in the United States and Canada. The market cap is $20 billion, and the company trades an average of 45.6 million shares per day.
Sirius XM doesn't face much direct competition using satellite delivery of content; however, there are other delivery methods that have an impact. Pandora (NYSE:P) quickly comes to mind, and Pandora offers a subscription level service, but Google (NASDAQ:GOOG), Amazon (NASDAQ:AMZN), and Apple (NASDAQ:AAPL) are stealth competitors in that they offer music as an aside to their primary business.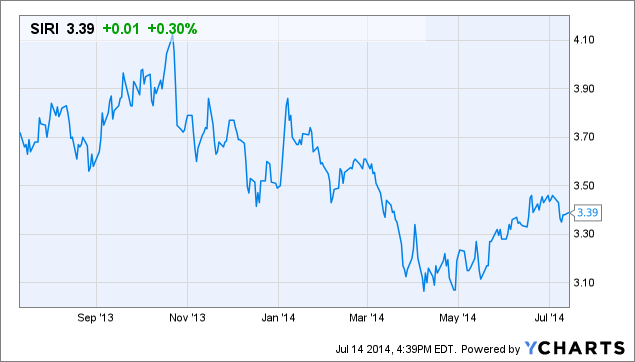 So overall, I like this stock, even if the number of shares outstanding may reach the moon if stacked on top of each other. I especially like the stock as a covered call candidate.
Sirius XM is anticipated to give us a repeat performance of last year in this year's second-quarter earnings before the market opens on July 29, 2014.
The consensus estimate is currently 2 cents a share, the same as second-quarter last year. Analysts are estimating as low as 2 cents per share, up to the most optimistic estimate of 3 cents per share.
Analysts give a thumbs up to the Sirius XM's management. 12 of the 16 analysts covering the company give a buy recommendation. 4 analysts rate it a hold, and not one sell rating. Investors haven't made progress this year. Shares in the company have fallen 7% from a year ago. The average analyst target price for Sirius XM Radio is $4.28.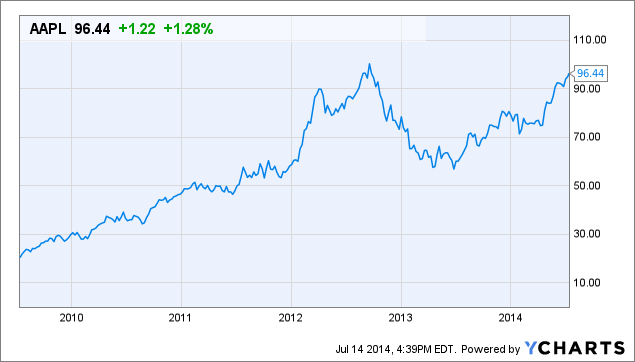 Depending on your location, driving habits, listening tastes, and cellphone carrier, satellite content delivery may or may not be attractive. This brings us to the other competitors Sirius XM faces, namely the wireless service providers.
AT&T (NYSE:T), Sprint (NYSE:S), T-Mobile (NASDAQ:TMUS), Verizon (NYSE:VZ), U.S. Cellular (NYSE:USM), and others offer unlimited data plans either directly or through a reseller. They also offer limited plans that are essentially unlimited for the vast majority of smartphone users.
The combination of Apple, Amazon, Pandora, and Google's music offerings are increasingly problematic for Sirius XM as the wireless carriers continuously lower their prices to compete. I wrote about the end to a single solution steaming music monopoly Sirius held several times including as recently as two years ago.
Since that time, Sirius XM's management has executed masterfully in building a moat of talent with its pricing power and the monthly revenue per user has steadily increased during the last five years.
My previous concern was others including Apple, and Pandora would create a competing service that could draw talent and revenue away, limiting Sirius XM's growth prospects while also owning and (paying for) expensive birds (satellites).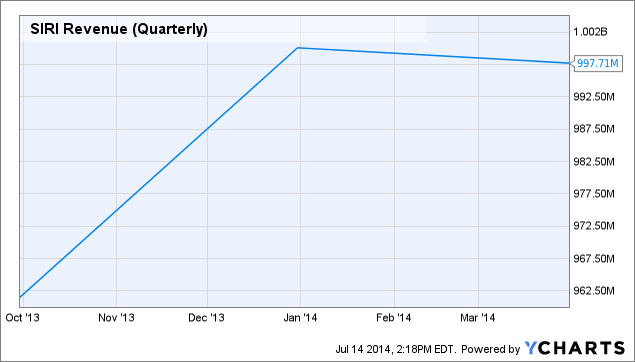 Amazon is a subscription gathering expert and developments there could change the tide quickly for Sirius XM's shareholders. Amazon recently added HBO owned movies/series, and the idea of premium content is part of Amazon's DNA.
That said, Amazon has issues of its own. Namely, the ROI sky-high valuation may take a beating if Alibaba expands (and I believe it will) into Amazon's selling dominance.
Those worries didn't materialize and even with Amazon's further encroachment into steaming music, Sirius XM's brand has and is standing the test of time. Amazon and Google are known to offer products at or below costs to win market share, leaving it vulnerable for music lovers. But for premium talent that produce content people will pay for, Sirius XM has created an extensive barrier to entry.
Looking ahead, option buyers and sellers are betting on a price change of 21 cents up or down move in the stock price, or about a 6% change during the next 18 days.
After last quarter's results, the shares rose only slightly 0.6%, or 2 cents from the close before the earnings release to the closing after. The closing trade before the release was $3.17, and ended at $3.19 the following day.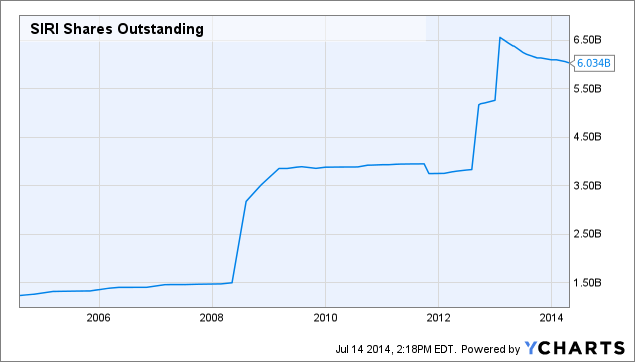 Looking back from the closing price before last quarter's results, until now, the shares increased a humble 6.6%, or 21 cents. The close before the announcement was $3.17, and currently about $3.19 as of this writing.
Regardless of the change in price, investors can capture the time premium between now and after the earnings release by selling call options while also protecting your portfolio. Simply buy back any calls and or puts sold after the report. If the shares jump higher, what you lose in stock appreciation is likely more than made up through the expected fall in implied volatility after the report.
Short interest over 10% should give pause to investors looking at this company. The current percentage of the float short is 11.5%.
Disclosure: The author has no positions in any stocks mentioned, and no plans to initiate any positions within the next 72 hours. The author wrote this article themselves, and it expresses their own opinions. The author is not receiving compensation for it (other than from Seeking Alpha). The author has no business relationship with any company whose stock is mentioned in this article.